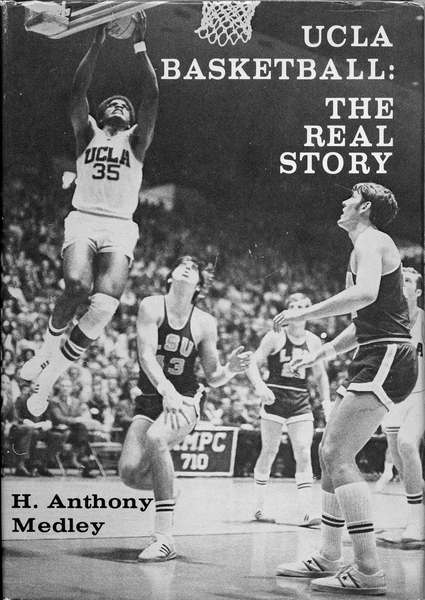 Out of print for more than 30 years, now available for the first time as an eBook, this is the controversial story of John Wooden's first 25 years and first 8 NCAA Championships as UCLA Head Basketball Coach. This is the only book that gives a true picture of the character of John Wooden and the influence of his assistant, Jerry Norman.
Compiled with more than 40 hours of interviews with Coach Wooden, learn about the man behind the coach. The players tell their their stories in their own words.
Click the book to read the first chapter and for ordering information. Also available on Kindle.
---
UCLA Basketball Coach, Steve Alford, Circa 2013
by Tony Medley
I am furious this morning. When people asked me who I thought should be UCLA's new basketball coach, I replied, unhesitatingly, "Andy Enfield, the guy from Florida Gulf Coast." He is the most exciting young coach in the country. His team this year ran and ran and ran, and knows how to run the fast break. Ben Howland's teams never ran one fast break properly in ten years.
So UCLA hired a guy who went from the Big Ten to New Mexico, hardly an advancement, got knocked off by Harvard, of all people, in this year's NCAAs, and who apparently plays Bobby Knight's "motion offense," which is the same boring offense that Ben Howland ran with such lack of distinction at UCLA. Howland's motion offense ruined one of the most talented teams ever to play college basketball, Howland's 2007-8 squad with Kevin Love, Russell Westbrook, and Darren Collison, a team that under John Wooden would have been undefeated national champions, never once ran a fast break. Love was the best rebounder and outlet passer since Bill Walton, had two guards who could run like the wind in Westbrook and Collison, but never got a chance to show it at Pauley Pavilion thanks to Howland. Worse, his motion offense had Love as the fourth option on offense. So UCLA gets rid of Howland, but hires another coach who runs the same offense that drove hordes of fans out of Pauley Pavilion. This makes sense?
Exacerbating this choice, UCLA apparently induced Alford to breach his contract at New Mexico, a contract he had just signed 10 days before. How does this fit in with the high moral standards set by John Wooden at UCLA?
So what happens this morning? I learned that USC hired Enfield!!! USC! A football school! Hires the most exciting young basketball coach in the country, right under the noses of what is the most hallowed basketball program in American basketball! I'll bet you a dollar to a doughnut that UCLA didn't even interview the guy.
As a UCLA basketball fan, I hope that Alford is more than he appears. I hope he knows how to run a fast break and that he can be more successful than he has to date. But, even so, Enfield was the obvious choice, a no-brainer. This is a dark day in UCLA basketball history.
April 2, 2013