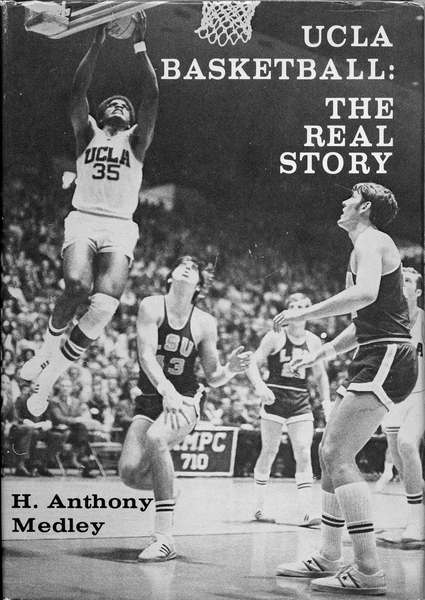 Out of print for more than 30 years, now available for the first time as an eBook, this is the controversial story of John Wooden's first 25 years and first 8 NCAA Championships as UCLA Head Basketball Coach. This is the only book that gives a true picture of the character of John Wooden and the influence of his assistant, Jerry Norman, whose contributions Wooden ignored and tried to bury.
Compiled with more than 40 hours of interviews with Coach Wooden, learn about the man behind the coach. The players tell their stories in their own words.
Click the book to read the first chapter and for ordering information. Also available on Kindle.
---
Sports Medley: Why UCLA Lost 27 Mar 17
by Tony Medley
I've seen all of the UCLA basketball superstars and without exception they raised their game to meet the importance of the occasion. Walt Hazzard, Gail Goodrich, Keith Erickson, Kenny Washington, Lou Alcindor, Mike Warren, Lucius Allen, Sidney Wicks, John Vallely, Bill Walton, Keith Wilkes, Dave Meyers; you name them, in big games they played their best. But in the biggest game of Ball's young career he was AWOL. He badly missed all but one of his too many 35-foot set shot attempts that seems to be his favorite; his passes were missing and when he made them they weren't sharp; and his defense, which has always been weak, was non-existent. His slam dunk in the waning seconds of a lost game was bush league, an embarrassment.

UCLA never learned how to play defense and it really showed in this game where Kentucky's outside shooters took them to the cleaners, virtually unopposed. I heard a commentator on ESPN Radio at 1:45 a.m. Sunday morning. I didn't get his name but he was one of the more astute commentators on basketball I've heard. I think he works out of Indianapolis. He called UCLA "one of the worst defensive teams ever to play in the NCAA." Note that he did not limit that to the NCAA Tournament.

For a team that is reputed to be a "running team," UCLA doesn't have a clue how to run a traditional fast break. When a 3 on 2 fast break presents itself, they don't get the ball to the middle and they don't fill lanes. They just all run helter-skelter down the court with no cohesion and the player with the ball generally takes it all the way. In a recent game they had a 4 on 1 fast break and ended up having to take a 30 foot jump shot. I've not been to a practice, but from two people who have, I learned that at no time during those practices did they run even one fast break drill. John Wooden ran fast break drills at every practice.

They were outcoached. In big games, like their losses to Arizona and Oregon, and this one against Kentucky, they looked totally unprepared emotionally. Ball is a low key player but he looked as if someone needed to snap their fingers and say, "Wake up!" That's the coach's responsibility.
Has anyone ever seen Lonzo Ball smile? He could take a cue from the Oregon players who were so happy after beating Kansas soundly that they all had wide grins across their faces. Even when Ball was interviewed after winning games he just gave as short an answer as possible to questions, never revealing any emotion, and never once smiling.
He also showed little emotion and less class after the Kentucky game. While his freshman teammate T.J. Leaf was so despondent he was close to tears and couldn't sit for an interview, Ball was aloof, seemingly unaffected by the humiliating loss, and his only comment that I saw was his tasteless statement that this was his last game at UCLA. Anybody with a modicum of élan, like Leaf, would have declined to answer such a question at such a time. But it's all about Ball. We lost; oh well, I'm off to the NBA!
Tip to Coach Alford: John Wooden was a coach of mediocre success for 15 years until he hired Jerry Norman as his assistant and Norman started recruiting talent like the aforementioned Hazzard, Goodrich, Erickson, Washington, Alcindor, Vallely, Wicks, etc.. Result? 10 NCAA Championships in 12 years. Wooden was always a good coach, but Norman proved that you can't win big without big talent.
Alford is just the opposite. He is apparently a good recruiter but he's lacking on the "coaching" side of it. He needs to hire a coach who can teach his talent how to play defense and another coach to teach his players how to run fast breaks and play offense against a good defense. A third coach might be needed to provide inspiration to the players before games.
With all the money that Athletic Director Dan Guerrero throws at these unexceptional and unaccomplished coaches he hires for major sports, he can afford to pay to hire the three things UCLA needs to win the Championship. Of course, since Guerrero has proven he can't pick proficient coaches, the key is to find someone who can. Whether or not Alford is that someone for basketball has yet to be seen.