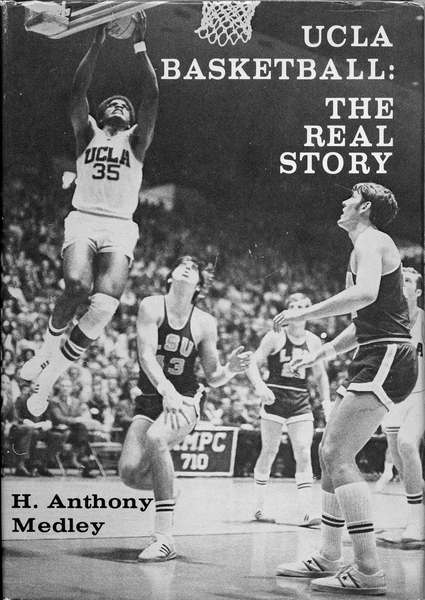 Out of print for more than 30 years, now available for the first time as an eBook, this is the controversial story of John Wooden's first 25 years and first 8 NCAA Championships as UCLA Head Basketball Coach. This is the only book that gives a true picture of the character of John Wooden and the influence of his assistant, Jerry Norman, whose contributions Wooden ignored and tried to bury.
Compiled with more than 40 hours of interviews with Coach Wooden, learn about the man behind the coach. The players tell their stories in their own words.
Click the book to read the first chapter and for ordering information. Also available on Kindle.
---
Sports Medley: Westbrook Should be MVP 20 Mar 17
by Tony Medley
Westbrook MVP? Two years ago I wrote a column explaining why Russell Westbrook was no MVP. I donít know if he read it, but last year he took my advice and shot less. In 2014-15 he took 1,471 shots, leading the league, making only 42.6% of his shots. In 2015-16, however, he took fewer shots 1,444 but made 45.4%, passed more, and became a much more valuable player. This year without him OKC would be almost as bad as the Lakers (it would be impossible to be as bad!). With him they are headed for the playoffs. What heís done this year is almost superhuman. However, he has already taken more shots than he did in 2014-15 (1,668!) but he really has no choice since he is the entire offense. Predictably, his shooting percentage plummeted to below 2014-15 levels, 42%. Even so, because of Kevin Durantís despicable abandonment of Oklahoma City, heís carried a huge load and should be MVP. As a tagline, Durant and the changes he engendered have made Golden State a weaker team and two-time MVP Steph Curry less effective. If the gods have their way and all is right with the world, Durant and the Warriors wonít win the NBA Championship.
March Madness brings out the worst officiating: Predictably, even though there have been some close games, the most outstanding thing one takes away from March Madness is the absolute incompetence of the referees. They call fouls that donít happen and ignore fouls that do. In Sundayís Duke-South Carolina upset, they called 48 fouls, more than one per minute, fouling out five, count them, 5, players! In comparison, total fouls in other games were:
SC-Baylor: 34
Michigan-Louisville: 33
Kansas-Michigan State: 30
Oregon-Rhode Island: 35
UCLA-Cincinnati: 23
Does anybody believe that Duke and South Carolina played a game that was full of so many more illegal plays than the others?
Many of the bad referee decisions were game changers, and the two most blatant were infractions that were not called. In the Northwestern-Gonzaga game an obvious goal-tending call, where the Gonzaga player actually put his arm inside the hoop to keep a ball from passing through, a clear violation, was missed. That would have made it a one point game with 4:54 minutes left. Instead, the referees completely missed it, allowed the basket, and then called a technical foul on Northwestern head coach Chris Collins who vociferously protested the missed call. Collins could see the infraction from the bench but the three officials on the court couldnít? So instead of being within one point, Northwestern was 5 points behind and their momentum stunted. The NCAA later issued a statement that they had missed the call. Gee, thanks.
In the North Carolina-Butler game there was an obvious offensive charging with 49 seconds left and Carolina leading 66-65. Carolinaís Joel Berry dribbling the ball ran over Arkansasí Adrio Bailey like Jim Brown barreling over a linebacker but there was no whistle. So Berry threw up a wild shot that was tipped in and Carolina had a 3 point lead instead of Arkansas having possession only one point behind.
College basketball officials destroy a good game. Whenever thereís a contested shot around the basket, the whistle sounds and the refereesí arms go up like Pavlovís barking dogs. It is absurd, but it is continuing. When I was at UCLA referees Mel Ross and Joe Frivaldsky were just as inept as their successors today. There needs to be action taken to get competent officials. What we see during March Madness is disgraceful. Maybe they should go back to two referees instead of three. That should decrease the incompetence by 33%.
Shameful Newspaper: Itís no secret that the LA Timesí Front Page and all its news stories consist mostly of editorial opinions parroting Democrat talking points. But one would think that when it came to printing things that are simply facts, like TV schedules, it would at least be able to get those correct. But a vast number of people missed the UCLA-Arizona basketball game a few weeks ago because the Timesí sports TV listing had it on Pac-12 network when, in fact, it was on ESPN. Anybody who recorded Pac-12 got old replays while missing the game. The Timesí news stories are intentionally biased and misleading not only in what they write, but in what they choose to cover, because of judgments by journalistically corrupt managing editors, but getting TV listings wrong is just plain laziness.
Along those lines, in the old days the Timesí sports section always had the weekend sports on TV all listed on Friday so people could plan what to watch and what to record. About a year ago (at least), the Times stopped this valuable service. But since their listings are no more accurate than their news stories, I guess it makes no difference.