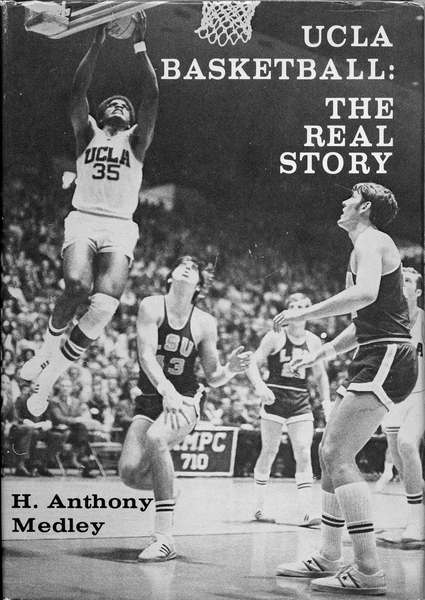 Out of print for more than 30 years, now available for the first time as an eBook, this is the controversial story of John Wooden's first 25 years and first 8 NCAA Championships as UCLA Head Basketball Coach. This is the only book that gives a true picture of the character of John Wooden and the influence of his assistant, Jerry Norman, whose contributions Wooden ignored and tried to bury.
Compiled with more than 40 hours of interviews with Coach Wooden, learn about the man behind the coach. The players tell their stories in their own words.
Click the book to read the first chapter and for ordering information. Also available on Kindle.
---
Sports Medley UCLA luckiest team in NCAA
by Tony Medley
Bruin Blues: UCLA, ranked #8 going into the final week of the season, was the most overrated team in the country. With a record of 8-2, they were lucky to win at least two of their games, against Virginia and Texas, if not several more. Even in a game that seemed as if they won in a rout, 62-27 over Arizona State, they were outgained 626 yards to 580 and the pass defense was a joke, allowing 488 yards. But for luck they could just as easily have been 4-6, beating only Arizona State, Arizona, Washington, and USC, going into the Stanford game. Resting on their laurels and taking Stanford (6-5) lightly, they were flat as a pancake with no apparent enthusiasm or motivation. UCLA's offensive line was papier-mâché and its defense non-existent. Worse, UCLA's offense was marked by bubble screens and swing passes which are completed behind the line of scrimmage. These "safety" passes constituted almost half their passes throughout the season, even though UCLA bragged it had a high profile quarterback who should be able to throw down the field. Head Coach Jim Mora has to shake up his coaching staff and replace both the offensive and defensive coordinators. And as for Mora himself, if he can't get his team motivated for a division championship game, he needs to hire Tony Robbins.
Harbaugh's anchor: San Francisco quarterback Colin Kaepernick may have a strong arm and be a fairly good runner, but he has one huge flaw, poor peripheral vision. One thing that separates the Aaron Rodgers, Peyton Mannings, Drew Breeses, and Tom Bradys from other quarterbacks is that they instantly can take in the entire field and see who is open and who isn't. In Thursday's game against Seattle Kaepernick constantly ignored wide-open receivers to throw into double coverage with disastrous results. He has had this problem his entire career and there's no way to cure it. As I was told when I entered law school, you either have it or you don't.
Appalling call: In the Philadelphia Eagles–Dallas Cowboys game, Philadelphia punted the ball and the Eagles' Nolan Carroll was waiting to down it on the three yard line. So Wayne Harris of Dallas, who wanted the ball to go into the end zone for a touchback, blocked Carroll so that he couldn't down the ball. It was a brutal, physical, but legal block, completely knocking Carroll off his feet. The referees called unnecessary roughness on Harris. Worse, the two announcers, Troy Aikman and Joe Buck, castigated Harris for his play and said that it was unnecessary. Aikman went so far as to say that there was no place in football for that kind of play. Harris was livid on the sideline and he had a right to be because if he doesn't block Carroll, Carroll is going to down it on the three yard line which is where Dallas would have to put the ball into play if Carroll is allowed to down it, instead of the 20 yard line. Harris's block was not only a perfectly legitimate play, it was a heads-up play. But apparently the only two people in the United States who realized that were Harris and me. Shame on the referees and shame on Aikman and Buck. He was penalized because it looked violent, hitting a guy who was basically just standing there. But it was the right play and no flag should ever have been thrown.
Say What You Mean, Coach: Mississippi State coach Dan Mullen commenting on the defeat to Ole Miss, "Yeah it sucks. I'm not going to enjoy it. I'm not going to be able to friggin' sleep for another 365 days till they show up at our place next year." Florida coach Will Muschamp, to wide receiver Tevin Westbrook who had just muffed a pass against No 2-ranked Florida State that was then intercepted and run back for a pick 6, "We put you on scholarship here at Florida. Catch it!"