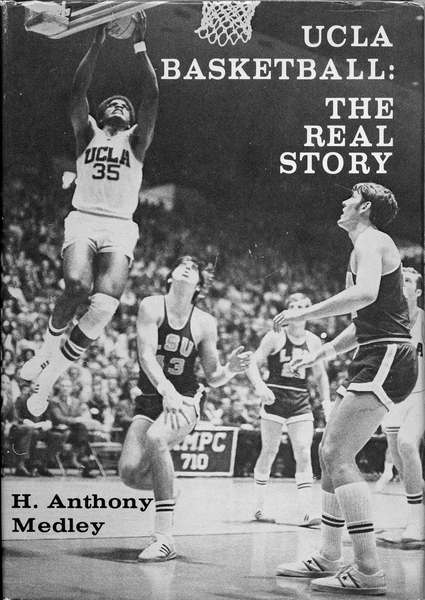 Out of print for more than 30 years, now available for the first time as an eBook, this is the controversial story of John Wooden's first 25 years and first 8 NCAA Championships as UCLA Head Basketball Coach. This is the only book that gives a true picture of the character of John Wooden and the influence of his assistant, Jerry Norman, whose contributions Wooden ignored and tried to bury.
Compiled with more than 40 hours of interviews with Coach Wooden, learn about the man behind the coach. The players tell their stories in their own words.
Click the book to read the first chapter and for ordering information. Also available on Kindle.
---
Sports Medley: UCLA Has A Coaching Problem 26 Oct 15
by Tony Medley
Despite UCLA's convincing win over Cal, all is not rosy in Westwood. In addition to butter-fingered receivers who drop as many passes as they catch, year after year Coach Jim Mora's team is among the nation's leaders in penalties. This year, against Stanford, after giving up a pick six, they marched down the field with a first down inside the 20. Brilliant running back Paul Perkins (the closest thing I've seen to Barry Sanders since, well, Barry Sanders) ran for a touchdown on the first play but UCLA was penalized for lining up illegally. On the next play they were penalized for holding. End of drive, end of momentum as they had to settle for a field goal, and Stanford proceeded to annihilate them. Last Thursday, against Cal, they were driving once again. On third down they completed a pass for a first down but were called for offensive pass interference. And it was blatant. After the 15 yard penalty the drive was stalled and once again the Bruins had to settle for a field goal.
Then, again against Cal, with 3 seconds left in the first half, UCLA lined up for a 54 yard field goal. As the ball sailed between the goal posts a flag floated through the air. Illegal procedure on UCLA. Five yards, making it a 59 yard field goal. Nobody at UCLA had ever kicked a 59 yard field goal, but this one was made, so everyone (but me) forgot about the clumsy penalty. Then in the second half a UCLA receiver was running in for a touchdown but one of his teammates running next to him was called for holding on the 2 yard line, a play that could not possibly have helped him into what was a sure touchdown. These are de rigeur for Mora's UCLA; penalties, more penalties, stupid penalties. UCLA led the nation in penalties in 2012. They were second out of 126 teams in total penalty yards in 2013 and 11th out of 128 teams in 2014. Such consistency over Mora's entire term is due entirely to ignorance and a lack of discipline. And that's coaching, folks.
Good Interviewer vs. Bad Interviewer: ESPN's Erin Andrews to Kansas City Royals' Lorenzo Cain after he scored from first on a single with less than two outs against Toronto: "What did you see when you scored from first to see that you could make it there?"
Contrast this informed, intelligent question about the key play in the game with NBC's Baywater Babe Michelle ("What were you thinking") Tafoya: to quarterback Cam Newton, "Your running game compiled over 200 yards. How was it so productive?" and "This team is 6-0 for the first time in history. What makes this group different?" To Luke Kuechly, "This Eagles offense is designed to wear down defenses. How did you guys respond?" To Thomas Davis, "You've been here 11 seasons; 6-0; what's unique about this group?" I don't know what they pay Tafoya to ask these imbecilic, unanswerable questions, but if it's more than 25 cents, she's overpaid.
Turn off the sound: In the Steelers-Cardinals game, the Steelers punted and Steeler Brandon Boykin touched the ball on the two yard line. A Cardinals player picked the ball up and then fumbled in the end zone and the Steelers recovered. Play by Play announcer Joe Buck went ballistic, "(the Cardinal player) unbelievably went to pick the ball up! And have they signaled it a touchdown? They have not officially yet!" Then someone obviously told him in his ear plug what the rule is, that once the kicking team touches the ball the offensive team can try to advance it with impunity because if they fumble or get tackled behind the line where the ball was touched, the ball is placed where it was first touched, a rule that everyone learns by the second grade, a level of education Buck apparently missed.