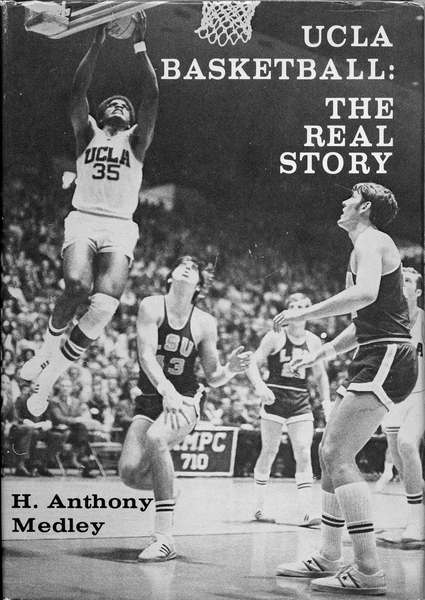 Out of print for more than 30 years, now available for the first time as an eBook, this is the controversial story of John Wooden's first 25 years and first 8 NCAA Championships as UCLA Head Basketball Coach. This is the only book that gives a true picture of the character of John Wooden and the influence of his assistant, Jerry Norman, whose contributions Wooden ignored and tried to bury.
Compiled with more than 40 hours of interviews with Coach Wooden, learn about the man behind the coach. The players tell their stories in their own words.
Click the book to read the first chapter and for ordering information. Also available on Kindle.
---
Sports Medley: Managers who pull pitchers close to no-hitters desecrate the game 9 May 16
Birds of a feather flock together: After Dodgers' rookie manager Dave Roberts pulled Ross Stripling 5 outs short of a no hitter (his replacement allowed a game-tying home run by the first batter he faced), former Dodgers' manager Don Mattingly was not to be outdone. Don, now manager of the Miami Marlins, pulled his pitcher, Adam Conley, with two outs in the 8th inning, just four outs shy of a no hitter, leading 5-0. Conley's two replacements promptly allowed 4 hits and three runs and loaded the bases with the potential tying run before getting the final out.
What's infuriating about these two incidents is that there is nothing in baseball more pressure-packed and tense than the final innings of a no hitter, where every pitch creates tension and excitement. Baseball is a game of entertainment. Managers who ignore baseball tradition and pull pitchers who are so close to baseball immortality do the game and the fans a terrible disservice by their ridiculous decisions.
What would it have hurt Mattingly to at least leave Conley in until he allowed a hit? How would that have jeopardized a 5 run lead? Just one hit! He didn't pull his inept replacement, Jose Urena, when he allowed a hit, then another, then another. Mattingly still stuck with him. But he had to pull Conley before he allowed a hit? It makes absolutely no sense.
Why the Dodgers disappoint: As of this writing the Dodgers are leading the division but are only one game over .500. Their performance is disheartening, to say the least. There are reasons, some of which are:
Why pull a starting pitcher who is in control when the bullpen is one of the worst, and consistently blows leads (the Dodgers lost Stripling's no hitter on a walk off homer in the 10th)? Stick with the starter; it worked for 100 years!

When Yasiel Puig (.243) came up he was a sucker for a low-breaking curve. Now he's a sucker for a fastball down the middle. Worse, he clearly is pleading for a walk, constantly taking fat pitches on 2-0 counts.

My bad here. Kiké Hernandez hasn't been able to hit, even though given a good chance to play.

The hearts of the batting order, Justin Turner, Adrian Gonzalez, and Yasmani Grandal, have been ineffective for the past two weeks. Sunday, in beating Toronto, they were a collective 0 for 11, which has become par for the course. Since April 23, Gonzalez was 8 for 48, .163; Turner was 11 for 42, .261, and Grandal was 6 for 35, .171. Together they were 25 for 126 for a combined batting average of .198 and the Dodgers only won 6 of the 14 games. The Dodgers are 10th (out of 15) in the league in batting average (.241 v. Pittsburgh's league-leading .284) and 9th in runs scored (133 v. the Cubs' league-leading 184).

Their best everyday player so far, without question, has been near-octogenarian second baseman Chase Utley, who was the worst hitter in the league last year. So far this year he's been playing at MVP caliber (that's not a reason to disappoint; I want to give credit where credit is due).
Jockspeak: "I seen it happen first hand," Larry Bird, former NBA All Star and President of the Indiana Pacers. According to WikiAnswers, "Bird received his bachelor's degree from Indiana State University in physical education in 1979. Larry Bird majored at sports in college." They said it, not I.
"The reason I would have did it; the reason I would have did it; I've got to set the tone for the next game." Charles Barkley, former NBA All Star and now ESPN talking head. Another of Barkley's famous quotes is, "I don't care what people think. People are stupid." Barkley attended Auburn University but left after three years and did not graduate. English grammar must have been in the final year of Auburn's curriculum, or maybe it's a postgraduate course there.
The things you learn from internet postings: From the Snopes website reporting on the rumor that former NFL coach George Allen died as the result of a Gatorade Shower.
Seaboe posted: "Yet another 'he was wet and got cold and therefore got sick' story. Common sense could debunk this one. Being wet and cold doesn't make you sick. Germs make you sick."
To which dfresh replied, "Yet another 'Germs make you sick' story.' Germs don't make you sick. Witchcraft or angry demons make you sick."