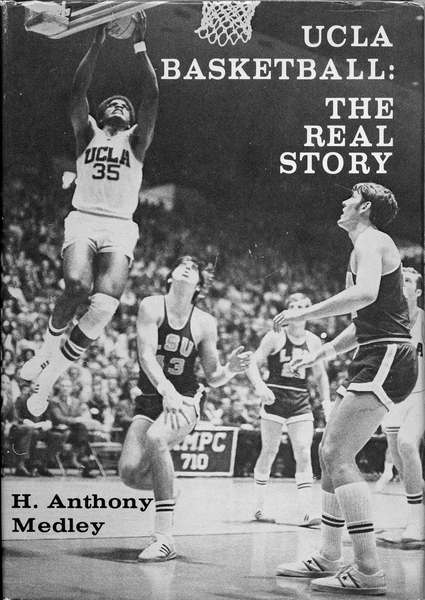 Out of print for more than 30 years, now available for the first time as an eBook, this is the controversial story of John Wooden's first 25 years and first 8 NCAA Championships as UCLA Head Basketball Coach. This is the only book that gives a true picture of the character of John Wooden and the influence of his assistant, Jerry Norman, whose contributions Wooden ignored and tried to bury.
Compiled with more than 40 hours of interviews with Coach Wooden, learn about the man behind the coach. The players tell their stories in their own words.
Click the book to read the first chapter and for ordering information. Also available on Kindle.
---
Sports Medley: Should Roberts have pulled Kershaw? 30 May 16
by Tony Medley
The foolishness continues: This is a simple question: Who would you rather have pitching, leading 2-1 in the bottom of the 8th against the New York Mets with two outs, a runner on first, and lefthanded hitter Curtis Granderson coming to the plate, Clayton Kershaw, the best pitcher in baseball, pitching a 4 hitter with in 10 strikeouts and no walks (Kershaw has only walked 5 batters all year for an unheard of 21/1 strikeout/walk ratio), or a guy named Adam Libertore? 99 out of 100 would say, "Obviously Kershaw; do you think I'm an idiot?" Unfortunately, the 100th person is managing the Dodgers, Dave Roberts, who didn't like the fact that a batter had just lined out to center, so he pulled Kershaw and watched Libertore surrender a hard hit triple (that just missed being a home run by a pittance) and the game was tied. The Dodgers have the best pitcher in baseball and the worst bullpen, but Roberts prefers the bullpen. You can't win with this kind of thinking.
In the 1950s, no manager would have ever considered pulling Kershaw. In fact, in the bottom of the 9th inning of the 7th game of the 1957 World Series at Yankee Stadium, Braves pitcher Lew Burdette was leading the Yankees 5-0, but the Yankees loaded the bases on three singles with two outs. Roberts and every manager in baseball today would pull Burdette. But Braves manager Fred Haney never even gave it a second thought, saying, "They would have to hit three consecutive home runs to beat us; why would I pull Lew?" Burdette retired Bill Skowron on a ground ball force out at third and the Braves were Champions. But that was then, and this is now, and baseball is run by numbskulls, so this is what you get.
And what's the reward? Libertore, who pitched to two men and allowed the tying run to score from first gets the win when the Dodgers scored two runs in the top of the ninth while Libertore was still the pitcher of record! Kershaw gets nothing.
More Baseball Woes: In last year's playoffs, Chase Utley slid into second, breaking up a double play. In the process, the Mets' second baseman's leg was broken, mostly due to the fact that he was out of position. But baseball didn't like this. A few years back, Giants' catcher Buster Posey was injured blocking the plate in 2011, so baseball banned blocking the plate, a play that has been around since 1876, and one of the most exciting plays in baseball. In response to Utley's slide, baseball banned breaking up double plays, another play that has been around since 1876.
In Friday's Mets-Dodgers game, Mets pitcher Noah Syndergaard performed the expected retaliation by throwing behind Utley. The ball never came close to hitting him. This was a sportsmanlike message because Syndergaard could have thrown at Utley's head or his body, risking injury. Instead, he just threw a ball behind him. No chance of injury but message sent.
Home plate umpire Adam Hamari totally overreacted and threw Syndergaard out of the game. That was ridiculous. Maybe give him a warning and let the game continue. I think that Syndergaard should have been lauded for refusing to risk injury to Utley, but sending him a message nonetheless. Baseball is becoming a game for pansies, run by people who don't understand it. I, for one, can't stand what they have done to the game I learned to love in the 1950s.
Quick reflection on Golden State-OKC: Former UCLA assistant Coach Jerry Norman, who knows more about basketball than anyone I know, opines that OKC made a mistake putting Russell Westbrook on Steph Curry in the 7th game because it tired him out too much to be effective offensively, even though Westbrook did a good job on Curry. But offensively Westbrook was only 7 for 21 shooting, missing several short range jumpers and drives that he ordinarily makes, and that poor performance was a substantial hindrance. He also points out that Curry was using the pick and roll to get the lightning quick Westbrook off him and get slow big men guarding him, which freed him up for easier 3 pointers. Norman said that Westbrook should have been told by his coach to roll off the screen and double team Curry instead of switching, letting the slow big men screeners go relatively free because they are much less an offensive threat than Curry.