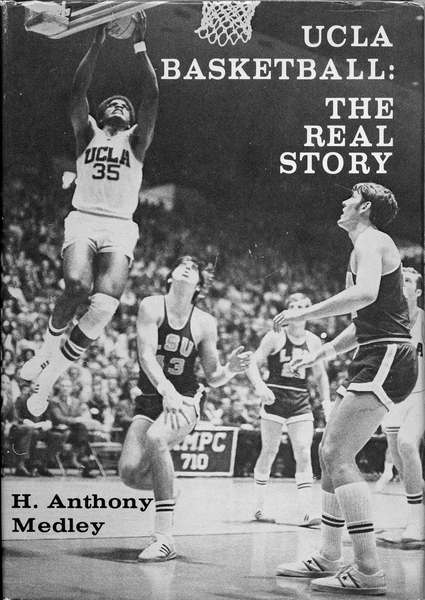 Out of print for more than 30 years, now available for the first time as an eBook, this is the controversial story of John Wooden's first 25 years and first 8 NCAA Championships as UCLA Head Basketball Coach. This is the only book that gives a true picture of the character of John Wooden and the influence of his assistant, Jerry Norman, whose contributions Wooden ignored and tried to bury.
Compiled with more than 40 hours of interviews with Coach Wooden, learn about the man behind the coach. The players tell their stories in their own words.
Click the book to read the first chapter and for ordering information. Also available on Kindle.
---
Sports Medley: Olympics Musings 15 Aug 16
by Tony Medley
While I deplore the hypocrisy of the Olympics in general and the IOC in particular, I have been watching them occasionally. Here are some random comments:
NBC's telecasts and commentary have been deplorable. They manipulate showings like they did with the Women's Gymnastics, where they showed two of the apparatus events at 8 p.m. and then switched to swimming that viewers had to sit through for 2 hours before returning to see the end of the Gymnastics events, meaning that if you watched it to the end you didn't get to bed until well after midnight.

The directing has been dire. Just as one example, in one event, the US-China women's beach volleyball match, the director missed at least one point showing a shot of Karch Kiraly, the US women's coach, and on another they cut from a live point being played to show a split screen of the play and a picture of a player on the bench. That's bush league stuff.

Michael Phelps is perhaps the most over-ballyhooed athlete in the history of sport. He does one thing, he swims. If he's the fastest at the 100m, then he's probably fastest at many of the longer races, too, like Mark Spitz was. Some people have regaled him as the "greatest all-around athlete in history!" Bunk! All he can do is swim, period. He won 23 medals because there are multiple events that the single best swimmer should win and in which he can compete. Since he's the best swimmer of all time and since he has nothing better to do than swim, he can compete in multiple Olympics, so he's going to win all those events time after time, so, viola!, lotsa medals. There are just too many swimming events. It would be like Archery giving one medal for the 25m shoot, and then have another for 50m, etc. The best archer will probably win them all, ergo more medals. As it is, Archery has only one event, 70m.

Track & Field commentator Ato Boldon needs a muzzle. His hypomaniacal nonstop pressurized talking during the 100m final was so annoying I had to turn off the sound.
Greatest All-Around Athlete? Some of the talking heads then went on to rate the "greatest all around athletes." One list had Wilt Chamberlain in the top two or three because he was not only a fine basketball player, "he was the greatest volleyball player in history." What rubbish! I never saw Wilt play volleyball but I have it from the best authority, an All- American basketball player who also was a great beach volleyball player, who played with and against Wilt. Here's what he says,
"Wilt was one of the greatest basketball players, not volleyball. He could not pass or set. One of my good friends who played Volleyball at UCLA used to say he loved to hit against Wilt because he was not a good blocker. Wilt was a good hitter and put many balls away. Many of us on Wilt's Big Dippers and the Manhattan 6 man team were all around good players and we made Wilt look good. The talking head hasn't a clue (what a surprise!)."
This clueless ESPN talking head never mentioned that Jim Brown should be on the list because he truly was one of the best Lacrosse players who ever lived (if not the best) when he was at Syracuse, in addition to being one of the three best runners in NFL history. And where's Jackie Robinson, who lettered in four sports (football, baseball, basketball, and track), at UCLA (and was a star in three; he only played one year of baseball, hitting .097) before breaking the color line in major league baseball where he was Rookie of the Year in 1947 and the first MVP in 1949? But that's what you get when you listen to these guys on TV with their great voices but little actual knowledge of history other than what they deduce from statistics and legend.
Still misleading the public: Vin Scully announced the "paid attendance" at 42,380 for the July 31 Sunday game v. Arizona even though there was virtually nobody in the stands on that hot afternoon. "Tickets sold," is what the figure reported refers to, Vinny. "Paid Attendance" means that there were that many people in the stands who paid and that figure is never announced because MLB doesn't want the public to know the truth about how many people are actually in the stands.