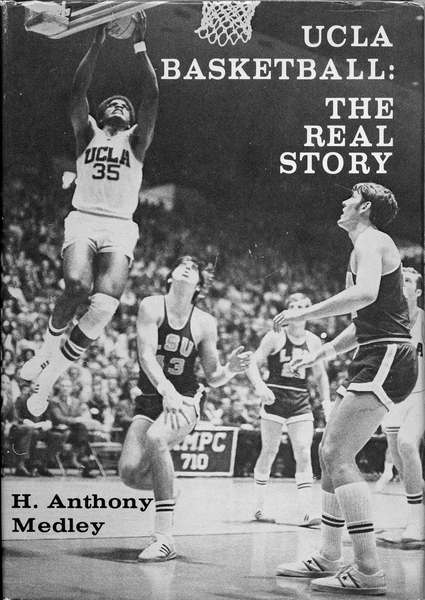 Out of print for more than 30 years, now available for the first time as an eBook, this is the controversial story of John Wooden's first 25 years and first 8 NCAA Championships as UCLA Head Basketball Coach. This is the only book that gives a true picture of the character of John Wooden and the influence of his assistant, Jerry Norman, whose contributions Wooden ignored and tried to bury.
Compiled with more than 40 hours of interviews with Coach Wooden, learn about the man behind the coach. The players tell their stories in their own words.
Click the book to read the first chapter and for ordering information. Also available on Kindle.
---
Sports Medley Nov. 14, 2014
by Tony Medley
The same old shillelagh?: The talking heads football world was agog when former Jets quarterback Mark Sanchez got his chance to take over the high-powered Philadelphia Eagles offense. When Sanchez came off the bench replacing an injured Nick Foles to lead the Eagles to a victory, they all agreed that he could take the Eagles to a Super Bowl, pointing out that he didn't have any turnovers, which plagued him in New York. I, too, thought that Sanchez got a bad rap in New York, but that was because he was playing under two of the more inept offensive coordinators, first Mark Schottenheimer, then Tony Sporano, neither of whom allowed Sanchez to throw the ball downfield, so defenses just loaded the box against him. Contrary to the gush and mush coming out of the mouths of the talking heads, however, Sanchez did throw a bad pass reminiscent of his Jets' days, a long pass down the sideline that was poorly underthrown and the only reason it wasn't intercepted was that the interceptor barely stepped on the sideline. So the same old Sanchez didn't completely disappear. But the jury is still out. I think that with a good offensive line, a running game, and a coach who is an offensive genius (unlike Rex Ryan), Sanchez will be at least as good as the injured Nick Foles, if not better. But the Super Bowl? No team with a USC quarterback has ever won a Super Bowl.
Why "analysts" get the big bucks: With Philadelphia annihilating Carolina 31-7 with two minutes left in the first half, ESPN Analyst Jon Gruden opined, "Philadelphia is going to blow Carolina out of here if this continues."
"A lot of people who ain't sayin' ain't, ain't eatin':" Dizzy Dean uttered this immortal line when criticized by English teachers for using "ain't." But Ol' Diz never got past the third grade. ESPN Radio's "Mike and Mike in the Morning" co-host Mike Golic, on the other hand, has no such excuse, having graduated after four years of education from the University of Notre Dame. In the last U.S. News & World Report of National University Ratings, Notre Dame was tied with Brown and Vanderbilt as the 16th best University in the country, academically, forget football. So the good fathers in Indiana must cringe when they hear Golic make such statements as "…it was a wonderful experience for Chris and I" (November 11, 2014), a grammatical error Golic makes several times in virtually every show.
Bring Back the Replacement Refs Dept.: So far this year through games of November 10 NFL refs have called 410 defensive holding, illegal use of hands, and illegal contact penalties vs. 337 for all of last year. To give the refs a little slack, however, they are merely following orders because the Commissioner's office (remember Roger the Dodger Goodell who has disappeared from view since his disastrous news conference?) is ordering these flags thrown to help the offense run up the scores in the mistaken belief that the fans love scoring. In fact, most fans like good football, which includes effective, hardnosed defense. All these flags are turning the game into something other than football.