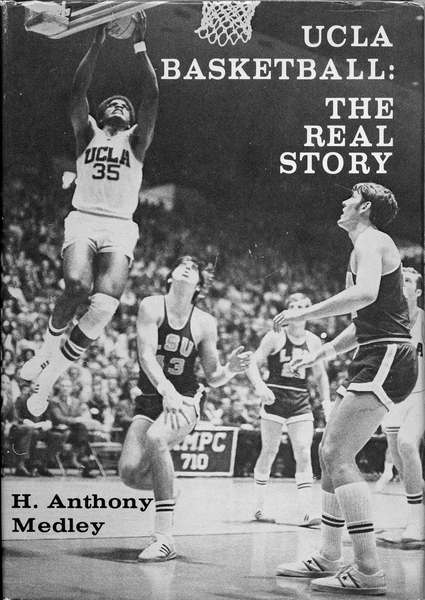 Out of print for more than 30 years, now available for the first time as an eBook, this is the controversial story of John Wooden's first 25 years and first 8 NCAA Championships as UCLA Head Basketball Coach. This is the only book that gives a true picture of the character of John Wooden and the influence of his assistant, Jerry Norman, whose contributions Wooden ignored and tried to bury.
Compiled with more than 40 hours of interviews with Coach Wooden, learn about the man behind the coach. The players tell their stories in their own words.
Click the book to read the first chapter and for ordering information. Also available on Kindle.
---
Sports Medley 1 May 17
by Tony Medley
Is ESPN dead or merely dying? Bob Lee, top ESPN investigative reporter since 1979, commenting on the ESPN purge of on air talent in light of the loss of subscribers of 60,000/month, "There is no diversity of thought at ESPN." ESPN's public editor said, "Internally, there's a feeling among many staffers, both liberal and conservative, that the company perceived move leftward has had a stifling effect on discourse inside the company and has affected its public facing product."
Correction to all time Dodgers team: Two weeks ago my column inadvertently left out Fernando Valenzuela as one of the Dodgers' all time best pitchers. For a few short years, Fernando was the best pitcher in baseball before his screwball ruined his arm, the same thing that happened to New York Giants' ace screwballer Carl Hubbell in the '30s.
NBA playoff scam: Does anybody in their right mind think that the Los Angeles Clippers or the Utah Jazz has a snowman's chance in Hades of winning the NBA title? That these teams, and others, like Milwaukee and Portland were competing in the NBA playoffs is a travesty. When the NBA started in the '40s they needed something to keep the fans' interest alive, so they devised a "playoff" system in which virtually every team qualified, which allowed the NBA teams to make the money they needed to survive. With all the billions of TV money flowing into their coffers, they no longer need this ruse, so the "playoffs" should be reduced to include only division winners. What goes on today is just a ripoff of gullible fans. One last question, does anybody outside of the home base of these mediocre teams watch these games?
Why lousy teams stay lousy: The Chicago Bears traded up (from third to second!) to draft a quarterback. This kind of nonsense is why they continue to lose. They cut the terrific quarterback they had, Jay Cutler, who was hampered by a weak offensive line and butterfingered receivers. What they need are offensive linemen who can protect the quarterback and receivers who can catch the ball. But, no, these geniuses actually traded up to get another quarterback, Mitchel Trubisky. This after they had just paid Mike Glennon $18.5 million guaranteed to become their new quarterback. Do they really think this new guy is anywhere near the equal of Glennon or Cutler? There must be a word for this kind of thinking because "stupid" doesn't give it the reprobation it deserves.
Cartoons are more entertaining: The NFL's draft is watched, I guess, by millions of fans. But do they realize that last year there were more undrafted free agents playing in the NFL than first round draft picks combined? Why do people sit and watch this extraordinarily boring exercise in futility, watching people they never heard of being drafted? Do the draftors know what they are doing? In considering this question, take into consideration that Tom Brady, who many think is the greatest quarterback in NFL history, wasn't drafted until the sixth round, while failures like Terry Baker was the #1 pick in 1963 and Ryan Leaf the #2 pick in 1998. If the people making the decisions knew what they were doing, how could that be?
NFL disgrace: The big news, though, was that there was a team with such little integrity that it drafted Oklahoma running back Joe Mixon, the ruffian who slugged a woman and broke bones in her face and then just walked away while she lay semi-conscious on the floor. That team, the Cincinnati Bengals, should live forever in infamy. It was revolting to watch Bengals head coach, Marvin Lewis, lamely defend the action, saying, "We've done such a lot of work regarding Joe Mixon throughout the entire process this year and based on all of the time, all the research, we felt that we can continue to move forward."
Hey, Coach, "All the time and research?" The only research I would have to do is to watch the film of this creep brutally assaulting a young woman in a coffee shop and walking away, then refusing to apologize until forced to by public outrage. What "research" convinced you that you wanted this callous brute on your team? Anybody who signs him just because he's a good football player is as much of a creep as the creep himself. Cincinnati should rename themselves the "Cincinnati Woman-Beaters."