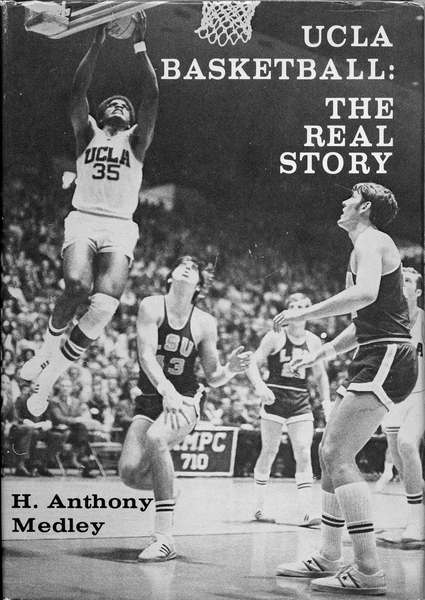 Out of print for more than 30 years, now available for the first time as an eBook, this is the controversial story of John Wooden's first 25 years and first 8 NCAA Championships as UCLA Head Basketball Coach. This is the only book that gives a true picture of the character of John Wooden and the influence of his assistant, Jerry Norman, whose contributions Wooden ignored and tried to bury.
Compiled with more than 40 hours of interviews with Coach Wooden, learn about the man behind the coach. The players tell their stories in their own words.
Click the book to read the first chapter and for ordering information. Also available on Kindle.
---
Sports Medley NBA Draft 29 Jun 15
by Tony Medley
Change of Plans: I was all ready to write a column criticizing the Lakers for drafting Duke's big man, Jahlil Okafor, when, lo and behold, they drafted Ohio State point guard D'Angelo Russell. Predicting which young players are going to be stars and which aren't is a dubious undertaking, but Okafor is a guy who not only can't make free throws, he can't defend. When most NBA teams live by the pick and roll, Okafor is not a guy you want on your side. And does Los Angeles really need another center who is so inept he can barely hit half of his free throws? I say no. I don't know if Russell is the incarnation of Magic Johnson and Chris Paul, but he looks like someone who can play point guard and who, even though he can shoot (apparently), feels as if his primary function is to get the ball to open teammates, and that's the new NBA, not some lumbering giant in the middle.
Byron Who?: When Lakers' GM Mitch Kupchak was asked what influence his coach, Byron Scott, had on the decision to pick Russell instead of Okafor, he all but laughed out loud. "Not very influential at all," said Kupchak, who continued on to say that Scott had "not nearly the body of work you need to make a decision with a college kid. I solicited some opinion but Byron would have been happy with any of the guys we brought in to work out."
It's George Bush's Fault: This column has been hard on Don Mattingly and his puzzling decisions, but I understand that every day he gets a memo from his wunderkind boss, President Andrew Friedman, full of statistics about who does what when, and makes his game lineup decisions on that memo. That might explain why he insists on having strikeout king Joc Pederson lead off. Pederson either hits a home run, strikes out, or walks. If you delete his home runs from his at bats and hits, his on base percentage is a woeful .325. Why would anyone want someone like this leading off? A leadoff hitter is someone you want to get on base for the big guys to drive in, someone like Dee Gordon (OBP .373). Friedman dumped Gordon for the equivalent of a couple of used pairs of spikes. And why? Because Friedman is one of the sabermetricians who wouldn't recognize the name John McGraw if you hit them over the head with it, and they all think that the stolen base is a complete waste. Pederson should hit 8th (for which is .245 batting average is appropriate) so he can get his home runs after better hitters have gotten on base which will result in more runs. When Pederson bats leadoff it's the equivalent of the Dodgers starting every game with one out.
Glaring difference between Brooklyn Dodgers fans and Los Angeles Dodgers fans: In the first game I saw at Ebbets Field against the Stan Musial-Enos Slaughter-Red Schoendienst St. Louis Cardinals, Dodgers' utility infielder Rocky Bridges was picked off second base, engendering lots of boos. When he trotted out to take his place in the infield at the start of the next inning, more boos cascaded down upon him from the stands. A few weeks ago when Howie Kendrick was picked off second base in Dodger Stadium in a similar bonehead play of the first order, there wasn't a hint of disapproval from Angelenos either at the time of the pickoff or when he trotted out to take his place in the infield at the start of the next inning. Brooklyn fans took their Dodgers baseball seriously and did not suffer fools gladly. But Angelenos? Ho hum, who cares; look! There's Snoop Dogg and Will Ferrell! When can we leave to beat the traffic?