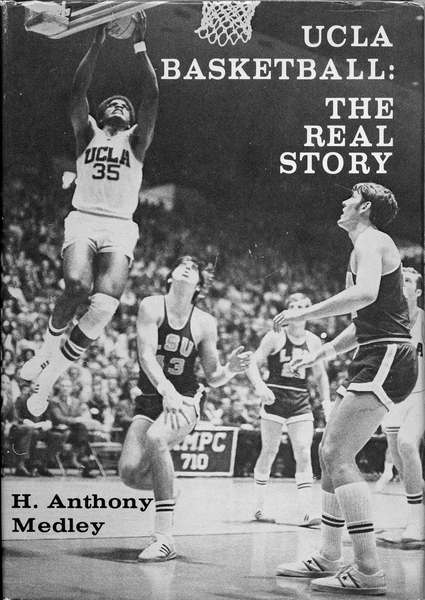 Out of print for more than 30 years, now available for the first time as an eBook, this is the controversial story of John Wooden's first 25 years and first 8 NCAA Championships as UCLA Head Basketball Coach. This is the only book that gives a true picture of the character of John Wooden and the influence of his assistant, Jerry Norman, whose contributions Wooden ignored and tried to bury.
Compiled with more than 40 hours of interviews with Coach Wooden, learn about the man behind the coach. The players tell their stories in their own words.
Click the book to read the first chapter and for ordering information. Also available on Kindle.
---
Sports Medley: Larry Brown and UCLA 5 Oct 15
by Tony Medley
Larry Brown Redux: There is no question but that 75 year old Larry Brown is an exceptionally fine basketball coach. He is the only coach who has won both an NBA Championship (2004 Detroit Pistons) and an NCAA Championship (Kansas in 1988). But he is a strange dude. He quits jobs at the drop of a hat for no seeming reason and he brings NCAA sanctions down on his teams, once with Kansas, once with UCLA (the year after taking the Bruins to the title game in 1980), and now with SMU. When you speak with him personally he is very impressive, soft spoken and reasonable. But Larry seems to have a little problem with the truth. In a recent news conference about his nine game suspension as head coach of SMU by the NCAA, and speaking of the sanctions suffered by UCLA for deeds committed during his tenure, he said, "UCLA asked to rehire me a few years later."
Well, not exactly, Larry. I know exactly what happened there because I know the people involved. Larry had just won the NCAA Championship for Kansas in 1988. He had expressed his desire to people involved with the UCLA basketball program to return to UCLA as head basketball coach. Negotiations ensued and everything was agreed, so the people involved called then UCLA Chancellor Charles Young to get the final approval. Young said he wanted to interview Brown on the next Sunday. When Brown was contacted, he informed them that that Sunday was the day of the parade celebrating the Kansas National Championship his team had just won, and asked for another day to interview Young. When informed of this, Young said Sunday was the day and if Brown really wanted the job, he would have to be there on Sunday and that was not negotiable. The people who had been involved negotiating with Brown tried to explain that it would be a horrible faux pas if Brown did not appear in Kansas at the parade for the National Championship and tried to reason with Young, but he was adamant. If Brown didn't show up on Sunday, he would not get the job. Extremely disappointed, the people informed Brown of Young's proclamation. Even for Larry Brown, not showing up for the parade was too much, so he attended the parade in Kansas and UCLA hired Jim Harrick to replace Walt Hazzard as UCLA's head basketball coach.
Mattingly finally finds a starting lineup: After loading his batting order with .200 hitters like Jimmy Rollins, Joc Pederson, and Chase Utley, when push came to shove with the division title on the line and Clayton Kershaw on the mound, Donnie Baseball had the following starting lineup:
Hernandez, cf .319
Kendrick, 2b .291
Gonzalez, 1b .276
Turner, 3b .290
Seager, ss .333
Ruggiano, lf .308
Ellis, c .232 (Ellis has been hot the last half of the season).
Van Slyke, rf .239
Ethier, rf .299 (batted for Ruggiano in the 8th and went 1 for 2)
Had he started Ethier instead of Van Slyke, this is a lineup that can win the World Series. Ethier should not be platooned and should start in place of Van Slyke. Result? Dodgers won 8-0 and Kershaw pitched a complete game! Lord 'o Mercy, in the past few weeks, Kershaw has pitched two complete games. And he's still alive!
Alas, Rollins and Utley and Pederson found their ways into the lineup in subsequent games and the specter of Yasiel Puig returning to the starting lineup looms like a horror movie just out of shot. Mattingly is extraordinarily lucky because the injury to rally-killer Puig forced Donnie Baseball to insert Andre Ethier into the starting lineup on a regular basis and Andre has been the most consistently productive hitter on the team. Had Puig not been injured there is no reason to believe that Mattingly would not have kept Yasiel in the starting lineup along with Rollins, Utley, and Pederson, and the team would have continued to languish offensively.
Mattingly has company: With a spot in the playoffs on the line in the last game of the season, Angels' manager Mike Scioscia pulled starting pitcher Garrett Richards after 6 innings after scattering six hits, striking out 6 and walking only 2 in 99 pitches in a tight 3-2 game against Texas. Scioscia's bullpen proceeded to put the game out of reach with 5 pitchers allowing 6 runs in the bottom of the seventh. Bye bye playoffs. When will these managers learn that there's nothing more important in baseball than a starting pitcher who is on his game? Don't hold your breath.
Mix that Metaphor! A Fox News Talking Head, commenting on the possibility of VP Joe Biden running for President, "He'll come in with a Hail Mary on a white horse."