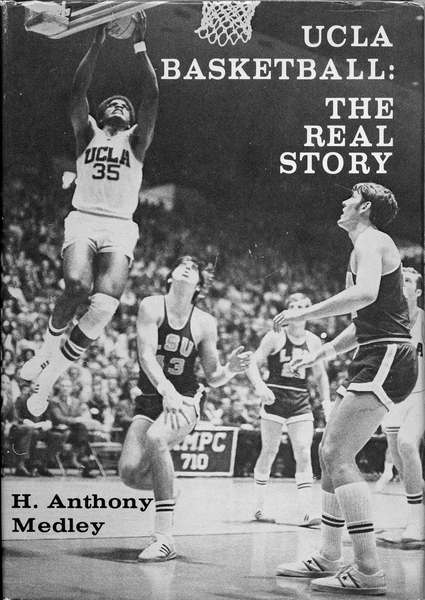 Out of print for more than 30 years, now available for the first time as an eBook, this is the controversial story of John Wooden's first 25 years and first 8 NCAA Championships as UCLA Head Basketball Coach. This is the only book that gives a true picture of the character of John Wooden and the influence of his assistant, Jerry Norman, whose contributions Wooden ignored and tried to bury.
Compiled with more than 40 hours of interviews with Coach Wooden, learn about the man behind the coach. The players tell their stories in their own words.
Click the book to read the first chapter and for ordering information. Also available on Kindle.
---
Sports Medley: Kobe Bryantís 60 Point Finale a Microcosm of a Career of Selfishness 18 Apr 16
by Tony Medley
The gushing over Kobeís last performance has been more nauseating than his farewell tour, and thatís saying a lot. Kobe is the most cold-heartedly selfish player Iíve ever seen, and Iíve seen some cold, cold-hearted selfish shooters like Sidney Wicks and Geoff Petrie and Alan Iverson, to name only three. None could compare with Kobe for total self-absorption.
But letís get to Kobeís last game that virtually everyone became orgasmic over. Here are the facts:
In scoring 60 points, Kobe took more shots, 50, than any player since 1984 (the last year to be found on the NBA website). In his fourth year in the NBA, in a real game (as opposed to the Lakersí meaningless last game of the year), Wilt Chamberlain took 63 shots in scoring 100 points in 1962.

Kobe only made 22 of those shots (meaning he missed 28), for a shooting percentage of 44%, which is still under the league average of 45.2%. Wilt, on the other hand, made 36 out of 63, or 57% of his attempts.

His teammates took only 35 shots, but made 19 of them, for an average of over 54%, so it can be argued that had Kobe stayed on the bench for the whole game the Lakers would have won more easily than they did with Kobe shooting like a wild man.

Kobe only made 6 of 21 3-point attempts, an average of 28.6% v. a league average of 35.4%. In fact, some of his shots were laughable, falling away throws from 35 feet. Put another way, he missed 15 of his 21 3-point attempts.

If an average NBA player had taken the same number of shots and the same number of 3-pointers, he would have scored 67 points.

An NBA game is 48 minutes long. Kobe took 50 shots, more than one per minute. But since each team has possession approximately half the time, that means the Lakers had possession for approximately 24 minutes, which translates to one shot every 29 seconds for Kobe.
Itís really not disputable that Kobe was the worst starting player in the league this year. His shooting percentage of 35.8% put him 431st out of 476 players and his 3 point percentage of 28.5% put him 300th out of 476 players. Despite this, he led the Lakers in shots attempted for the year,1,113, even though he averaged only 28 minutes per game playing time. Only 25 players in the NBA took more shots than Kobe. The shooting percentage of the 25 players who took more shots than Kobe was 47.6%, 12 percentage points better than Kobe. And Kobe only played 1,863 minutes. The 25 players who took more shots than Kobe averaged 2659 minutes of playing time, 796 more minutes than Kobe.
He was playing for a team run by the most clueless executives in the history of organized sports. Three years ago his owners, who inherited the team from their father, gave him a contract that paid him $24 million per year as compensation for Ēall heís meant to the Lakers,Ē ignoring the facts that he was well paid for all those years, that the $48 million contract severely damaged the team in competing for free agents, and that he was clearly over the hill.
Then, their oblivious General Manager said that this year was ďdevoted to Kobe.Ē And it obviously was because nobody seemed to care a whit about winning. It was all about Kobe. Result? The worst record in Lakersí history.
Even when winning, Kobe was insufferable. When Phil Jackson turned two losers, Kobe and Shaq, into winners (neither had ever won diddlysquat anywhere before Phil became their coach), Kobe was miserable because Shaq was getting too much credit. He couldnít stand it any longer and he became so obdurate that the Lakers were forced to get rid of Shaq. Who knows how many more titles Phil Jackson would have won with Kobe and Shaq? But Kobe was happy because he was finally top dog, forget winning.
Enough! I say good riddance. The greatest sports executive in history, Branch Rickey, said, ďItís better to get rid of a player a year too soon than a year too late.Ē The three people running the Lakers not only did not get rid of Kobe at the right time, they kept him for three more years and basically bankrupted the quality of the franchise in the process.
As a postscript, has anyone ever heard Kobe give Phil Jackson any credit for anything? Itís still all about Kobe.