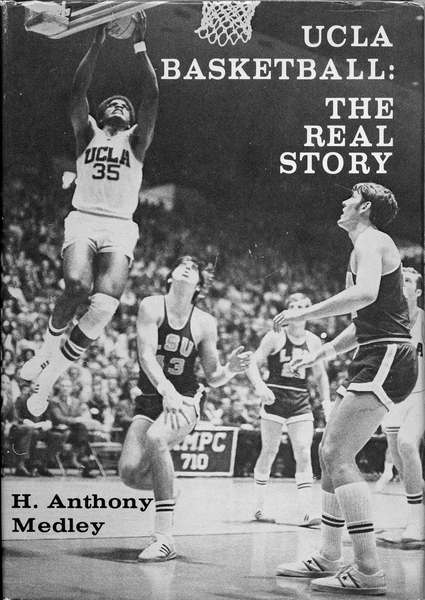 Out of print for more than 30 years, now available for the first time as an eBook, this is the controversial story of John Wooden's first 25 years and first 8 NCAA Championships as UCLA Head Basketball Coach. This is the only book that gives a true picture of the character of John Wooden and the influence of his assistant, Jerry Norman, whose contributions Wooden ignored and tried to bury.
Compiled with more than 40 hours of interviews with Coach Wooden, learn about the man behind the coach. The players tell their stories in their own words.
Click the book to read the first chapter and for ordering information. Also available on Kindle.
---
Sports Medley: Indy 500, Popovich and Other Happenings 29 May 17
Indy 500: With the exception of retired Vin Scully on baseball, deceased Chick Hearn calling basketball play-by-play, John McEnroe on tennis, and Hubie Brown on basketball,, there aren't many TV sports commentators who provide any kind of knowledgeable or helpful information (in fact, I would say none). The producers of sports on television are similarly inept in my judgment. That is why once a year I am blown away by the quality of ABC's coverage of the Indy 500 car race. The announcers are exceptional, making the esoterica happening on the track understandable and exciting. The video of the races, enhanced by the helmet cam attached to various drivers' helmets introduced this year, gives viewers amazing shots that capture the speed and danger of the event. While the Indy 500 is the most attended single sports event in the world, spectators at home get a far better view of what's going on than those in the stands. ABC should win an Emmy every year for best sports production for the Indy 500, because nothing comes close.
More on Popoff Popovich: San Antonio Spurs basketball coach Gregg Popovich showed another glimpse into his lack of character last week. Due entirely to Popovich's unfair rant blaming Golden State's Zaza Pachulia for causing an ankle injury that was primarily caused by Popovich himself, Pachulia revealed that he and his family have received death threats, not only to Zaza, but also to their children. Anybody with a scintilla of class would immediately come forward to discourage such threats, but Popovich has remained silent. His silence can only be interpreted as encouraging the threats being directed at the innocent Pachulia and his innocent family. Popovich is a disgrace to the NBA, if not to the human race.
Modern baseball terminology: The sabermetricians keep making baseball curiouser and curiouser. Now they have taken to comparing the quality of batted balls by talking about "exit velocity." This is the speed of the ball after it leaves the bat. This is one stat that I like. A batter who hits a hot line drive directly into the hands of the third baseman has had a much better at bat than one who dumps a Texas League single out of the reach of the left fielder, shortstop and third baseman. If the Dodgers were to use it, Kiké Hernandez would be starting for them because he hits the ball hard much more often than some of the Dodgers' starters, and doesn't get any credit when it's right at somebody.
Prescient: On April 17, I wrote, "Baseball…should outlaw head first slides. When one slides feet first, there's much less that can be seriously injured. Sliding head first … jeopardizes the fingers, hands, wrists, shoulders, and arms. If baseball is really interested in protecting the health of its players, nobody should be allowed to slide head first." On Monday the Angels realized the truth of what I wrote when Mike Trout, "the best player in baseball," put himself on the disabled list for 2 months by injuring his thumb in a head first slide. When will baseball come to its senses?
Smart Giants: When Washington's Bryce Harper charged Giants' pitcher Hunter Strickland starting a benches-clearing brawl on Monday, two Giants players showed they were a lot more mature and smarter than the average baseball player. Star pitcher Madison Baumgarner, instead of charging the field, turned around and went into the clubhouse. Catcher Buster Posey, the Giants best player, just basically stood and watched, saying later, "It's a little dangerous to get in there sometimes," as his reason for not stepping in. How true, and how stupid were all those who plowed into each other, risking injury. Baseball should have the same rule that the NBA and NFL do, that anybody leaving the bench during a fight gets suspended.