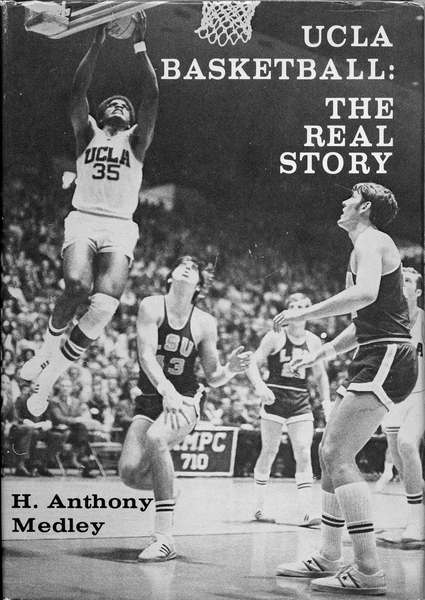 Out of print for more than 30 years, now available for the first time as an eBook, this is the controversial story of John Wooden's first 25 years and first 8 NCAA Championships as UCLA Head Basketball Coach. This is the only book that gives a true picture of the character of John Wooden and the influence of his assistant, Jerry Norman, whose contributions Wooden ignored and tried to bury.
Compiled with more than 40 hours of interviews with Coach Wooden, learn about the man behind the coach. The players tell their stories in their own words.
Click the book to read the first chapter and for ordering information. Also available on Kindle.
---
Sports Medley: Another Indefensible Dodgers Front Office Decision 17 Aug 15
by Tony Medley
Another Incomprehensible Pitching Decision by Dodgers' Front Office: In a stunningly indefensible decision, starting pitcher Mike Bolsinger was condemned to the minor leagues on July 31 in order to make room for three new Dodgers' pitchers, heavily tattooed Mat Latos, Alex Wood, and Jim Johnson. Bolsinger performed more than admirably for the Dodgers. His ERA, 2.83, was the 23rd best in all of baseball out of 122 pitchers who have thrown more than 80 innings. He was rarely allowed to pitch more than five or six innings.
So what happened? In Latos' first start against Pittsburgh on August 8 he was bombed out of the stadium, allowing 7 hits (one a three run home run by opposing pitcher Francisco Lariano, the first in his 10 year career) and six runs in 4 innings with no strikeouts. In Johnson's last seven days (August 6-13), in 1.2 innings pitched he allowed 9 earned runs on 8 hits and 3 walks for an ERA of 48.6. In Wood's last six turns on the mound for Atlanta and the Dodgers he has given up 21 earned runs in 37 innings for an ERA of 5.12.
Bolsinger, who relies on a cutter, slider, and curve ball, only allowed 28 earned runs in 89 innings. His FIR (a stat that reputedly measures a pitcher's run prevention independent of the defense) ranks him 14th among all pitchers. How can anyone with half a brain justify jettisoning a pitcher with Bolsinger's consistent performance from a Dodgers staff that is woefully weak in starting pitchers after Clayton Kershaw and Zack "I can't pitch 9 innings" Greinke?
Help Me! I can't pitch nine innings: In a postgame interview, Grienke conceded that he believes that he can't throw more than 100 pitches in a game. He gave no reason for this and, in fact, in his last game the fastest pitch he threw was in the last inning he pitched. But he's bought into the pitch-count theory lock, stock, and barrel. No starting pitcher who admits and believes that he can only throw 100 pitches a game would ever get my vote for Cy Young Award, I don't care what his ERA is. Cy Young (who started 815 games in his 22 year career and completed 749 for a completion percentage off 91.9% and a career ERA of 2.63) would laugh Grienke and his complete game percentage of 4.4%, 14 complete games out of 315 starts, off the planet as a wuss.
Add Grienke: Whenever New England Coach Bill Belichick appears for an interview he looks, speaks, and acts is if he's suffering from an acute attack of diarrhea. His non-answers would qualify him to be a United States Senator: example: Q. "Did you talk with Tom Brady?" A. "I talk to the team every day." Q. "But did you talk with Tom Brady?" A. "I talk to the team every day." Although substantially more cooperative than Belichick, Grienke's answers are equally opaque and his mannerisms and voice inflections are almost identical with Belichick's diarrheal appearances.
This Year's Justin Turner: Since Turner has finally gotten Don Mattingly to realize he's the best hitter on the team and seems secure as a starter, Kiké Hernandez is taking his place as the guy who most needs to start. Off his short tenure, he appears to be the best all-around outfielder on the team, and probably the best shortstop. Let's hope it doesn't take Mattingly as long to recognize his worth as it did for Donnie to remember Turner's name (remember, despite having the highest batting average in baseball, Turner was on the bench for all three playoff games last year, and didn't achieve a starting position until shortly before the All Star game this year).
Grounds for Termination With Prejudice: In Sunday's final round of the PGA Championship, Anirban Lahiri hit his second shot on the Par 5 16th hole onto the green. The knucklehead announcer rhapsodized, "Oh, beautiful golf shot!" That's the first time I've heard this inanity in a while (he said it again, later), but it is still irritating. When LeBron James makes a basket, does the announcer say, "Oh, what a beautiful basketball shot?" When Aaron Rodgers throws a touchdown pass, does the announcer say, "Oh, what a beautiful football pass?" So when the announcer knows it's a golf tournament he's describing, why does he have to say "golf shot" instead of just, "Oh, what a beautiful shot?" Are viewers of golf tournaments so dumb they don't know the shot is a golf shot and not a basketball shot? If I were king, any golf announcer who said anything about a "golf shot" would be banned from speaking the English language for life.