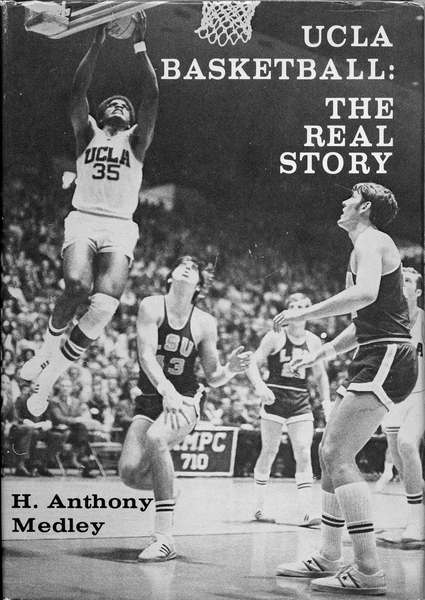 Out of print for more than 30 years, now available for the first time as an eBook, this is the controversial story of John Wooden's first 25 years and first 8 NCAA Championships as UCLA Head Basketball Coach. This is the only book that gives a true picture of the character of John Wooden and the influence of his assistant, Jerry Norman, whose contributions Wooden ignored and tried to bury.
Compiled with more than 40 hours of interviews with Coach Wooden, learn about the man behind the coach. The players tell their stories in their own words.
Click the book to read the first chapter and for ordering information. Also available on Kindle.
---
Sports Medley: The Highs and (Mostly) Lows Of TV & Radio Sports 26 Dec 14
by Tony Medley
Touching: John Wall of Washington Wizards breaking up on national TV while speaking about a young fan dying of lymphoma.
Atrocious bad grammar by college-educated Analysts: Herm Edwards, former player, coach, and now ESPN analyst, graduated from San Diego State, "He can't carry it on his left side no more" and "He's a doctor, but he ain't no NFL team doctor." Chris Carter, Hall of Fame receiver and now ESPN analyst, attended "The" Ohio State University for three years, "He (Jay Cutler) didn't play good." (I could write a column a week devoted to Carter's bad grammar). Ray Lewis, ESPN analyst and former Ravens linebacker after three years of "education" at University of Miami, and who actually received an Arts and Sciences degree from University of Maryland University College, "What he done with Giovani Bernard (Cincinnati) and what he done with those two backs controlled the game."
Turn down the sound: "You have to be able to throw the ball accurately to be successful, at least in this league." Fox analyst John Lynch. Lynch learned to say the obvious at Stanford. When Green Bay's Aaron Rodgers fumbled in the end zone and the ball was recovered by another Green Bay player, Fox Sports analyst Terry Bradshaw said that the recovering player was "trapped in the end zone" for a safety. But the rule is that if the offense fumbles in the end zone and someone other than the fumbler picks it up, it's a safety regardless of where he's tackled. Get it right, Terry. And my two favorites of the week: CBS analyst Rich Gannon, "He hurt his left shoulder way above his ear." CBS analyst Deion Sanders, "…a guy that can matriculate the ball downfield."
Baywatch Babes Dept.: The goofy postgame questions asked by these brainless babes are better than Jim Abrahams, David and Jerry Zucker, writers/directors of the 1980 classic film Airplane could concoct for another screwball comedy. Fox Sports' sideline reporter Jen Hale questioning Detroit Lion quarterback Matthew Stafford, "Can you hang on and bring a playoff game to Detroit for the first time since the 1990's?" NBC sideline reporter Michelle Tafoya, who is becoming a regular in this column, to Dallas Cowboys' quarterback Tony Romo, "You guys took a 24-0 lead only to see Philadelphia come back with 24 unanswered points. At that point, what's going through your head?" Then, "You had some good moments with Dez Bryant. What was goin' on between the two of you?" Then, undaunted, "You have thrown 18 TD passes with one interception; how do you explain that success?" As if that weren't enough ignorant questions, she turns to Dallas wide receiver Dez Bryant and asks, "You had three touchdown passes; what was workin' for you?" Tafoya actually only asks one question to all her interviewees all year long; she just rewords it a little each time. CBS sideline reporter Jenny Dell to Philip Rivers after San Diego upset the 49ers: "Another comeback win; another one on the road; what does that say about the fight of this team?" Then: "Two fourth down conversions in that drive; what gives you the confidence at that point?"
Not a Baywatch Babe: Compare these ignoramuses with Fox Sports sideline reporter Erin Andrews interviewing Kam Chancellor, Seattle Seahawks defensive back, "What was the biggest adjustment your defense made between the first and second half?" Erin better watch out. If she keeps asking intelligent questions soliciting substantive responses about the game instead of the uninformed inanities mouthed by the likes of Hale, Tafoya, and Dell apparently favored by the nitwits who run the networks, she might find herself out of a job.
Beauty on the job: In my other occupation as a film critic I get to see lots of gorgeous women. So when I say that Melissa Stark, Hostess of ESPN's Game Day First, is as beautiful as any woman on the big screen including Amy Adams and Sienna Miller, you can take it to the bank. She reminds me of Meredith Baxter in her prime. Not only that, she knows what she's talking about.
Not politically correct: Kudos to NFL Network analyst Sterling Sharpe for wishing everyone "Merry Christmas" on national TV.