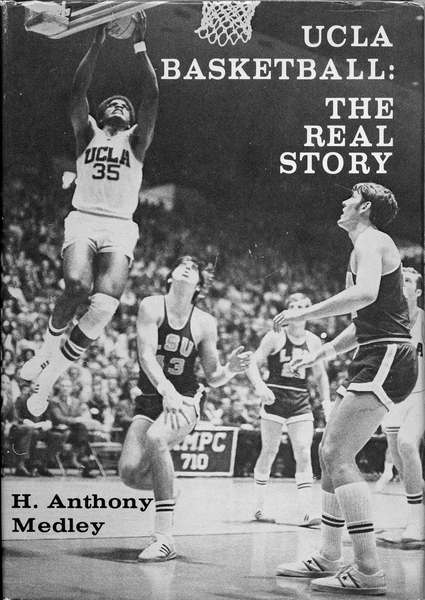 Out of print for more than 30 years, now available for the first time as an eBook, this is the controversial story of John Wooden's first 25 years and first 8 NCAA Championships as UCLA Head Basketball Coach. This is the only book that gives a true picture of the character of John Wooden and the influence of his assistant, Jerry Norman, whose contributions Wooden ignored and tried to bury.
Compiled with more than 40 hours of interviews with Coach Wooden, learn about the man behind the coach. The players tell their stories in their own words.
Click the book to read the first chapter and for ordering information. Also available on Kindle.
---
Sports Medley: Dodgers' manager pulls rookie pitcher from no hitter 11 Apr 16
by Tony Medley
Let's be honest here: Last Saturday Dodgers' rookie manager Dave Roberts pulled rookie starting pitcher Ross Stripling, who was making his major league debut, with one out in the bottom of the eighth inning when he was pitching a no hitter. This was baseball history in the making. No pitcher in the history of baseball has ever pitched a no-hitter in his first game. Roberts pulled him after Stripling's 3-1 pitch was called a ball, apparently the umpire thought it missed by an inch (it looked like a strike to me), walking the batter. Pulling a pitcher pitching a no-hitter in the 8th inning of a game in which the pitcher has a 2 run lead is unprecedented and a total violation of baseball tradition. Managers lean over backwards to keep a pitcher throwing a no-hitter in the game if at all possible. And this would have been a first in baseball history going back to 1876 when the National League was formed. Stripling only had five more outs to go!
What happened next was poetic justice because Dodgers' relief pitcher Chris Hatcher grooved his 3-1 pitch to the Giants next hitter, backup catcher Trevor Brown, who blasted it into the left-field stands for a two run home run for the Giants' first hit, tying the game and the Dodgers went on to lose to another home run in the 10th inning, 3-2.
Roberts' defense was that he was always going to pull Stripling after 100 pitches because Stripling was recovering from Tommy John surgery two years ago. Four things are relevant here:
What's magic about 100 pitches? In point of fact, Tommy John had his surgery after the 1974 baseball season ended. He sat out 1975, but in 1976 he started 31 games and completed 6; so there's no evidence at all that somebody who had the surgery two years ago can't pitch a complete game this year.

If you were to believe Roberts had a firm 100 pitch limit on Stripling, you would have to believe that, since he had thrown 95 pitches through the end of the 7th inning, Roberts sent him out into the bottom of the 8th to throw just five pitches and was then going to pull him. If you believe that, you qualify for the Gullibility Oscar®.

This is what Roberts was quoted as saying, anyway, and the media stood in line to defend him (as did Stripling and his father, although that was probably just good politics; who is going to criticize the guy who holds your future in his hands?). But is that what Robert said? No. It was an incomplete quote. What he actually said in the complete quote was, "if somebody gets on base, we're going to go to Hatch." Now let's analyze this. If Roberts was really concerned about Stripling's health and was not going to allow him to make more than 100 pitches, that's one thing.

But when he says he's only going to pull him "if somebody gets on base," then that is another thing entirely. If that's the standard, pulling him has nothing to do with his health. What does somebody getting on base have to do with the number of pitches or the status of the health of his arm? Absolutely nothing! This is just more of the same old same old, managers panicking when a starting pitcher allows a runner to get on base and pulling the pitcher.
It's nonsense. And Roberts should be chastised, not only for thumbing his nose at both baseball history and its tradition of not pulling any pitcher throwing a no hitter, but also for his doubletalk. And the media should be chastised for not giving Roberts' complete quote and challenging it. But I guess that's what I'm here for.
The more things change, the more they stay the same: The season was only two days old before it was clear that the Dodgers are up to their old bad habits. Two years ago I railed all season long that Justin Turner was their best hitter and should be the first name penciled into the lineup. It wasn't until midseason last year, though, that tired old Donnie Baseball relented and made him a starter, and now he's batting third, Babe Ruth's spot in the batting order.
Last year it was clear that Kiki Hernandez was one of the most talented players on the team, a guy who could hit for average, run, and defend, and always gave 100%, à la Eddie Stanky and Pete Rose. Yet Kiki couldn't break into Donnie's starting lineup. Now we've got this new guy, Roberts, who is keeping Kiki as a utility player. Where do the Dodgers get these people who couldn't recognize talent in newer players even if they were looking at a young Babe Ruth? Kiki Hernandez should play every day, period.
Clarification: In my column last month, in reference to UCLA Athletic Director Dan Guerrero, I stated that "Guerrero had no prior UCLA connection" before being hired as AD by Pete Blackman. In fact, Guerrero received his bachelor's degree in History from UCLA in 1974 on a baseball scholarship as a second baseman. I meant that he had no prior connection as a coach or administrator, while one of his competitors for the Athletic Director position, Gary Cunningham, had been highly successful as assistant to John Wooden and then as head basketball coach. Thanks to Bruin booster Ginger Boykin for pointing out the incomplete statement. The main point of the column, however, remains unchanged.