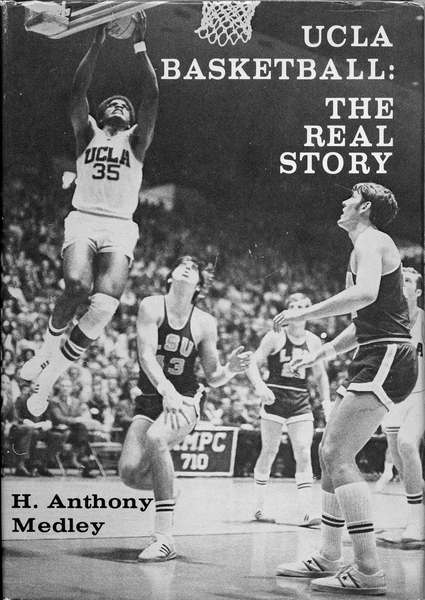 Out of print for more than 30 years, now available for the first time as an eBook, this is the controversial story of John Wooden's first 25 years and first 8 NCAA Championships as UCLA Head Basketball Coach. This is the only book that gives a true picture of the character of John Wooden and the influence of his assistant, Jerry Norman, whose contributions Wooden ignored and tried to bury.
Compiled with more than 40 hours of interviews with Coach Wooden, learn about the man behind the coach. The players tell their stories in their own words.
Click the book to read the first chapter and for ordering information. Also available on Kindle.
---
Sports Medley: First Nominations for The Cris Carter Scumbag of the Year Award 9 Nov 15
by Tony Medley
This award, whose namesake encouraged NFL rookies at the 2014 NFL Rookie Symposium to "get a fall guy" to take responsibility for all the reprehensible acts they would commit during their time in the NFL, got some impressive nominees last weekend:
Greg Hardy

: 6-4, 278 lb. Dallas Defensive end who attacked and beat his girlfriend, 110 lb. Nicole Holder, unmercifully in 2014, threatening her with death and beating her and throwing her on a futon full of weapons. Hardy was first convicted but when he appealed the case was thrown out when Holder failed to appear to testify, probably out of fear of what Hardy would have done to her. Now the shocking pictures of the abuse he inflicted on Holder have come out showing what a heartless brute this creature is.

Jerry Jones:

Dallas Cowboys President who hired Hardy to play for Dallas when nobody else would touch him with a ten foot pole. All Jones cares about is winning and he'll do it with players who beat their women senseless if they are not yet incarcerated.

Lamarcus Joyner

: St. Louis Rams defensive back who illegally attacked Minnesota quarterback Terry Bridgewater as Bridgewater was well into his slide, which makes him untouchable. Undaunted, Joyner hit him so hard and brutally that Bridgewater was knocked unconscious with a concussion. The Rams' defensive coordinator is Greg Williams who is infamous for being the mastermind behind the Bountygate Scandal when he was with New Orleans that paid players who knocked rivals out of the game. Rams' coach Jeff Fisher was unimpressed with the seriousness of Bridgewater's injury, saying that he's not the first quarterback to be hit going into a slide and won't be the last, pretty much confirming that the hit was intentional and that there will be more like it in future Rams games.

Aqib Talib

: Denver Broncos cornerback who blindsided Indianapolis tight end Dwayne Allen while Allen was dealing with a different Broncos player sticking his finger through Allen's mask straight into his eye. What kind of lowlife attacks someone out of the blue by trying to blind him? Talib then compounded the felony by lying about it, claiming he was just trying to push him in the helmut, a claim refuted by the replay that shows him attacking Allen with his two fingers extended aiming for his eye. If I were District Attorney in Indianapolis, I'd indict him for felonious assault with intent to cause great bodily harm. But at the least Talib should be suspended for a year if not for life (I'd kick him out for life; I don't want someone like this playing in my league). But the NFL only suspended him for one game. Next to Hardy, this guy is the leading contender for the Carter Award at this stage of the game. But the NFL season is still young, and the league is teeming with callous thugs who are highly qualified to contend for the award.