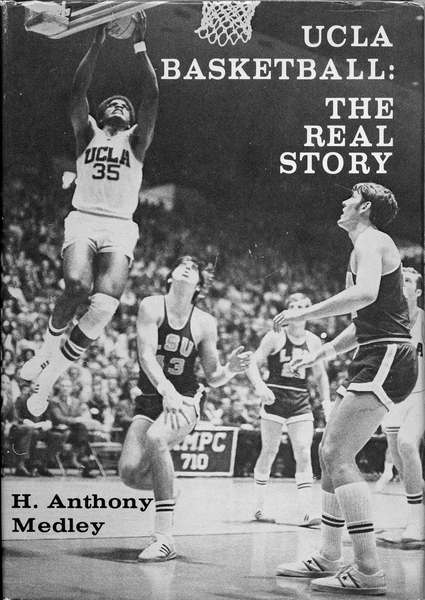 Out of print for more than 30 years, now available for the first time as an eBook, this is the controversial story of John Wooden's first 25 years and first 8 NCAA Championships as UCLA Head Basketball Coach. This is the only book that gives a true picture of the character of John Wooden and the influence of his assistant, Jerry Norman, whose contributions Wooden ignored and tried to bury.
Compiled with more than 40 hours of interviews with Coach Wooden, learn about the man behind the coach. The players tell their stories in their own words.
Click the book to read the first chapter and for ordering information. Also available on Kindle.
---
Sports Medley: Baseball's Best Pitchers 11 Jul 16
by Tony Medley
Last year I promised to follow up on my article of best baseball players with one naming the best pitchers, so here it is. As with that article, the "Koufax Rule" will apply. This says that a player may be judged by his five or six consecutive best years in addition to the totality of his career. Sandy Koufax had six undistinguished years but completed his career with six of the best years any pitcher has ever had. So if he is to be considered on those years, so should others.
Excluded from consideration were all pitchers who played the vast majority of their careers during the PED era, which is roughly 1980-2005. Also excluded are pretty much all the pitchers who pitched in the dead ball era prior to 1920 (except for Walter Johnson) when it was a completely different game, with batters whose prime idea was to put the ball in play and avoid strikeouts. Maybe in a future article I will include pitchers like Christy Mathewson, Cy Young, Grover Cleveland Alexander, Eddie Plank, and others whose records were remarkable.
Today's pitchers like Clayton Kershaw (who averages less than two complete games, herein "CG," a year) are not included here because modern pitchers apparently are physically incapable of throwing complete games and I want my starting pitcher to finish the game.
Here is my list of the top ten, which is based on whom I would want pitching in the most important game of the year:
Koufax (1961-66: 129-47, ERA 2.19, CG, 115): He was indomitable from 1961-66. You had to see him to appreciate his dominance. He had one of the fastest fastballs extant and a sharp breaking curve to go with it.

Warren Spahn (363-245, ERA 3.09, CG 382): Spahnie didn't win his first game until he was 25 years old due to service in WWII, but he went on to win 363 games. In addition to being the best pitcher in baseball almost his entire career, he had the best move to first base anyone has seen before or since, was the best fielding pitcher, and the best hitting pitcher of his era (Don Newcombe to the contrary notwithstanding).

Bob Gibson (251-174, ERA 2.91 CG 255). Gibby was nearly as unhittable as Koufax and had similar ERAs. In 1968, his ERA of 1.12 is still the major league record for the post-deadball era.

Walter Johnson (417-279, ERA 2.17, CG 531): Although toiling in an era when people didn't strike out (1907-27), Walter was almost invincible with an underhanded style that produced the fastest fastball of his era and struck out 3,509 batters. He threw more shutouts (110) than anyone else in history and he had to because he was playing for Washington, which prompted the conflation of the phrase about our first President, as follows, "Washington, first in war, first in peace, and last in the American League."

Lefty Grove (300-141, 3.06 ERA, CG 298): He has the highest winning percentage of all the pitchers who have won 300 games and he won the ERA title 9 times.

Carl Hubbell (1933-37: 115-50, ERA 2.52, CG 114: Lifetime; 253-154, 2.94 ERA CG 260): While Hubbell's main pitch was the mystifying screwball (which breaks the opposite way from a curve ball), it cut his career somewhat short because it was so hard on his arm. Hubbell is best known for striking out five Hall of Famers in a row (Ruth, Gehrig, Foxx, Simmons, and Cronin) in the 1934 All Star Game. Yankees pitcher Lefty Gomez always held it against his catcher, Bill Dickey, who singled to break the string before Gomez also struck out. Gomez said had Dickey struck out, too, Lefty's name would forever have gone down in history when people said that Hubbell struck out seven Hall of Famer batters in a row, Ruth, Gehrig, Foxx, Simmons, Cronin, Dickey, and Gomez. Lefty's lifetime batting average was .147.

Steve Carlton (329-244, 3.22 ERA, CG 254): Like Johnson, Carlton won most of his games pitching for a horrible team, the woeful Phillies. In 1972 he was 27-10 for a last place team, accounting for almost half of his team's wins.

Tom Seaver (1967-77: 203-113, ERA 2.48, CG 170): He succeeded Koufax as the most dominant pitcher in baseball with three ERA titles and he was the strikeout leader five times.

Bob Feller (1939-47 with four years out for WWII, his 8 decisions in 1945 are not counted here: 120-59, ERA 2.68, CG 139): Bob was the Koufax of the '30s & '40s with the same pitches. For many years he held the record for most strikeouts in a nine inning game, 18, which Koufax equaled and a few others have exceeded since. But Feller was striking out players who didn't strike out nearly as much as the hitters today.

Dizzy Dean (1932-37: 133-75, ERA 2.99, CG 124): Ol' Diz, the last NL pitcher to win 30 games, was clearly one of the best of all time until he broke his toe after being hit by a line drive from the bat of Cleveland's Earl Averill in the 1937 All Star game and tried to come back too soon. Favoring his toe, he injured his arm and was never the same.