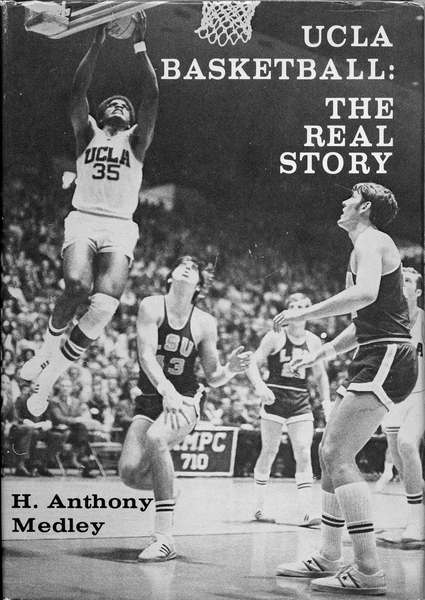 Out of print for more than 30 years, now available for the first time as an eBook, this is the controversial story of John Wooden's first 25 years and first 8 NCAA Championships as UCLA Head Basketball Coach. This is the only book that gives a true picture of the character of John Wooden and the influence of his assistant, Jerry Norman, whose contributions Wooden ignored and tried to bury.
Compiled with more than 40 hours of interviews with Coach Wooden, learn about the man behind the coach. The players tell their stories in their own words.
Click the book to read the first chapter and for ordering information. Also available on Kindle.
---
Sports Medley: All time ranking of Tennis Players 30 Jan 17
by Tony Medley
When John McEnroe defeated Bjorn Borg in the 1981 Wimbledon Finals, I felt that Borg had been weakened by his tough five set victory over Jimmy Connors the previous day in the semifinals. Borg had come from two sets down to win the match. McEnroe beat him in a tough four set match to break Borgís five year winning streak at Wimbledon.
Similarly, after Rafa Nadal survived a 5 set, 5 hour marathon semi-final against Grigor Dimitrov, it seemed to me that he ran out of gas in the fifth set of his Australian open final against Roger Federer. After being up a break in the fifth, Nadal completely lost it. Federer broke him twice to win the final set 6Ė3, and his 18th Grand Slam championship.
This leads to the ultimate question, who is the better player Federer or Nadal? Which leads to the next question, what is the ranking of the greatest players of all time? Hereís mine, limited to the players Iíve seen play, so it does not include players like Bill Tilden, Rene Lacoste, Fred Perry, Don Budge, and Jack Kramer:
Rod Laver: The Rocket became the second man to win the Grand Slam in 1962, after which he turned pro and was ineligible to compete in the four Grand Slam tournaments. When Wimbledon went pro in 1968 and the other grand slams followed, Laver won the Grand Slam again in 1969. It has only been accomplished three times, twice by Laver, who ended his career winning 11 Grand Slam tournaments. How many would he have won between 1963 in 1968, had he been competing? Because he was clearly the best player in the world throughout all these years, dominating good competition headed by fellow Aussies Ken Rosewall, John Newcombe, Fred Stolle, and Tony Roche, itís not unreasonable to think he would have won at least two a year, which is 12 more grand slams, or a grand total of 23. And he probably wouldíve won a lot more.

Rafa Nadal: Many felt that Federer was the greatest player of all time. But Nadalís record against Federer is 23Ė12, including Sundayís loss. How can anybody say that Federer is better than Nadal when Nadal beats him two thirds of the time?

Roger Federer: He dominated until Nadal came on the scene five years after Rogerís first Grand Slam Championship, and, at 35, is still one of the best players in the world.

Bjorn Borg: although he never could win the U.S. Open and didnít compete that much in the Australian open, he was the dominant player in the years 1975Ė81. And he had tough competition, including Jimmy Connors, McEnroe, and Yvan Lendl. People thought of him as a baseliner, even McEnroe. But maybe thatís why John lost to Bjorn in that classic five set Wimbledon final in 1980, because Bjorn served and volleyed on every first serve. As an aside, in a match of generational greats, I saw Laver beat Borg in three sets in a match played in 1974 when Borg was 19 and Laver was 36. In another match of generational greats I saw Pancho Gonzales beat Jimmy Connors in the finals of the Pacific Southwest tournament in 1971 when Gonzales was 42 and Connors was 19, and a freshman at UCLA.

John McEnroe: a charismatic, gritty player whose career was cut short by a bad marriage and alleged drug use, McEnroe was a dynamic serve and volleyer who took over from Borg as the top player when Borg retired early at age 25 in 1981, but he was basically finished at age 25.

Novak Djokovic: Winner of 11 Grand Slams so far, and leads Nadal 26-23 with most of his wins (18) on hard courts. To be fair, the past few years Nadal has been injured. But Novak is moving up the list.

Pete Sampras: Only won three of the four Grand Slams; of his 14 wins, none was at the French Open. Strictly a grass/hardcourt serve and volleyer.

Jimmy Connors: As intense a competitor as ever trod the courts, Jimmy was robbed of the chance to win the Grand Slam in 1974 by petty Phillippe Chatrier, President of the French Tennis Federation, because he had signed to play for World Team Tennis. He won the other three Grand Slams and 8 in all.

Yvan Lendl: A bust in the Grand Slams until he came from two sets down to beat McEnroe in the 1984 French Open Final, which started his Grand Slam success winning three U.S. Opens in a row, three French Opens, and two Australian Opens.

Andre Agassi: Won the career Grand Slam from the baseline. Maybe the best returner of serve ever.