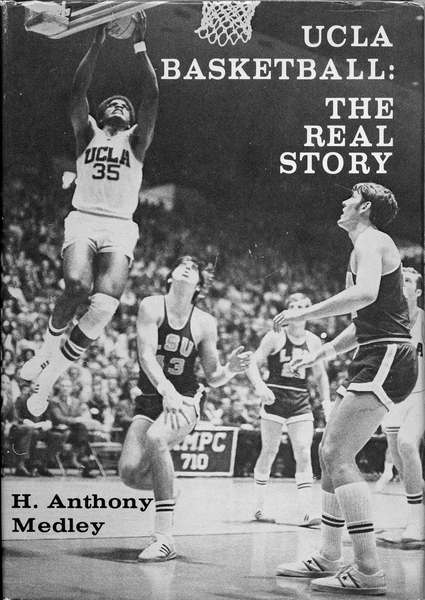 Out of print for more than 30 years, now available for the first time as an eBook, this is the controversial story of John Wooden's first 25 years and first 8 NCAA Championships as UCLA Head Basketball Coach. This is the only book that gives a true picture of the character of John Wooden and the influence of his assistant, Jerry Norman, whose contributions Wooden ignored and tried to bury.
Compiled with more than 40 hours of interviews with Coach Wooden, learn about the man behind the coach. The players tell their stories in their own words.
Click the book to read the first chapter and for ordering information. Also available on Kindle.
---
Sports Medley 23 Mar 15: March Madness
by Tony Medley
The Madness of March Madness: Bad as the umpires in baseball and referees in football may be, none of them approach the incompetence of referees in basketball. In the first round of games, there were three referee calls that boggle the mind.
Call #1: I watched UCLA in several games this year and the quality ranged from mediocre to awful. Without question this team did not belong in the final draw for March Madness, but there it was. In the first game, UCLA was trailing by two against SMU with about 12 seconds remaining when guard Bryce Alford put up a three-point shot that was wide of the mark. It was already past the rim and only had an outside chance of barely touching it with not a scintilla of a chance of going in. An SMU player jumped up to get the ball and was called for goaltending. No matter where the ball is, it cannot be goaltending by rule if it had no chance of going in the basket and this shot didn't have one chance in a billion of going in. If there has been a worse referee call in the history of college basketball, I didn't see it. This was a travesty and a tragedy for SMU, but it put UCLA into the final 32. Why the call, by rule, is not reviewable is incomprehensible, but that's the NCAA for you. The referee took the game away from SMU and handed it to UCLA.
The game had an amazing effect on UCLA, however. For the next game against UAB, Coach Steve Alford finally took the ball out of the hands of his son, Bryce, and made him a shooting guard instead of a point guard. Before, Bryce would dribble aimlessly around the court with nobody moving before either taking a shot or passing off. Taking the ball out of his hands produced astonishing results. UCLA looked like a completely different team against UAB. They had a cohesive offense that worked for good shots and actually looked like they belonged in the tournament.
Call #2: The Virginia-Michigan State game was a game so terrible to watch it would drive even the most ardent basketball fan out to watch a bad movie instead. It's sad that college basketball is getting progressively less entertaining because fewer teams have players who can shoot the ball from outside. Virginia's coach must be a genius to guide this team to 30 victories because he doesn't have one player on the team who knows how to put the ball in the basket. But despite Virginia's woeful offense it was still a close game down to the last couple of minutes, when the referees made two horrendous calls. The first was a foul on a clean block by Virginia. So instead of Virginia getting the ball with the chance to cut the lead to a point or two, Michigan State made two free throws and lengthened its lead.
Call #3: Shortly thereafter, Virginia was close to getting the ball back from MSU. Virginia players knocked the ball loose from MSU's possession. Michigan State's coach, Tom Izzo, started yelling for a timeout and the referee granted it even though the ball was loose on the floor with players scrambling for it! No team can call for a timeout without possession of the ball and there was no possession. The result was that Michigan State retained possession and Virginia's chances were reduced from slim to none.
Actually, off of the UAB game, UCLA appears to have one of the better rounded teams in the tournament. It has outside shooters and two good big men in Tony Parker and Thomas Welsh. Welsh is a highly talented 7-foot freshman from Loyola High School who doesn't get nearly enough playing time. He not only has Bill Russell-like defensive abilities, he's a good medium-range shooter. If John Wooden/Jerry Norman were coaching the team I would expect to see both Welsh and Parker in the game at the same time. If coach Alford could wise up this late in the season and alter his offense by changing his point guard, he could also do the same with his post men. If UCLA gets as far as playing Kentucky again with its huge front line, UCLA is going to need both Welsh and Parker playing together. Just because Kentucky annihilated UCLA earlier in the season (the Bruins trailed 41-7 at halftime), does not mean that the past is prologue. In 1940 the Washington Redskins beat the Chicago Bears 7-3 near the end of the season. When both teams faced each other three weeks later in the NFL's 8th Championship game, the Bears won 73-0!
Gunners Never Stop Shooting: Update on MVP candidate (according to some) Russell Westbrook, now leading the NBA in points per game, shows that he is still one of the least accurate shooters in the league. On March 20, he had another of his statistically apparently noteworthy games, a triple double of 36 points, 14 assists, and 10 rebounds. But he made only 8 field goals out of 24 attempts, or 33%, 12 percentage points below the league average. In the same game, his teammates made 35 field goals out of 60 attempts, or 58.3%. Statistics confirm that Westbrook is one of the worst shooters in the league, 87th out of 114 in field goal percentage, and that includes all his one-foot layups. He's ever worse on three point shooting percentage, 30%, 121st out of 128! There are only 7 players in the NBA who have lower 3-point shooting percentages than Westbrook! Most of his points come on layups and free throws. But he keeps shooting whenever he gets his hands on the ball. This guy is heartlessly incorrigible.
Notre Dame and Duke Should Change their Degrees to B.K., Bachelor of Kindergarten: "He's putting players he thinks fits that idea around him," grammar multi-abuser Notre Dame graduate Mike Golic of ESPN radio about Philadelphia Eagles coach Chip Kelly. "Him and the Union need to get together." Jay Williams, former player, also an ESPN talking head, who graduated after 4 years of education from Duke with a degree in sociology. Kudos to CBS's Sunday Morning on March 22 for contributing an editorial on the use and misuse of grammar. We can only hope that Golic and Williams and all the other media talking head-former jocks saw it and comprehended it.