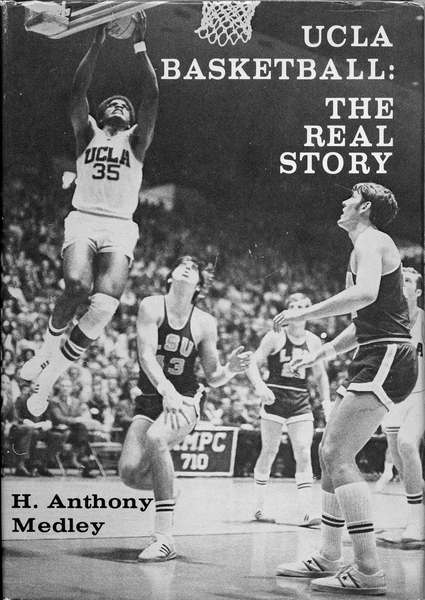 Out of print for more than 30 years, now available for the first time as an eBook, this is the controversial story of John Wooden's first 25 years and first 8 NCAA Championships as UCLA Head Basketball Coach. Notre Dame Coach Digger Phelps said, "I used this book as an inspiration for the biggest win of my career when we ended UCLA's all-time 88-game winning streak in 1974."
Compiled with more than 40 hours of interviews with Coach Wooden, learn about the man behind the coach. Click the Book to read the players telling their stories in their own words. This is the book that UCLA Athletic Director J.D. Morgan tried to ban.
Click the book to read the first chapter and for ordering information.
---
Obama and the Right to Privacy
by Tony Medley
This is just to set the record straight for those of you who aren't lawyers and might, for some reason, believe Barrack Obama, who is represented as being a cum laude graduate of Harvard Law School. In the last half hour of tonight's debate, he stated, "The Constitution guarantees a right to privacy."
This is dead wrong. The Constitution doesn't mention the word privacy and does not grant a right to privacy. The Bill of Rights doesn't mention the word privacy or guarantee a right to privacy.
The Supreme Court created a Constitutional right to privacy in the case of Griswold v. Connecticut in 1965, using convoluted arguments implying that the ninth amendment probably creates it, even though it doesn't. Justice William Douglas, who wrote the opinion, relied on the "penumbras" and "emanations" of the Constitution, whatever those are.
Hugo Black and Potter Stewart dissented, Black saying something that should have been decisive, that the Constitution never mentions the right to privacy. How can a document create a right without mentioning it?
Griswold v. Connecticut is probably the worst case ever decided by the Supreme Court (ranking right up there with Marbury vs. Madison and The Dred Scott decision), but at least those relied on specific language in the Constitution, something Griswold didn't do. The enormity of Griswold is that it allowed the Supreme Court to wrongly decide Roe vs. Wade, relying on Griswold's bogus right to privacy.
But what Griswold really stands for is that the Constitution is irrelevant. Our law is only what the Supreme Court decides to create, and that's frightening.
October 15, 2008