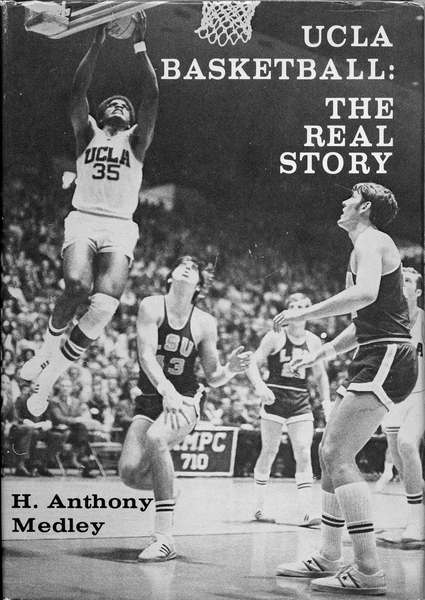 Out of print for more than 30 years, now available for the first time as an eBook, this is the controversial story of John Wooden's first 25 years and first 8 NCAA Championships as UCLA Head Basketball Coach. This is the only book that gives a true picture of the character of John Wooden and the influence of his assistant, Jerry Norman, whose contributions Wooden ignored and tried to bury.
Compiled with more than 40 hours of interviews with Coach Wooden, learn about the man behind the coach. The players tell their stories in their own words.
Click the book to read the first chapter and for ordering information. Also available on Kindle.
---
More baseball stupidity on pitching
by Tony Medley
I've been watching a lot of baseball this year and that doesn't mean that I like it any more than I did because of the way these dopes continue to handle pitchers, and the Dodgers' manager, Donnie Baseball, is one of the biggest. But they are all dopes. In today's game between Oakland and Kansas City, Kansas city's starting pitcher, James Shields, was leading 3-2 in the top of the sixth inning. He was sailing, in total control. He allowed two runs in the top of the first on a two run home run, and had shut them out totally since then. He got the first guy out, and the second guy mis-hit a ball that dropped into short right field for a Texas league single (not the pitcher's fault; he did his job, got the batter to hit the ball weakly; the fact that it fell in for a single is just the law of averages). While pitching to the next batter the TV cameras show close-ups of the Kansas City manager, Ned Yost. I could tell just by looking at him that he couldn't wait to make a huge mistake and pull Shields; the stupidity was emanating from him like a malignant sweat. Sure enough, Shields got to 3-2 on the next batter and missed (maybe) by an inch on the outside corner, a beautiful pitch actually. Two men on, one out, and your pitcher still in total control. Here comes Yost! He brings in a new guy. Bang! A line drive 3 run home run over the centerfield fence, putting KC down 5-3. Bang! A line drive single to right field, followed by a wild pitch. Now let's look back here, Shields allows a poorly hit Texas League single and walks a man on a three and two count with a very good pitch and gets pulled after pitching 5 1/3 innings of very good ball. His replacement immediately allows a 400+ foot home run and a line drive single and throws a wild pitch, but Yost leaves leaves him in the game! There's some sort of reasoning here? Oakland scored more runs in the inning, but that's all irrelevant. Even if K.C. comes back to win the game (I'm writing this in the middle of the sixth), that doesn't make up for the total lack of common sense in the way Yost and everyone else in baseball handles pitchers.
It is really slow torture for me to watch this nonsense day after day, week after week, month after month, and year after year. There is not one person in organized baseball who understands the concept of pitching.
September 30, 2014