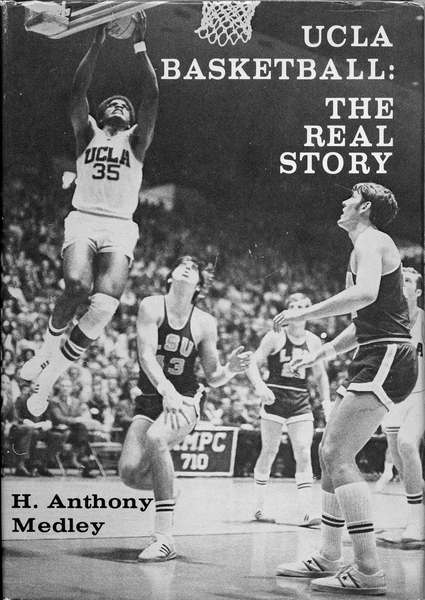 Out of print for more than 30 years, now available for the first time as an eBook, this is the controversial story of John Wooden's first 25 years and first 8 NCAA Championships as UCLA Head Basketball Coach. This is the only book that gives a true picture of the character of John Wooden and the influence of his assistant, Jerry Norman, whose contributions Wooden ignored and tried to bury.
Compiled with more than 40 hours of interviews with Coach Wooden, learn about the man behind the coach. The players tell their stories in their own words.
Click the book to read the first chapter and for ordering information. Also available on Kindle.
---
Sports Medley: 2015 NFL Playoffs Round Three
by Tony Medley
Last Weekend Games: Saturdayís two games were as good as one could hope for in a playoff. New England beat Baltimore because Tom Brady played one of the best games of his career and Baltimore was totally inept in trying to stop his short passes.
Carolina-Seattle game was a lot closer than the final score indicated. Carolina played a much better game than it did against Arizona, but it came down to the quarterbacks. Inconsistent Cam Newton is no match for Russell Wilson.
On Sunday, Green Bay beat Dallas because Aaron Rogers was just too good. Some think that it came down to a refereeís decision on a spectacular catch by Dez Bryant. Whether that decision was right or wrong, if Dallas could not beat Green Bay with an obviously impaired Aaron Rodgers, it did not deserve to move on. That said, this was one of the worst officiated playoff games ever. In addition to the questionable call on Bryantís catch (which should not have been overruled), the officials gave Dallas a gift touchdown in the first half on an atrocious pass interference call in the end zone by awarding Dallas a first down on the one yard line. There was no interference; it was an obvious case of feet tangling, which is not interference. This horrible call just cries out for penalties to be subject to challenge. But Dallas probably lost the game with 40 seconds left in the first half when they got a great spot giving them a first down in Green Bay territory. It was a palpable bad spot because the receiver was at least a yard short. Instead of rushing into the next play, though, Dallas Coach Jason Garrett called a time out! This gave the booth the opportunity to review the play and deny the first down. So they had a third and one. Dallas quarterback Tony Romo fumbled the snap (no surprise there; Romo has a history of making bad plays in crucial situations), so they were forced to try a field goal, which they missed. Rodgers then drove Green Bay down and the Packers got a field goal on the last play of the half for a potential six point swing and a huge momentum lift for Green Bay. Since the Packers finally won by 5 points, it was Garrettís decision to call time out here that was the decisive play of the game because had he not, Dallas would have had a first down, probably would have driven closer and been in much better position for the field goal, and Green Bay never would have had a chance at one.
If you thought the quarterbacking in the Arizona-Carolina game last week was the worst youíve ever seen, then you didnít see Peyton Manning perform against Indianapolis. He lost the game in the first half by eschewing short passes and by over throwing one long pass after another, resulting in a lot of three and outs and an Indianapolis halftime lead. On the third down after the second half kickoff, Manning had 20 open yards in front of him on a scramble, but instead he threw a tough pass that was incomplete forcing another three and out. I said last week that Manning is no Andy Dalton, and I was right. Had he been as good as Andy was last week, Denver probably would have won the game. In the second half, Manningís passes were either inaccurate or dropped. I canít say Iím disappointed that Denver lost, because I still resent the deplorable way Denver treated Tim Tebow, so I take some solace in the fact that Manning couldnít even win one playoff game this year, which leaves him one behind Tebow in his one year as a Denver quarterback. The one black mark against Manning is that he does not perform well in playoffs, and he didnít help his reputation any with this dismal performance, one of the worst Iíve ever seen and that includes last weekís Arizona-Carolina game. It wasnít because his passes were so inaccurate, it was his choice of attack, all those drive-killing long passes in the first half, and his poor judgment, like not rushing for the first down referred to above and not throwing a pass to Wes Welker until there were only 3 minutes 50 seconds left in the game. I can accept that someone can have a bad day; what I canít accept is stupidity.
Now for next Sundayís games:
Green Bay at Seattle: This is no contest. I donít think Green Bay would be a match for Seattle even were Aaron Rodgers in good health. Since he can barely walk, I canít give Green Bay any chance at all. The only thing I donít like about Seattle quarterback Russell Wilson is that when he throws a long pass, he lofts it instead of fires it. These passes float and are prime for interceptions. Seattle.
Indianapolis at New England: New England has no running game whatsoever (but, then, neither does Indianapolis). It also doesnít have much of a defense. It does have Tom Brady, Ron Gronkowski, a fairly good cadre of short pass receivers, and a brilliant coach. Against the feeble defense that Baltimore put up against Brady, he looked like Superman. Indianapolis has shown a top-flight pass defense against two All-Pro quarterbacks the last two games. Quarterback Andrew Luck looks at the top of his game, and his young offensive line is giving him great protection. I picked against Indianapolis twice now, and lost. Iím not going to do it again. Iím picking Indianapolis but, since my picks are only at 50% this year, the worst theyíve ever been by far, since I think Seattle is a lock, and since Iím 4-0 on the NFC games and 0-4 on the AFC, the odds are Iím wrong on this one, so if youíre betting on the game, you might be advised to go against me and bet on New England.