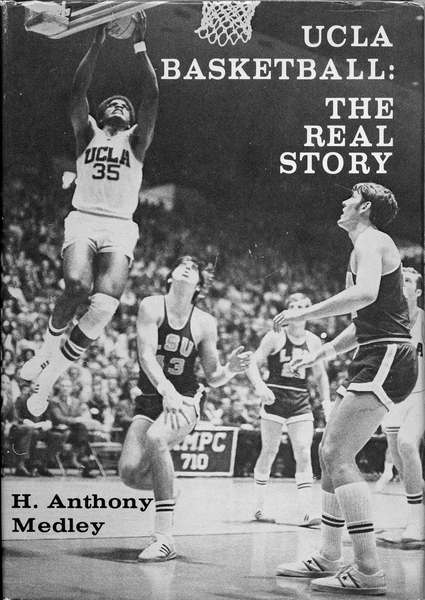 Out of print for more than 30 years, now available for the first time as an eBook, this is the controversial story of John Wooden's first 25 years and first 8 NCAA Championships as UCLA Head Basketball Coach. This is the only book that gives a true picture of the character of John Wooden and the influence of his assistant, Jerry Norman, whose contributions Wooden ignored and tried to bury.
Compiled with more than 40 hours of interviews with Coach Wooden, learn about the man behind the coach. The players tell their stories in their own words.
Click the book to read the first chapter and for ordering information. Also available on Kindle.
---
Sports Medley: NFL Playoffs 2015 First Round
by Tony Medley
I hate to toot my own horn, but over the past five years I have as good a record in prognosticating the NFL playoffs as anyone in the business. Last year I was the only person who not only picked underdog Seattle to beat Denver in the Super Bowl, but who said it wouldnít even be close. That said, as stock pickers say, past record is no guarantee of future success. So hereís the way I see the first round.
Detroit at Dallas: Dallas is the team that ESPN ďanalystĒ Keyshawn Johnson called the ďworst team in footballĒ after the first week of the season. Hardly. After drafting Wisconsin center-guard Travis Frederick in the first round in 2013, when his coach and advisors convinced owner Jerry Jones to eschew drafting Johnny Football and the Cowboys picked offensive lineman Zak Martin from Notre Dame instead in the first round of 2014ís draft, these picks gave quarterback Tony Romo the protection he has always needed with a first rate offensive line. Buoyed by the best runner in football, DeMarco Murray, and one of the best receivers, Dez Bryant, and with a beefed up defense after unloading defensive coach Rob Ryan (who went to New Orleans to destroy the Saintsí defense), the Cowboys are one of the best teams in football and should handle Detroit, despite the Lionsí top rated defense. Lionsí quarterback Matthew Stafford just canít get it together, missing simple passes time and again. Worse, although defensive lineman Ndamukong Suh should have been suspended for at least one game for stepping on Aaron Rodgersí leg on Sunday, (consistent with Suhís poor judgment and inexcusably violent acts throughout his short career) but the suspension was reversed. But even with Suh, the Lions are not a match for the Cowboys unless Stafford shines up to his as yet unrealized potential. If he does, look out. But I donít count on it. Dallas.
Arizona at Carolina: I admit to a bias because I like Arizona. Even though Arizona is playing with its third string quarterback, Ryan Lindley, he looked much better against San Francisco than he did against Seattle. But his inexperience caused a game-costing interception with a horrible pass against the 49ers late in the game. I hate to pick against Arizona, but Carolina is on a roll, rolling over New Orleans and Atlanta in successive weeks. Despite the fact that both are extraordinarily weak teams, Carolina annihilated them. The problem for Arizona is that without its starting quarterback, its offense is a target to be victimized by Carolinaís defense which is very good. Arizona lost its last two games because it was unable to control running quarterbacks Colin Kaeperneck and Russell Wilson. Can it contain Carolinaís versatile double threat, Cam Newton, who is as good a runner as these two? I donít think so. Even though Carolina is coming into the game with a losing record, and I hate to pick against a team I like, Carolina is the hot team going into the playoffs. Iím going with Carolina.
Cincinnati at Indianapolis: I hate this game. Cincinnatiís defense has come alive lately and Indianapolis has a porous offensive line. But the Bengalís quarterback, Andy Dalton, is generally a disaster waiting to happen. The condition of the Bengalís best offensive player, wide receiver A.J. Green, is undetermined as he is undergoing concussion protocol as I write. If he canít play, itís a blow to the Bengals. But Indianapolisís record is illusory. The Colts have only beaten one team with a winning record. The Colts have a meager running game, a weak offensive line, and quarterback Andrew Luck leads the league in playoff turnovers over the last three years. Except for quarterback, Cincinnati has the superior personnel and one of the best, most inventive defenses in the NFL. In fact, in the first half against Denver it did what I never understood others didnít; it showed Payton Manning one defense while he was calling the play. Then when Manning was finished, it shifted into another defense, completely shutting Denver down in the first half. The Bengals didnít do that in the second half and Denverís offense picked up. Cincinnati recognizes Daltonís weakness and has devised a game plan that emphasizes running and short passes, minimizing Daltonís penchant for disaster. The Bengalsí defense should put enormous pressure on Luck. Iím closing my eyes and holding my nose and, despite Dalton, picking Cincinnati.
Baltimore at Pittsburgh: Although at the time I write this the condition of Steeler running back Le'Veon Bellís hyperextended knee is unknown, Baltimore is overmatched in this game. Bell is the Steelersí total offense leader and to play without him would be a huge handicap. The Ravensí quarterback Joe Falco is no match for Steeler quarterback Ben Roethlisberger, who is in the midst of the best year of his career, and is throwing to Antonio Brown, the top receiver in the league. In a game they had to win against Cleveland, playing with its third string quarterback off the practice squad (Conner Shaw, who I think is better than the starter and the backup, and who was held down against the Ravens by offensive coordinator Kyle Shanahan who did not allow him to throw downfield), the Ravens sleepwalked through the first three quarters and barely emerged victorious. Why would anyone think they would be any more motivated against Pittsburgh? Despite many injuries on the Steeler defense, it has been playing well lately, certainly well enough to control the Ravensí offense. Baltimoreís defense is poor, especially against the pass and Roethlisberger leads the league in passing. Pittsburgh.