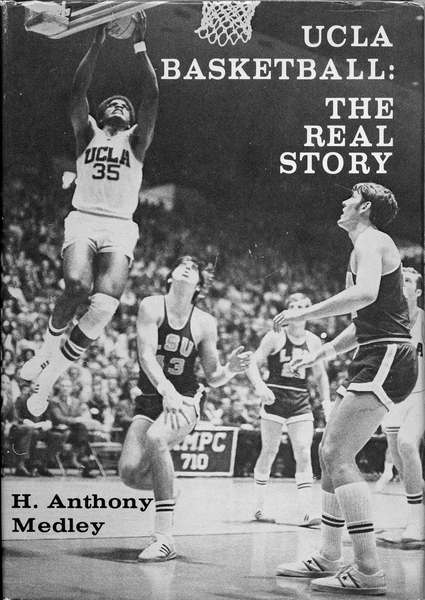 Out of print for more than 30 years, now available for the first time as an eBook, this is the controversial story of John Wooden's first 25 years and first 8 NCAA Championships as UCLA Head Basketball Coach. This is the only book that gives a true picture of the character of John Wooden and the influence of his assistant, Jerry Norman, whose contributions Wooden ignored and tried to bury.
Compiled with more than 40 hours of interviews with Coach Wooden, learn about the man behind the coach. The players tell their their stories in their own words.
Click the book to read the first chapter and for ordering information. Also available on Kindle.
---
2013 Super Bowl
by Tony Medley
The one thing I can't tolerate in sports is stupidity. Near the end of the San Francisco-Atlanta game, San Francisco had just stopped Atlanta near the goal line, had rushed for five yards and had a 2nd and 5 on about their 10 yard line with one minute left. Two timeouts ensued, one by Atlanta, then a second by San Francisco. A rushing first down was clearly possible because even though nobody in his right mind would think of risking a pass and stopping the clock, SF has a terrific running game and five yards in two plays was certainly feasible. After the two timeouts, SF quarterback Colin Kaepernick was called for delay of game! After two 90 second timeouts, he still couldn't get the play called and the ball snapped within 40 seconds of the end of the second timeout! That resulted in a five yard penalty, putting SF back near its goal line and required them to make 10 yards rushing to get a first down, an extremely difficult task against a good defense that doesn't have to worry about a pass. They didn't get a first down and were forced to kick, although time was too short for Atlanta to do anything. Still, it was a damaging penalty. While Kaepernick has become a master at delay of game penalties, this one, in that situation, was inexcusable. You can't get much dumber than that.
But wait! I hadn't considered Bill Belichick and Tom Brady, New England's coach and all-star quarterback, respectively. Near time running out in the first half, with New England leading by 3, Tom Brady threw a short pass, tackled at about Baltimore's five yard line with about 16 seconds left in the half, second down. Instead of calling their last timeout, Belichick and Brady let the clock run down to five seconds as Brady scrambled to get his team to the line of scrimmage to run a play. Too late. Timeout. Instead of two chances at a possible TD, for which they had a chance, they had to settle for a field goal. There is a huge difference between walking off the field at halftime ahead 17-7 instead of 13-7.
This was a tremendous momentum swing in the game. I felt at the time that that was the end of the game for New England. I knew that Baltimore wouldn't continue to rely on the run as it had in the first half. I also knew that Flacco, who had missed several open receivers at that point, would eventually come back to form. Baltimore came out in the second half throwing the ball and Flacco was on target. With their first score, they took the lead, 14-13, instead of only cutting the lead to 17-14 had the Patriots successfully tried for a TD at the end of the first half.
The second half was anti-climactic as Baltimore dominated. I think Belichick's failure to call his last timeout with 16 seconds to go was at least as dumb as Kopernaek's inability to get a play called and run after two consecutive timeouts. It's infuriating that these dopes get millions of dollars to play a game, the fundamentals of which they apparently don't even begin to understand. These guys are dumber than a block of wood.
That said, New England stunk the place out. Brady was horrible, and that wasn't due to Baltimore's defense. His passing was inaccurate. Even his short passes were not on target. His decision-making was putrid. On a crucial fourth down in Baltimore's territory, he could have run for the first down and survived to live another day. Instead he pulled up and made a horribly inaccurate pass into the end zone.
New England has no deep threat, so it's pretty easy for a team with a better than average defense in football to defense the short pass. And Belichick's game plan was flawed. They didn't run the Oregon Duck hurry up offense, so Baltimore's aging defense never did get tired.
So the Super Bowl is between San Francisco and Baltimore. As I said last week, Flacco has been the best quarterback in the playoffs. Even so, San Francisco is a more balanced team with good offensive and defensive lines, where the game is won or lost. Baltimore has better deeper threats headed by Anquon Boldin, who catches anything close to him, and butter-fingered Jacoby Jones, who drops almost as many as he catches.
San Francisco's only deep threat is Randy Moss, who is as ancient as Baltimore's defense. This look like a pretty good matchup. But what nobody seems to consider is that the NFC has much better teams than the AFC. San Francisco would have murdered New England, both on the field and in the coaching box, as it did Green Bay. I don't think that Baltimore will waste the first half trying to run as they did against New England. Getting Flacco in the game early will be to Baltimore's benefit. Even so, San Francisco should beat Baltimore, and if Flacco isn't on his game it might not be close. But if he is it could be a barn-burner.