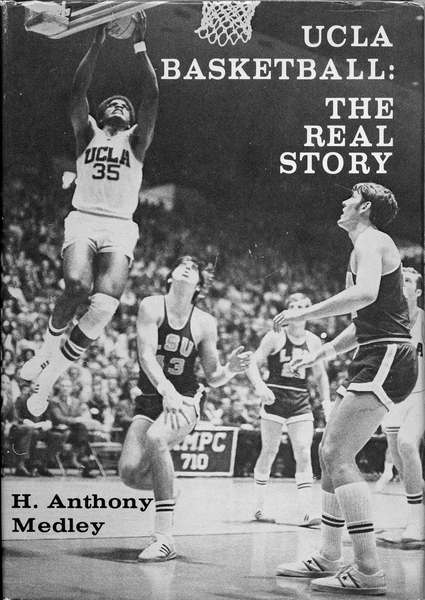 Out of print for more than 30 years, now available for the first time as an eBook, this is the controversial story of John Wooden's first 25 years and first 8 NCAA Championships as UCLA Head Basketball Coach. Notre Dame Coach Digger Phelps said, "I used this book as an inspiration for the biggest win of my career when we ended UCLA's all-time 88-game winning streak in 1974."
Compiled with more than 40 hours of interviews with Coach Wooden, learn about the man behind the coach. Click the Book to read the players telling their stories in their own words. This is the book that UCLA Athletic Director J.D. Morgan tried to ban.
Click the book to read the first chapter and for ordering information.
---
2010 Super Bowl
by Tony Medley
The Minnesota-New Orleans game was one that it was a shame that someone had to win. Both teams stunk the place out. These guys all looked like they needed a Pop Warner coach to tell them how to play the game. Twice there were calls of too many men in the huddle, once against the Vikings in the last minute that took them out of field goal range. The Vikings seemed to have made a deal with Arnold Rothstein to throw the game they had so many turnovers. But, as I predicted in my last article, (ďThere is also the Favre factor. His career shows he is turnover-prone, forcing passes when he shouldnít resulting in devastating interceptions. This year his TD-interception ratio has been the best of his career, but there is that factor hovers over the game as an ever-present possibility.Ē) Brett Favre made one of the dumbest passes in the history of playoff football, throwing back across the field when they were very close to being in field goal range to win the game.
From what I saw, if Drew Brees is one of the best quarterbacks in the NFL, Iím going to try out next summer. New Orleans was not the better team, but, thanks to Favreís bonehead pass, they won the game.
As to the Jets-Colts, when running back Shawn Green went out with an injury, the Jetsí chances were reduced to close to zero. The Coltsí TD just before the half should have shown Brian Shottenheimer that he had to trust his USC quarterback, Mark Sanchez and give him the ball. But they didnít. The Jets offense consisted of an 80-yard TD pass and a long pass off the Wildcat, two plays. When they didnít turn Sanchez loose, they gave up any chance of winning.
Minnesota-Indianapolis would have been a better Super Bowl. I thought the Colts would beat New Orleans easily, but that was before Dwight Freeney got hurt. He says heís playing, but he will be a shadow of himself. Heís probably the second best player on the Colts, and a large part of the defense. Without him pressuring Brees, the Saints have a much better chance, mainly because it usually takes two offensive linemen to contain him on his rush. His injury makes the game a tossup. If Brees has time, New Orleans can score against anyone.
It comes down to Brees vs. Manning. Itís tough to bet against Manning, especially given the Saintís porous defense (the only good game they played was against Arizona). If he wins this game, it would be hard to pick anyone, even Unitas, Elway, or Montana ahead of him as the all time best.
February 7, 2010 12:20 PM