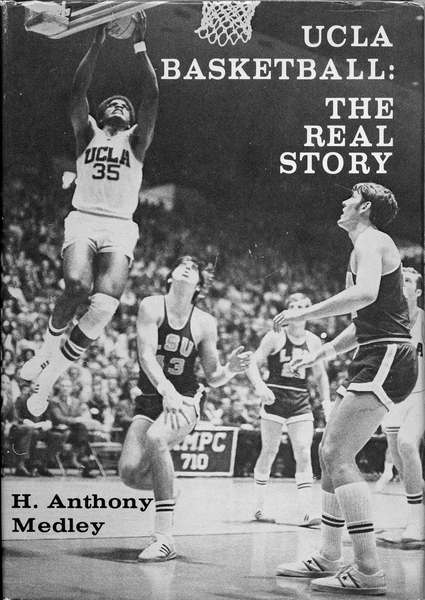 Out of print for more than 30 years, now available for the first time as an eBook, this is the controversial story of John Wooden's first 25 years and first 8 NCAA Championships as UCLA Head Basketball Coach. This is the only book that gives a true picture of the character of John Wooden and the influence of his assistant, Jerry Norman, whose contributions Wooden ignored and tried to bury.
Compiled with more than 40 hours of interviews with Coach Wooden, learn about the man behind the coach. The players tell their stories in their own words.
Click the book to read the first chapter and for ordering information. Also available on Kindle.
---
Thumbnails Aug 15
by Tony Medley
Irrational Man (9/10): This is one of writer/director Woody Allen's more complex scripts. The music of Ramsay Lewis Trio constantly reminds one that this is a light-hearted comedic presentation, despite the dark philosophical undertones. While Allen says that he was deeply influenced by Ingmar Bergman, throughout the film I kept thinking what it would have been like if Alfred Hitchcock had directed Woody's script instead of Woody, with a cast of, maybe, Grace Kelly or Joan Fontaine and Ray Milland or Cary Grant instead of Emma Stone and Joaquin Phoenix. Actually, I knew what it would have been like. It still would have been 9/10 but it would have been a tense thriller on the order of "Suspicion" (1941) or "Dial M For Murder" (1954) instead of comedic.
Amy (8/10): Amy Winehouse was known to most of the world as, sure, a famous jazz singer, but her overriding repute was as an out of control drug addict. This is a no-holds barred look at her turbulent life. It has some amazing scenes, almost as if her life were a feature motion picture and cameras were always there to capture events, both public and private, that shaped her life and reputation. Director Asif Kapadia has produced a truly remarkable documentary of her life with astounding editing by Chris King.
Max (8/10): Dog movies have been favorites for generations, starting with Rin-Tin-Tin (Rinty) and continuing with Lassie. Even a film about a rambunctious, uncontrollable dog, "Marley & Me" (2008), became the highest grossing dog movie of all time (over $143 million). The only thing I didn't like about that film was the dog. This one, though, is the best I've seen. Despite good performances, fine pace, youthful romance, boy-dog affection, and suspense with bad guys all around, as usual the dog steals the film.
Mr. Holmes (7/10): Although sitting through this seems a good cure for insomnia, it has its moments with a fine performance by 12-year old Milo Parker who constantly upstages Ian McKellen, who still gives an interesting performance as the aged, brooding Sherlock Holmes with failing mental faculties. It's greatly aided by the atmospheric Sussex filming location and an outstanding score, both of which help to keep one from nodding off.
Strangerland (5/10): This is a psychological story of love and relationships told through a mystery about what happened to Nicole Kidman and Joseph Fiennes' children who went missing. Far too long and unrelentingly dark and depressing, I was enjoying the acting and the mystery, but the last half hour goes overboard.
Trainwreck (4/10): In an aptly entitled movie, Judd Apatow is back and Amy Schumer's got him. And a compatible couple they are because both seem burdened by terminal coprolalia (an uncontrollable or obsessive use of obscene language). Even if Amy can't out F bomb Judd, she can keep up with him. And she will engage in any scene imaginable so long as it relates to sex. Like "Bridesmaids" (2011), this is a film made mainly for women showing that women can be coarse, too (just picture your mother talking and acting like this). Burdened by a plethora of cameos, it's inundated with sex jokes and gross situations apparently from a woman's POV (tampons, anyone?) many of which take all the romance out of the act of making love. NBA Star LeBron James actually gives a good performance but Apatow (the director) should have told him that the word "ask" has not been properly pronounced "aks" (metathesis) since Chaucer died, and given him another take on that scene.
Magic Mike XXL 0/10): Apparently star/producer Channing Tatum thought that seeing a bunch of buff men bumping and grinding would appeal to women. God knows I'm no expert on what appeals to women, but I'm extremely dubious that this film will, and there's certainly nothing in it for men. The story is sheer fantasy, the script mind-numbingly shallow, the acting excruciating, and the pace non-existent.