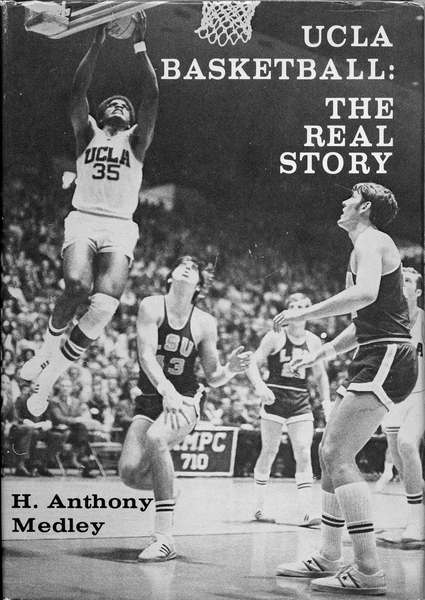 Out of print for more than 30 years, now available for the first time as an eBook, this is the controversial story of John Wooden's first 25 years and first 8 NCAA Championships as UCLA Head Basketball Coach. This is the only book that gives a true picture of the character of John Wooden and the influence of his assistant, Jerry Norman, whose contributions Wooden ignored and tried to bury.
Compiled with more than 40 hours of interviews with Coach Wooden, learn about the man behind the coach. The players tell their their stories in their own words.
Click the book to read the first chapter and for ordering information. Also available on Kindle.
---
Thumbnails May 12
by Tony Medley
Headhunters (9/10): Novelist Jo Nesbø's Norwegian thriller is brought to the screen with superb acting by Aksel Hennie, one of Norway's most popular actors. At times things get so bad for Aksel that this almost resembles a horror film, although that's not what it is. Regardless, the acting is superb. Directed by Morten Tyldum, this is a first-class thriller with tension-enhancing music (Trond Bjerknæs and Jeppe Kaas), and Hitchcockian-quality cinematography (John Andreas Andersen). Like all good thrillers, after the setup that takes place in the first 15 minutes, the tension constantly increases. (In Norwegian and Danish).
Bernie (8/10): Director Richard Linklater, whose last film, "Me and Orson Welles," was one of the three best films I saw in 2009, has again scored a hit with this dark comedy based on a true story in Carthage, Texas. Shirley Maclaine, Jack Black, and Matthew McConaughey give marvelous performances, Black as a lovable assistant funeral director, MacLaine as a malign, hated resident Black befriends out of the goodness of his heart, and McConaughey as a good ol' country boy prosecutor. Much of the story is told by the actual residents of Carthage in documentary style, cutting back and forth from the three stars to interviews with the townspeople who knew the real characters the stars portray.
The Five-Year Engagement (7/10): What's classy Emily Blunt doing in a smutmeister Judd Apatow movie? Elevating it, that's what. Blunt is captivating, rapidly becoming the best actress extant. There are no topless scenes (when Blunt is shown making love, she's covered up) and only a few f-bombs. Directed by Nicholas Stoller and written by co-star Jason Segel and Stoller, this is a touching love story with surprising depth, although I thought it would never end.
The Hunger Games (7/10): Despite all the ballyhoo, this is basically a standard thriller set in the future. Apparently the books are a big hit with teenaged girls, so I was fearing the film would just be more of the same drivel foisted by the Twilight films. But this is entertaining and well done, with a stellar cast. Mostly a film about chase and survival, it takes about an hour for the games to actually begin. While director Gary Ross keeps the film moving, why he stretched this thin story out to almost two and a half hours is mystifying.
American Reunion (6/10): This fourth in a series is an enjoyable modern screwball comedy reminiscent of Alan Dwan's "Up in Mabel's Room" (1944). Unfortunately, "modern" means that it's diminished by some disgusting sexual scenes and full frontal male nudity. But it also contains some laugh out loud scenes.
Elles (5/10): Straight-laced Juliet Binoche finds herself corrupted by the two prostitutes about whom she is writing an article in this NC-17 rated film highlighted by an enchanting performance by Anaïs Demoustier as one of the prostitutes. It examines why some beautiful young women become prostitutes and shatters feminist images about who is exploiting whom. Although this is not hard core, it does contain female nudity and fairly specific scenes of sexual activity. In French and Polish.
Darling Companion (3/10): Ostensibly a comedy, albeit one with few laughs, this is not a dog movie in the mold of Marley and Me (2008). Instead, it's about relationships. In fact, for almost half the movie, the dog is lost and off screen. The only highlight is the performance of Ayelet Zurer, who is entrancing as a weird psychic in her short times onscreen. Although well-intended, this is mostly a bore.