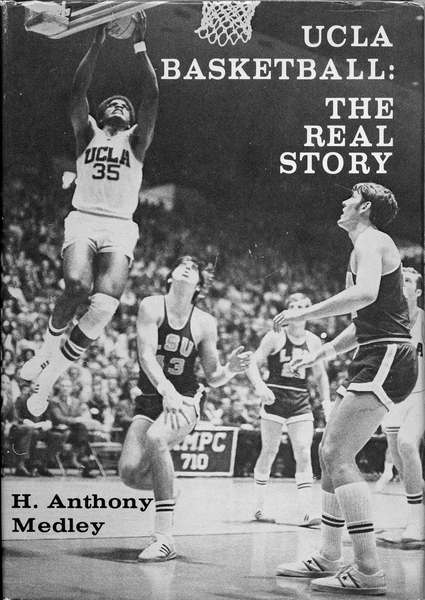 Out of print for more than 30 years, now available for the first time as an eBook, this is the controversial story of John Wooden's first 25 years and first 8 NCAA Championships as UCLA Head Basketball Coach. This is the only book that gives a true picture of the character of John Wooden and the influence of his assistant, Jerry Norman, whose contributions Wooden ignored and tried to bury.
Compiled with more than 40 hours of interviews with Coach Wooden, learn about the man behind the coach. The players tell their their stories in their own words. This is the book that UCLA Athletic Director J.D. Morgan tried to ban.
Click the book to read the first chapter and for ordering information. Also available on Kindle.
---
The Intouchables (9/10)
by Tony Medley
Runtime 120 minutes
Not for children.
When I saw the trailer, I really didn't want to see this. About a a rich, patrician quadriplegic, Philippe Pozzo de Borgo (Franšois Cluzet), and his misfit, profane, hoodlum caretaker from the projects, Driss (Omar Sy), it seemed that it would be ultimately depressing.
How wrong I was! It is often laugh out loud funny as Driss brings refreshing variety into Philippe's obviously limited life. Directed by Eric Toledano and Olivier Nakache, it received nine 2012 CÚsar nominations, one of which was won by Sy for Best Actor.
It is based on a 2003 documentary, A La Vie, A La Mort, about the friendship between Philippe and his caretaker, Abdel. Writers/directors Olivier Nakache and Eric Toledano were captivated by it, but put it aside until they felt they were "mature enough" to take it on. While the real Driss was named Abdel and was born in Algeria, the filmmakers changed his name and his birthplace to Senegal. When they met with Philippe, he insisted that the subject be treated with humor. Since the meeting was years later, ensuing events told to them by Philippe gave them new material for the ending since the story really wasn't finished when the documentary was made.
This is in essence a love story between two completely dissimilar heterosexual men. And I don't mean love that involved sex. It's love in its purist form. Although the film runs for two hours, the directors do a terrific job of maintaining the pace so it flows seamlessly.
The acting is superb. Even though Sy won the award as best actor, Cluzet (whose credits include Guillaume Canet's conversion of Harlan Coben's bestseller, Tell No One to film for which he won the 2007 CÚsar as Best Actor) gives an equally wonderful performance as the quadriplegic with a happy outlook on life, giving one of the finest performances of his life without being able to move anything below his neck. Mathieu Padepied's cinematography adds a lot to the film, as does the music of Ludovico Einaudi. In French