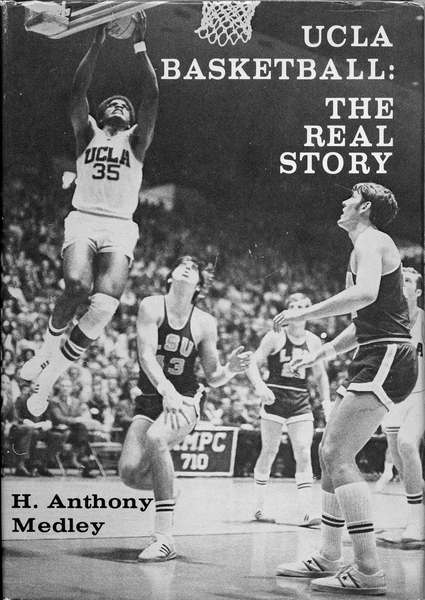 Out of print for more than 30 years, now available for the first time as an eBook, this is the controversial story of John Wooden's first 25 years and first 8 NCAA Championships as UCLA Head Basketball Coach. This is the only book that gives a true picture of the character of John Wooden and the influence of his assistant, Jerry Norman, whose contributions Wooden ignored and tried to bury.
Compiled with more than 40 hours of interviews with Coach Wooden, learn about the man behind the coach. The players tell their their stories in their own words.
Click the book to read the first chapter and for ordering information. Also available on Kindle.
---
Most Enjoyable & Most Disappointing of 2012
by Tony Medley
There were a few more terrible films in 2012 than 2011, but the ones that were terrible were truly terrible. The flip side of that is that there were more entertaining films this year, so my lists are a little longer than last year.
Here are my lists of the most enjoyable and least enjoyable/most disappointing/most overrated films I saw during 2012. The negative category includes some films that, while not the worst, were disappointing or overrated, or, while enjoyable, had huge flaws. The positive category is just how much I enjoyed them, not rated as I would rate an Oscar®-winner. The "Most Disappointing" are listed by rank of how much I loathed them with #1 the most loathsome.
Most enjoyable:
A Royal Affair:

What an historical drama should be, factual and interesting. Are you listening, Stephen Spielberg?

Argo:

Ditto.

Django Unchained:

Christoph Waltz hits a home run.

Silver Linings Playbook:

Bradley Cooper as a seriously bipolar man romantically involved with equally disturbed Jennifer Lawrence, who is impossibly beautiful and sexy in this fine comedy about a serious subject.

Hyde Park on the Hudson:

Charming ambience and performances in this film about FDR's sexual dalliances.

Salmon Fishing in the Yemen:

Emily Blunt and Ewan McGregor shine in one of the best romances of the year.

Liberal Arts:

Channeling Albert Brooks at his best,

Josh Radnor creates a funny story about life and romance at a Midwest college.

Life of Pi:

The Bengal Tiger is so realistic it's hard to believe it is solely a creation of computer graphics. But that's not all this movie has to offer.

Thin Ice:

Greg Kinnear gives a sparkling performance as a devious insurance salesman, aided by equally wonderful performances by Billy Crudup and Alan Arkin.

The Impossible:

Highlighted by a courageous performance by Naomi Watts, this is so well done it makes you feel as if you are right there being swept away in the 2004 Indian Ocean tsunami.

Moonrise Kingdom:

Director Wes Anderson's quirky, charming story of youthful infatuation is full of wonderful performances by an ensemble cast including Bruce Willis, Edward Norton, and Bill Murray.

This is 40:

Brilliantly written and directed by Judd Apatow. It must be good, for me to say this about The Smutmeister.

Bernie:

A surprise black comedy hit based on a true story with fine performances by Shirley McLaine and Jack Black.

Celeste and Jesse Forever:

A charming indie with acute realistic dialogue.

Contraband:

A good Mark Wahlberg thriller.

Headhunters:

A better Norwegian thriller

Hope Springs:

When Meryl Streep plays a role straight she can be very good, as she does here helped by a fine performance by Tommy Lee Jones.

The Intouchables:

The story of a quadriplegic invalid and his caretaker sounded depressing but this true story is a heartwarming comedy.

Lawless:

Capturing the prohibition era in moonshine country perfectly, this is a well-acted movie, if graphically violent.

Marley:

A fascinating documentary about reggae singer Bob Marley's life.

Nobody Else But You:

A fine French roman à clef thriller.

The Oranges:

Hugh Laurie returns to his comedic roots in this entertaining dark comedy with a bravura performance by Alia Shawkat, Laurie's daughter, whose tongue in cheek narration carries the humor.

People Like Us:

Elizabeth Banks stars as

a 30-old year recovering alcoholic unwed mother working as a bartender, barely making ends meet who falls for Chris Pine before discovering what their relationship really is.

Ruby Sparks:

A fine romcom based on Pygmalion written by star Zoe Kazan.

Arbitrage:

Richard Gere's back and better than ever in this tale of Wall Street shenanigans.

Safe:

Jason Statham shows admirable range in this action film.

Safe House:

A tense thriller with inexperienced CIA agent Ryan Reynolds trying to protect and, at the same time, bring in rogue agent Denzell Washington in Cape Town, South Africa.

Savages:

I asked my friend how she liked this brutal Oliver Stone thriller about drug runners. Her response, "It's riveting, but I don't like it." That might be a fairly common reaction.

Trouble With the Curve:

Clint Eastwood and Amy Adams shine in this simple tale about a baseball scout and his daughter.

Best Exotic Marigold Hotel:

A charming look at life after 60 without being condescending.

Taken 2:

Not as good as the original, but good enough.

21 Jump Street:

Despite lots of F-bombs, this is a fine screwball comedy in the old tradition that had me laughing out loud, especially at Ice Cube's performance.

Man on a ledge:

An unusual caper film with fine performances by Sam Worthington, Elizabeth Banks, and Ed Harris.

The Amazing Spider-Man:

Director Mark Webb takes over from Sam Raimi with a new cast including Emma Stone and the result is an interesting take on what had been, heretofore, truly silly stories.

Crazy Horse:

A documentary about the legendary Parisian cabaret club featuring nude women dancers containing revealing interviews with the dancers, producers, and director, celebrated choreographer Philippe Decouflé, as well as scenes of rehearsals and performances of their dancing called "nude chic" (also revealing).

Follow Me: The Yoni Netanyahu Story:

A fascinating documentary about Israeli Prime Minister Bibi Netanyahu's brother, who led the 1976 raid on Entebbe.

Haywire:

Director Stephen Soderbergh based this ingeniously convoluted action thriller on one of his favorite films, the James Bond From Russia With Love. He's aided by a great cast that includes Ewan McGregor,

Michael Fassbender, Antonio Banderas, and Michael Douglas.

Battleship:

Unbelievably maligned; I think unfairly.
Most Disappointing:
Lincoln:

The ludicrous historical fictions this film foists on its audience are bad enough but what is truly damning is that it is one of the biggest snorers ever made.

Zero Dark Thirty:

This film goes to great lengths to minimize the heroism of the Navy SEALs who conducted the raid, and the danger they faced. Instead, its female director creates a semi-fictional heroine who spends two hours trying to find bin Laden, picturing her as far more heroic than the SEALs who risked their lives on a dangerous mission. Not only is Jessica Chastain miserably miscast, it's almost as boring as Lincoln.

The Campaign:

Will Ferrell; need I say more?

Fun Size:

The good news about this film aimed at an age level of about 4-14 is that it's only 96 minutes long. The bad news is that it is 96 minutes long.

Here Comes the Boom:

The vacuity of making a children's movie that is replete with stomach–churning violence is mind-boggling.

Killing Them Softly:

The "them" in the title turns out to be the audience.

Pink Ribbons:

A bunch of unreasonable, angry women bite the hands that feed them.

Pitch Perfect:

A Glee-like film targeted at teenaged girls that promotes sexual promiscuity; yeah that's what we need. Can you spell "flimsy premise?"
10. Project X: A film glorifying the idea of teenagers trashing their parents' house. And Hollywood wonders why it's in trouble?
11. Ted: A foul mouthed teddy bear comes to life in a movie without one iota of humor.
12. This Means War: Substituting crudity for humor, this appears to have been thrown together without a thought given to intelligence or verisimilitude.
13. Magic Mike & The Paperboy: Matthew McConaughey went two bridges too far in trying to find roles to change his image from romcom leading man to an actor with depth and range in these degrading, dispiriting films.
14. Rock of Ages: Tom Cruise as a distasteful hard metal rocker in the worst role of his career.
15. Jack Reacher: I gave this 8/10, but 5-7, 140 Tom Cruise is no more 6-5, 240 Jack Reacher than Mickey Rooney is James Bond. If Tom had been playing a guy named John Smith, or anything other than Jack Reacher, it would have been OK. Instead, the film alienates the millions of devoted readers of author Lee Child's books.