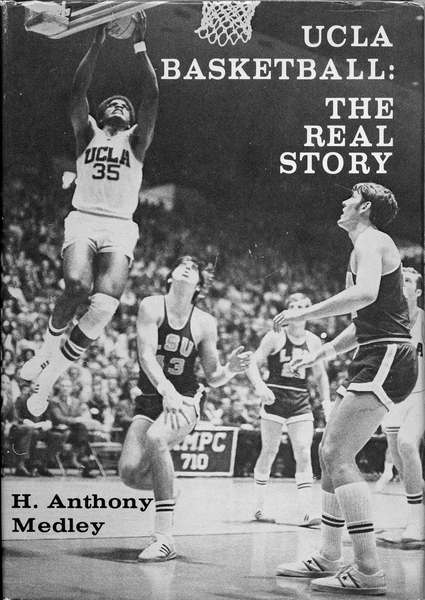 Out of print for more than 30 years, now available for the first time as an eBook, this is the controversial story of John Wooden's first 25 years and first 8 NCAA Championships as UCLA Head Basketball Coach. This is the only book that gives a true picture of the character of John Wooden and the influence of his assistant, Jerry Norman, whose contributions Wooden ignored and tried to bury.
Compiled with more than 40 hours of interviews with Coach Wooden, learn about the man behind the coach. The players tell their their stories in their own words. This is the book that UCLA Athletic Director J.D. Morgan tried to ban.
Click the book to read the first chapter and for ordering information. Also available on Kindle.
---
Tinker, Tailor, Soldier, Spy (5/10)
by Tony Medley
Run time 130 minutes
OK for children.
John Le Carré, the author of the book, is the pseudonym for David Cornwell. As Cornwell, he wrote two fine, small British mysteries, Call for the Dead and Murder of Quality. They epitomize what is apparently a dying genre, but both are entertaining. Then he wrote The Spy Who Came in From the Cold. It became a worldwide bestseller and a popular film starring Richard Burton (one of Burton's few good films) as George Smiley, allowing Cornwell to quit his civil service job and become a fulltime novelist.
While Spy was a terrific thriller, unfortunately for me, his succeeding books have been long, convoluted, and uninteresting. I guess I'm in a minority because all his books became bestsellers.
This movie, for me, follows his novels very well, because it's long, convoluted, and slow. Directed by Tomas Alfredson from a script by Bridget O'Connor & Peter Straughan, Smiley (Gary Oldman), Le Carré's longtime protagonist (actually making his first appearance in Call for the Dead) has retired but there's a mole in the British spy organization and Smiley is called in privately by Control (John Hurt) to find him or her.
What results is an awful lot of talk. Smiley doesn't smile much, nor does he talk much. What he does is think, I guess, and listen. The first half of the film is inordinately slow and confusing. Maybe that's part of the charm, but I generally think it's nice to know what's going on, instead of spending more than half of the movie trying to figure out what's going on. It's one thing to have a mystery about whodunnit, but it's quite another to have a mystery about whatthehellisgoingon for an hour and a half.
The plot really doesn't pick up and become comprehensible until Ricky Tarr (Tom Hardy) enters the film well beyond the halfway point. That's when it becomes clearer and there are actually a couple of people to care about.
While it is slow and Smiley's unemotional presence becomes somewhat grating, and while the mole is so obvious from the very beginning because of the casting that there is really not much reason to sit there for two more hours before s/he is revealed, I still found it moderately entertaining despite a spot of anti-Americanism. But maybe that's because the last half is much better than the first half and it's the last half that I walked out of the screening contemplating, as the dawdling first half had slowly receded out of my consciousness.
December 5, 2011