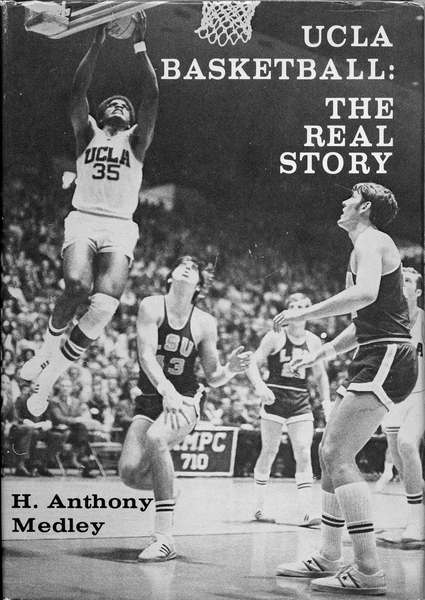 Out of print for more than 30 years, now available for the first time as an eBook, this is the controversial story of John Wooden's first 25 years and first 8 NCAA Championships as UCLA Head Basketball Coach. This is the only book that gives a true picture of the character of John Wooden and the influence of his assistant, Jerry Norman, whose contributions Wooden ignored and tried to bury.
Compiled with more than 40 hours of interviews with Coach Wooden, learn about the man behind the coach. The players tell their their stories in their own words. This is the book that UCLA Athletic Director J.D. Morgan tried to ban.
Click the book to read the first chapter and for ordering information. Also available on Kindle.
---
Moneyball (9/10)
by Tony Medley
Run time 133 minutes
OK for chldren.
I realized that baseball was run by people low on intelligence and common sense when I was a freshman pitcher at UCLA. I was facing a batter with two outs and runners on second and third. I got two strikes on him and threw him a low-breaking curve. Completely fooled, he looked like a contortionist as he stuck is butt back and then reached over the plate and barely got his bat on the ball, weakly popping it up to our second baseman, who ran around like a chicken with its head chopped off and let it drop on the fringe of the infield as the two runners scored. Our coach came out to pull me. I told him he couldn't pull me. I had thrown a perfect pitch and the guy had been lucky to barely get his bat on the ball and pop it up and, anyway, our second baseman should have caught it. If he wanted to pull someone for that pitch and hit, he should pull the second baseman, not me. His mind was closed and he pulled me.
The idiocy of baseball is that if I had grooved a fastball and the guy had hit a shot but lined out to the third baseman, he would have left me in. Baseball makes the exact same decisions today. It is filled with managers and executives who wouldn't know logical analysis if it hit them in the head. I walked off the field, into the dugout, took off my uniform and never threw another pitch, getting out while the getting was good. Dealing with that kind of reasoning wasn't something I wanted to face for the rest of my life.
Billy Beane (Brad Pitt), on the other hand, forsook a Stanford academic scholarship to play ball. It turned out he didn't have major league talent, but ended up as General Manager of the Oakland A's. This found him in the quandary of running a team that didn't have the money to compete with the wealthy oligarchs of the baseball world like the New York Yankees.
Based on the book, Moneyball: The Art of Winning an Unfair Game by Michael Lewis, which I read, from a script by Steve Zaillian and Aaron Sorkin, this is the story of how he took on the baseball establishment that was (is) wedded to antiquated thinking and false premises, and changed the game by evaluating players in a completely different way. Expertly directed by Bennett Miller (Capote), Brad Pitt and Jonah Hill give Oscar®-quality performances as Beane and his statistical guru, Peter Brand, respectively, helped by fine performances by the entire cast.
Pitt gives what I think is the best performance of his career as an executive going against the grain, not only of the baseball establishment, but of his staff, filled with baseball antiquarians. Leading the naysayers is his manager, Art Howe (Philip Seymour Hoffman, who could also qualify for an Oscar® nomination as a laconic guy who fights Beane at every turn). As the A's fortunes turn, the movie has the broadcasters giving Howe all the credit. I wonder what Howe's take on this is, since it paints him as kind of a hypocrite, fighting Beane's changes tooth and nail, but apparently accepting the accolades when they are thrown at him.
Hill has crossed over from comedy to drama, which started with his fine performance in Cyrus. No longer obscenely fat, he's now an accomplished dramatic actor, even though he does have a few funny lines.
Adding to the verisimilitude of the film is that all the baseball scenes of actual play are stunningly effective. There aren't any scenes of unathletic movie stars like William Bendix trying to look like Babe Ruth. All of the guys cast as baseball players actually look like real athletes, especially Stephen Bishop who plays David Justice.
There is one bad plot hole that probably won't bother anybody but me. Beane and Brand list the things they have to do to enhance their on base percentage, which was the basis for their revolutionary mode of operation. One thing was that Brand tells batters that if they get the first strike called on them, so that the count is 0-1, their collective batting averages plummet more than 200 points. Then, later they say that they want hitters to work the pitcher deep into the count so he will throw more pitches. Well, what is it? Are they supposed to swing at the first pitch if it's a strike, or are they supposed to take the first pitch, even if it is a strike which will cause their batting average to plummet?
This is a film about a guy fighting the establishment. I don't think one has to be a baseball fan, or even know anything about it, to enjoy it.
September 21, 2011