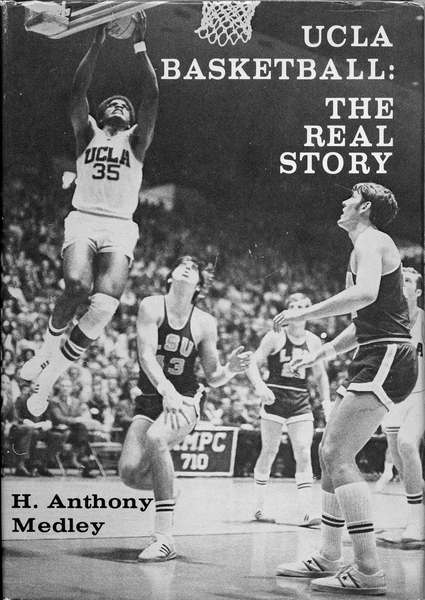 Out of print for more than 30 years, now available for the first time as an eBook, this is the controversial story of John Wooden's first 25 years and first 8 NCAA Championships as UCLA Head Basketball Coach. This is the only book that gives a true picture of the character of John Wooden and the influence of his assistant, Jerry Norman, whose contributions Wooden ignored and tried to bury.
Compiled with more than 40 hours of interviews with Coach Wooden, learn about the man behind the coach. The players tell their their stories in their own words. This is the book that UCLA Athletic Director J.D. Morgan tried to ban.
Click the book to read the first chapter and for ordering information. Also available on Kindle.
---
Most Enjoyable & Most Disappointing of 2011
by Tony Medley
There were a lot fewer terrible films this year. But the flip side of that is that there were a lot fewer wonderful films this year, so my lists are shorter than in the past. Here are my lists of the most enjoyable and least enjoyable/most disappointing/most overrated films I saw during 2010. The negative category includes some films that, while not the worst, were disappointing or overrated, or, while enjoyable, had huge flaws. The positive category is just how much I enjoyed them, not rated as I would rate an Oscarģ-winner.
Most enjoyable:
Point Blank:

A heart-stopping, nonstop thriller.

Midnight in Paris:

Nostalgic and funny.

My Week with Marilyn:

Marilyn would be pleased.

The Descendants:

George Clooney finally gives up trying to be Cary Grant and finds that he can really act in this fine comedy.

Moneyball:

Forget baseball, this is about challenging group think.

The Debt:

Hellen Mirren shines in this thriller.

Contagion:

Tells what it could be like in a 1918-type influenze epidemic.

Jane Eyre:

Who would have thought that I could like this new film version of the classic women's novel?

Crazy, Stupid Love:

Very funny, especially Emma Stone.

Unknown:

Liam Neeson's almost annual thriller to start the year is as good as the last.

Horrible Bosses:

Another very funny movie.

Hugo: If you want to see a real homage to old time movies, this is much more entertaining than The Artist. This, for instance, has talking and is in color.

Drive:

Terrific performance by Ryan Gosling in a smart thriller.

Brighton Rock:

Thoughtful metaphor for the fight between the Church and the devil.

Tower Heist:

Funny.

The Ides of March:

Compelling political thriller with fantastic performances by Paul Giamatti and Paul Seymour Hoffman.

Rise of the Planet of the Apes:

One of the best prequels ever made.

The Adjustment Bureau:

Fine, overlooked thriller with a good performance by Emily Blount.

Limitless:

A fascinating thriller standing as a metaphor for the dopey athletes who use drugs to improve their performances. Bradley Cooper's fine performance overshadows weaker tries by Robert DeNiro and Abbie Cornish.

Source Code:

From the Robert Wise-style opening (obviously inspired by the openings of West Side Story and The Sound of Music) with gorgeous aerial shots of Chicago, Source Code presents a refreshing new idea for time warp movies.

The Way Back:

The story of seven men Stalinís Communists sentenced to long terms in the Gulag in 1940 who escape and walk 10,000 km to try for freedom.

Winter in Wartime:

A fine World War II thriller about how the Nazi occupation affects a seemingly ordinary Dutch family.

Water for Elephants:

Entertaining adaptation from the book with a typical terrific performance by Christop Waltz

Fast Five:

Fast-paced action film with stunts and special effects you won't soon forget.

In Time:

Ingenious sci-fi tale set in the future.
Most Disappointing:
The Iron Lady:

Meryl Streep teams up with an ideologically motivated director and writer to defame the first woman Prime Minister of England and the longest sitting PM of the 20th century. Streep's performance epitomizes "cruel."

Of Gods and Men:

Seven Cistercian monks sing and sing and sing interminably. My questions are why was the film made and how in the world did anybody get someone to finance something like this?

Bridesmaids:

Women degrading themselves is not funny.

Take Me Home Tonight:

If you like a feeble attempt at a post-teen romcom, a tale without a story, without humor, without romance, and without reason, this is for you.

J. Edgar:

Did they have to make it so boring and uninformative?

Drive Angry:

If thereís a movie more devoid of raison díÍtre than this, I havenít seen it.

Hall Pass:

This thing had more than three strikes against it within the first five minutes.

The Dilemma:

Ignorant, clumsy, sophomoric and sexist.

Arthur:

A remake of one of my least-loved movies, the Dudley Moore version of Arthur (1981), that lauds alcoholism as harmless fun. Two movies made by idiots for people who think alcoholism is funny.
10. The Conspirator: Robert Redford is once again on the wrong side of reason in this film that glorifies and defends Mary Surratt who could have stopped the assassination of Lincoln dead in its tracks, but did nothing and let it continue because her son was involved. The evidence against her is compelling but Redford, being the true leftist that he is, ignores it all.
11. Potiche: A complete waste of time that is not funny, interesting, entertaining, or even slightly humorous. Equally jarring is the speed with which the subtitles are flashed, which requires a crash course in speed reading to keep up. But I was thankful for small favors. Had the subtitles been shown with normal reading time, the film would have been longer.
Gainsbourg:

This paints Gainsbourg as a jerk. If this is a heroic life, what kind of life would be unheroic?

The Double:

A terminally boring thriller with more plotholes than you can shake a stick at.