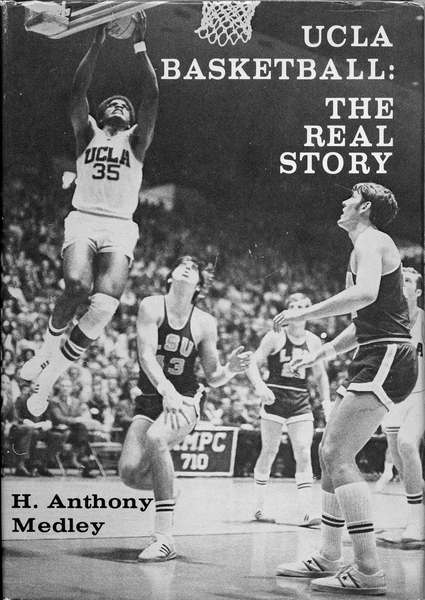 Out of print for more than 30 years, now available for the first time as an eBook, this is the controversial story of John Wooden's first 25 years and first 8 NCAA Championships as UCLA Head Basketball Coach. Notre Dame Coach Digger Phelps said, "I used this book as an inspiration for the biggest win of my career when we ended UCLA's all-time 88-game winning streak in 1974."
Compiled with more than 40 hours of interviews with Coach Wooden, learn about the man behind the coach. Click the Book to read the players telling their stories in their own words. This is the book that UCLA Athletic Director J.D. Morgan tried to ban.
Click the book to read the first chapter and for ordering information.
---
Thumbnails March 2010
by Tony Medley
Edge of Darkness (10/10): Despite the fact that Mel Gibson gives a top performance as the grief-stricken detective out for revenge, what makes this movie work is British director Martin Campbell (who directed the original as a 1985 British miniseries, as well as the 1983 miniseries ďReilly, Ace of Spies,Ē one of my personal favorites), an expert at pace and tension. There is not a minute of this film that lets you relax. Extra special is Gibsonís relationship with shadowy Ray Winstone, who gives an Oscarģ-caliber performance as that favorite Hollywood fantasy creation, a caring hitman. In the British miniseries all the characters were British except the hitman, who was American. Here, all are American except the hitman, who is British.
The Ghost Writer (8/10): Director Roman Polanski admitted in open court that he drugged and raped a 13-year-old girl, then ran away. Almost as reprehensible, his newest film paints Tony Blair and the USA as the bad guys in the war against terror. But personal feelings about those two issues canít overcome the fact that Polanski is talented, and that this is a film with Hitchcockian tension that is thoroughly enjoyable. Ewan McGregor, Tom Wilkinson, Olivia Williams, Kim Cattrall, and Pierce Brosnan give sparkling performances, enlivened by the award-quality music of Alexandre Desplat.
Valentineís Day (7/10): My expectations were low for this ensemble-cast of stars romance, but Garry Marshall has a nice touch here. In addition to loading the film with terrific location shots of Los Angeles, including Marina del Rey, the Hollywood Freeway, the fountain at Wilshire & Santa Monica Blvd. in Beverly Hills, the Venice Canals, and the Hollywood sign, among many others, he gets good performances from most of his cast, including Ashton Kutcher, Topher Grace, Jennifer Garner, and Anne Hathaway. Maybe itís a trifle, but itís an entertaining trifle.
Percy Jackson and The Olympians: The Lightning Thief (3/10): What were they thinking, to make a violent movie that could scare the socks off of children out of books written for 10-year-old boys? Changing the age of the protagonist from 12 to 17 and clumsy direction and setups encumber what could have been an intriguing story of Olympian gods still fighting in the 21st Century. Writer Craig Titleyís clever lines and metaphoric attack on President Obama arenít enough to save this.
When in Rome (1/10): Burdened by uninspired directing and a story that can best be described as drivel, the majority of the actors, especially Bobby Moynihan (from Saturday Night Live) and Alexis Dziena, are so irritating they could seamlessly fit into the worst chick flick. The script is annoying, to be sure, but star Kristen Bell adds nothing that would make one empathetic with her. Alone among the cast, Josh Duhamel overcame the drivel. Heís not in that many scenes, as itís a story about Bell, but if the film has any bright spot, itís Josh.
From Paris With Love (1/10): The first hour is one of the more ridiculous hours of film Iíve had to sit through. John Travolta is an over-the-top, violent psychopath, shooting more bullets in the first hour, killing so many people in Paris, that itís hard to believe anybody is left to speak French. The violence is so pervasive it becomes like white noise. And heís a good guy! He should have shot co-star Jonathan Rhys Meyers, whose attempt to ďactĒ seems like a bad American Idol audition. Whereís Simon Cowell when we really need him? After an hour, though, somehow 20 minutes found their way into the film that is actually entertaining. Unfortunately, the last ten minutes reverts to ludicrous.