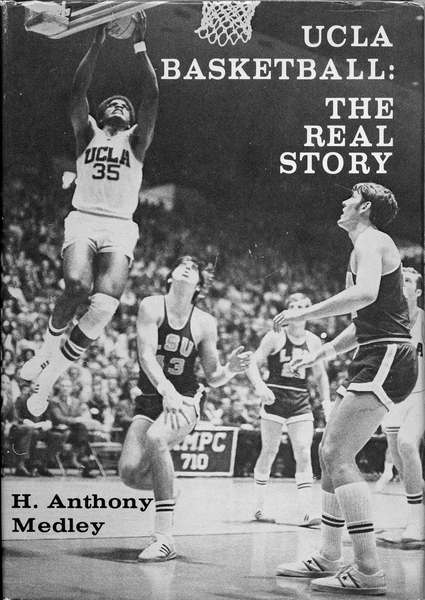 Out of print for more than 30 years, now available for the first time as an eBook, this is the controversial story of John Wooden's first 25 years and first 8 NCAA Championships as UCLA Head Basketball Coach. Notre Dame Coach Digger Phelps said, "I used this book as an inspiration for the biggest win of my career when we ended UCLA's all-time 88-game winning streak in 1974."
Compiled with more than 40 hours of interviews with Coach Wooden, learn about the man behind the coach. Click the Book to read the players telling their stories in their own words. This is the book that UCLA Athletic Director J.D. Morgan tried to ban.
Click the book to read the first chapter and for ordering information.
---
Thumbnails January 2010
by Tony Medley
Crazy Heart (10/10): Unlike the faux singing of a few bars that appears in recent "musicals," Jeff Bridges sings the captivating original songs of Stephen Bruton and T-Bone Burnett all the way through, and sounds like a pro. Uncredited Colin Farrell sings one song and one duet with Bridges with admirable professionalism. Unfortunately, the film is burdened by a ludicrous "romance" between Maggie Gyllenhaal, a young single mom, and Bridges. They continue winding up in each other's arms, a result that strains credulity to the breaking point. She's young and beautiful; he's old, smelly, dirty, and dirt poor. He's got nothing that would attract a gorgeous young woman with obligations. Despite that, however, "Crazy Heart," is one terrific movie with outstanding music and performances, especially Bridges, brilliantly directed by Scott Cooper.
Young Victoria (10/10): This is an eye-opening, scintillating view of Queen Victoria as a young woman. Emily Blunt finally gets to appear as the star of a film and as the beautiful woman and exceptional actress she is. Victoria as a young girl is thrust into major league politics and falls in love with Prince Albert (Rupert Friend). Other than the sometimes surprisingly ungrammatical script by Julian Fellowes this is very well structured and written, and resplendently directed by Jean-Marc Vallée, who lovingly captures the aura of mid-19th Century England.
Avatar (8/10): This is a fascinating tale, a rip-snorting romp until the final dénouement, which goes on too long and is beyond the realm of credibility, even for sci-fi. But what special effects! When you see an avatar or Na'vi (the native people on the lush moon Pandora) make an eye movement, for example, that's the exact eye movement that the real actor made captured on a camera before being converted to animation. The avatars and Na'vi are such realistic creatures that one never thinks of them as animations. The locale for the film is a lush tropical rainforest in the mountains. While it looks astonishingly real, it is all computer generated. The film is so enjoyable that it I tended to forget I was watching it in astounding IMAX 3-D, which is mind-boggling.
Did You Hear About the Morgans (6/10): The brilliant Hugh Grant carries this for about an hour, during which I was laughing out loud. But then it slows down enough to induce snores, saved only by a rare appearance by Sam Elliot, in another of his smart, laconic performances.
Sherlock Holmes (5/10): Director Guy Ritchie and Robert Downey, Jr. libel Conan Doyle's iconic creation, the totally intellectual Sherlock Holmes, in this convoluted story. Downey, playing the cerebral Holmes as an action hero, and Jude Law, as Holmes' biographer Dr. Watson, make one yearn fondly for Basil Rathbone and Nigel Bruce.
The Final Station (2/10): This just goes on and on, seeming to tell the story of the inconsiderate way Leo Tolstoy treated his wife in the last year of his life in real time, although in reality the film only lasts for just under two hours. It just seemed like a year.
Nine (0/10): This movie proves that if you start out with a sow's ear, what you inevitably end up with is a sow's ear. Multiple Tony award-winning "Nine" was among the worst Broadway musicals I've ever seen, and I've seen most of them. In translating it to the screen, director Rob Marshall has exacerbated the unmemorable, non-melodic music by casting non professionals in the singing and dancing roles (like he did in "Chicago") and a non-Italian, unshaven Daniel-Day-Lewis, to play the lead, an inspiration-blocked Italian director. The result is a miscast, poorly directed mishmash of a movie worse than the play.