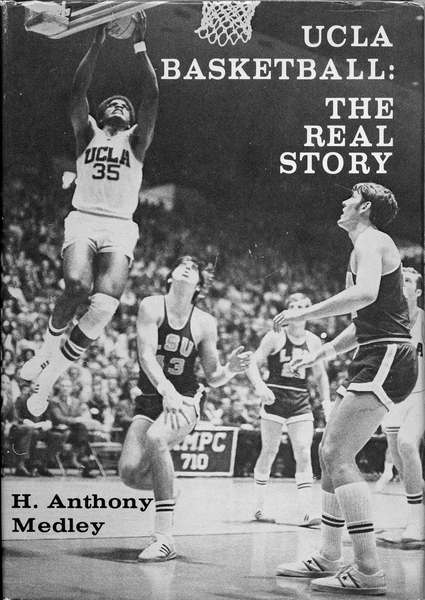 Out of print for more than 30 years, now available for the first time as an eBook, this is the controversial story of John Wooden's first 25 years and first 8 NCAA Championships as UCLA Head Basketball Coach. This is the only book that gives a true picture of the character of John Wooden and the influence of his assistant, Jerry Norman, whose contributions Wooden ignored and tried to bury.
Compiled with more than 40 hours of interviews with Coach Wooden, learn about the man behind the coach. The players tell their their stories in their own words. This is the book that UCLA Athletic Director J.D. Morgan tried to ban.
Click the book to read the first chapter and for ordering information.
---
Machete (7/10)
by Tony Medley
Run time 105 minutes
Not for children.
Even though it's politically biased, very violent, and nobody on screen laughs, this year Machete occupies the space of last year's violent comedy, Tropic Thunder, although not as funny.
Written (with Ásvaro Rodriguez) and directed (with Ethan Maniquis) by Robert Rodriguez, Machete (Danny Trejo) is a vicious-looking Hispanic who talks in a monotone but is not an hombre to cross. Specifically, he is very proficient with anything that looks like a knife. Even though Machete is wielding knives throughout, however, director Rodriguez is not of the Quentin Tarantino school that requires that every gross detail of onscreen mayhem be shown. Things like knives going into bodies and heads exploding are not seen. All the graphic stuff is pretty much left to the viewers' imaginations. I say "pretty much" because in the end one of the characters vivisects himself and then twists the knife to make sure it does its work. Even so, believe it or not, the scene is relatively rewarding.
The downside of the movie is the silly political point of view. This is a film that is squarely on the side of illegal immigrants. Stacking the decks, Rodriguez creates a politician who opposes allowing illegal immigrants to enter the United States and remain as a bloodthirsty thug and cold-blooded murderer.
That politician that leads the bad guys is Robert De Niro, a murderous Texas state Senator running for re-election. Joining him are Jeff Fahey as his aide, Steven Seagal, as Machete's nemesis and a mysterious boss to whom Fahey reports, and Don Johnson. I'm not sure what Johnson was doing there but I was pretty sure he was a bad guy, despite his wonderful smile. Along for comic relief is Cheech Marin as Machete's brother, a priest who doesn't seem too concerned with being priestly.
There are a couple of pretty Latinas, Jessica Alba and Michelle Rodriguez, who add to the scenery, but the real draw along the lines of female pulchritude is a body double posing as a naked Lindsay Lohan, who plays Fahey's wild daughter. Even though an unobstructed view of her breasts is often compromised by strategically placed long blond hair, there are so many scenes of her naked that the hair is sometimes not blocking better views.