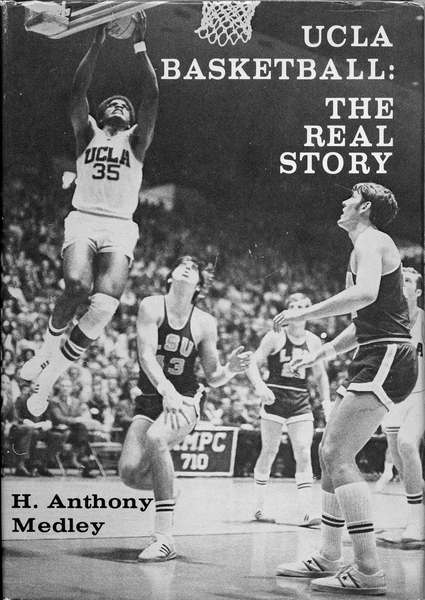 Out of print for more than 30 years, now available for the first time as an eBook, this is the controversial story of John Wooden's first 25 years and first 8 NCAA Championships as UCLA Head Basketball Coach. Notre Dame Coach Digger Phelps said, "I used this book as an inspiration for the biggest win of my career when we ended UCLA's all-time 88-game winning streak in 1974."
Compiled with more than 40 hours of interviews with Coach Wooden, learn about the man behind the coach. Click the Book to read the players telling their stories in their own words. This is the book that UCLA Athletic Director J.D. Morgan tried to ban.
Click the book to read the first chapter and for ordering information.
---
Harry Brown (7/10)
by Tony Medley
Run time: 102 minutes.
Not for children.
"Revenge is mine, sayeth the Lord." That might be OK for the Bible, but it won't work in Hollywood, because some of the best movies have been based on ordinary people getting revenge against evil-doers outside of the law, like Michael Winner and Charles Bronson's Death Wish (1974), which was so popular it inspired many sequels. Even non violent films like "The Sting" (1973), find profit in revenge.
Leaving getting the bad guys up to the police and our system of justice some times seems outdated and useless when murderers just get a slap on the wrist, serve a few years, and then get out to live a wonderful life.
As an example, I remember an outing of a group I'm in. It's a bunch of lawyers, all of whom clerked or bailiffed for United States District Court Judge Albert Lee Stephens, Jr. plus some of his good friends. We meet every year around Mammoth Lakes, California for a "fishing trip." We cook our own food and have a great time. One year one of the Judge's good friends, former California Gov. Pat Brown, attended. Governor Brown was a hail fellow well met, and one night at dinner he told a story about his opposition to the death penalty. There were maybe 10 of us sitting around the dinner table as he told of a bad guy who had shot and killed a policeman who was in his 20s, leaving grieving parents, a young wife, and two young children. Sentenced to death, Gov. Brown commuted his sentence to life in prison. Then Gov. Brown's son appointed Rose Bird to the California Supreme Court and when the Bird Court declared the death penalty unconstitutional in California it also allowed those serving life terms to get out on parole. This cold-blooded killer got paroled, became a businessman and a multi-millionaire. He then visited Gov. Brown to thank him for commuting his sentence and to tell him what a great life he had. Gov. Brown beamed as he presented this as a terrific validation of his opposition to the death penalty.
Most of us around the table, however, were revolted by the story, and thought it epitomized why the death penalty is essential to a civilized society. We wondered if the wife and children of the killer's victim, who had been left without a husband and father, or the victim's parents, who were left without a son, were as thrilled as the unfeeling Gov. Brown to think that their husband's, father's, and son's killer was roaming around living the high life while they still grieved for the man who was taken from them by his callous act. People who kill in cold blood deserve the death penalty, not to be given the opportunity to live a wonderful life. And that's where Harry Brown comes in.
Living in a depressing, lower-middle class area of London, Harry Brown (Michael Caine) is an old man, former soldier, whose best friend, Leonard (David Bradley) is killed by some young toughs. Harry sets out to get revenge all by himself, not cooperating with the police, headed by D. I. Frampton (Emily Mortimer, in a role that fails to challenge).
Caine is at the top of his form in director Daniel Barber's feature debut as he goes out on his own in a cruel world. There are some distasteful scenes, but this is a high-tension film, with some violence, that doesn't let up as it progresses to a surprising ending.