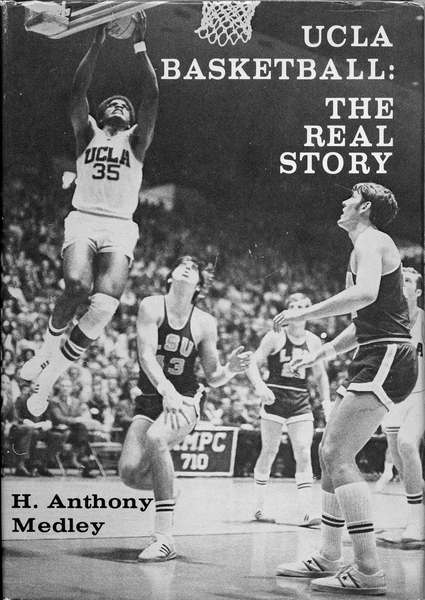 Out of print for more than 30 years, now available for the first time as an eBook, this is the controversial story of John Wooden's first 25 years and first 8 NCAA Championships as UCLA Head Basketball Coach. This is the only book that gives a true picture of the character of John Wooden and the influence of his assistant, Jerry Norman, whose contributions Wooden ignored and tried to bury.
Compiled with more than 40 hours of interviews with Coach Wooden, learn about the man behind the coach. The players tell their their stories in their own words. This is the book that UCLA Athletic Director J.D. Morgan tried to ban.
Click the book to read the first chapter and for ordering information.
---
Most Enjoyable & Most Disappointing of 2010
by Tony Medley
There were a lot fewer terrible films this year. But the flip side of that is that there were a lot fewer wonderful films this year, so my lists are shorter than in the past. Here are my lists of the most enjoyable and least enjoyable/most disappointing/most overrated films I saw during 2010. The negative category includes some films that, while not the worst, were disappointing or overrated, or, while enjoyable, had huge flaws. The positive category is just how much I enjoyed them, not rated as I would rate an Oscar®-winner.
Most enjoyable:
The Social Network: This is a terrific film, due mainly to Jesse Eisenberg's brilliant performance. But any doubt that it won't win the Oscar® was erased by writer-director Aaron Sorkin's haughty, mean-spirited, dimwitted attack on Sarah Palin (http://www.huffingtonpost.com/aaron-sorkin/sarah-palin-killing-animals_b_793600.html), which will appeal to the mostly leftwing Oscar® voters. Sorkin is such an arrogant elitist he assumes his readers don't know what "visceral" means. Come to think of it, however, considering the intellect of people in Sorkin's milieu, he's probably right.
Nanny McPhee Returns: Another wonderfully entertaining, feel good family movie from Emma Thompson.
True Grit: Why make a carbon copy of a 40-year old movie? I guess to get great performances by Jeff Bridges and Hailee Steinfeld and rewrite the script with dialogue straight out of Damon Runyon. But couldn't the Coens have corrected the scene of Hailee coming out of a river bone dry? They didn't have to copy everything, even the goofs, from the 1969 John Wayne/Henry Hathaway film, did they?
The Town: Ben Affleck proves once again he's one of the best directors in town.
The Secret in Their Eyes: The secret was this movie that not many people saw, to their detriment.
The Fighter: Not your typical boxing movie. I deplore boxing and movies about boxing; I loved this with a lot of luscious scenes of Amy Adams and a bravura performance by Christian Bale.
Red: A bunch of aging actors who don't take themselves too seriously highlight this entertaining action comedy.
The Girl Who Played with Fire & The Girl Who Kicked the Hornet's Nest & The Girl With the Dragon Tattoo: See these terrific films before the Americans make their versions, which are unlikely to achieve the same high quality, especially since they are set to star Daniel "I want James Bond to have a gay sex relationship" Craig .
Alice in Wonderland: A magical performance by Johnny Depp, aided and abetted by Helena Bonham Carter in a story only loosely based on the real thing.
Secretariat: While I said that Diane Lane + John Malkovich + Secretariat = 2010's Triple Crown, the lack of archival films was a big disappointment. I wanted to see the real Secretariat.
Edge of Darkness: Mel Gibson, for all his demons, can still create good movies.
Winter's Bone: A small, stark, compelling movie that is surprisingly getting its due this awards season. If you didn't see it, and you probably didn't, you should.
Death at a Funeral: I didn't think an American version could measure up to the original. This came close.
Letters to Juliet: Who would have thought that director Gary Winick's redux of Delmer Daves' little remembered 1962 Suzanne Pleshette-Troy Donahue soaper Rome Adventure (which I liked) could be as good as this with a fine performance by Amanda Seyfried and Italian scenery to die for?
Prince of Persia: The Sands of Time: An old-fashioned adventure comedy with entertaining performances by Jake Gyllenhaal, Gemma Arterton, and Alfred Molina.
Solitary Man: Michael Douglas gives an award-quality performance. But he plays these sleazy roles so well, is he really acting?
Joan Rivers: A Piece of Work: I laughed uncontrollably and learned a lot about Ms. Rivers in the process.
Unstoppable: A thriller about a runaway train that lives up to its hype.
The King's Speech: Despite some strange inaccurate historical portrayals of the Duke of Windsor and Winston Churchill, it's saved by good performances by Colin Firth and Geoffrey Rush.
How Do You Know: A rom-com that rivals the best of the '50s, due mainly to wonderful performances by Paul Rudd and Owen Wilson, who finally get to appear in an entertaining movie.
Nowhere Man: Interesting portrait of a young John Lennon, explaining how and why he came to be the strange person he was.
Babies: Very interesting documentary about four babies from four different parts of the world.
Most Disappointing:
Grown Ups: Grown ups had nothing to do with this idiocy.
Eat Pray Love: The chick flick of the year, and that's no compliment, showing Julia Roberts traveling all over the world feeling sorry for herself because she's not in love. Poor Javier Bardem who gets stuck with her in the end. Boo hoo.
The Other Guys: Need I say more than "Will Ferrell," who might finally have hit rock bottom? But didn't I say that last year, too?
Little Fockers: Worse than awful, Ben Stiller is not unlike Ferrell in that his movies seem to get worse each year. Hung up on penis jokes, this year he thinks jabbing DeNiro's with a hypodermic needle is funny.
The Tourist: Could there be two people with less chemistry between them than Johnny Depp and Angelina Jolie? So many actors and directors turned this turkey down, it's a wonder (and a shame) it got made, despite the eye-popping Venetian scenery.
Freakonomics: The two guys who wrote the book made this as an egoistic paean to themselves. In so doing, they forgot what made the book a success.
Due Date: Director Todd Philips was so bereft of comedic ideas he had to resort to a scene of a dog masturbating, and that's not even the most distasteful scene in this unpalatable movie.
Oceans: Disney apparently had a lot of stock footage, so they threw it all together to try to suck lots of people into watching it. Apparently people were wise to them, though, because it grossed less than $20 million.
Get Him to the Greek: Judd Apatow proves he has yet to mature, still relying on F-bombs and vomit as a substitute for real humor. Someday maybe Judd will finally grow up and concentrate on making films for mature people with IQs over 50, like he did with Year One and Funny People.
From Paris With Love:

The first hour is one of the most ridiculous hours of film I've had to sit through. John Travolta is an over-the-top, violent psychopath who shoots more bullets in the first hour, and kills so many people in Paris that it's hard to believe anybody is left alive. The violence is so pervasive it becomes like white noise.

Repo Men: A repellent, nauseating, sorry excuse for a motion picture. It got its just reward by grossing less than $14 million despite starring turns by Jude Law and Oscar®-winner Forest Whitaker.
Robin Hood: If watching Cate Blanchett in helmet and chain mail splashing through the ocean to thwart a French invasion wasn't enough to set you rolling in the aisles laughing, there was plenty more to tickle your funny bone in this ill-advised restructuring of a beloved legend.
Casino Jack: Since the entire film defines amateurish, Barry Pepper's cringe-worthy performance was appropriate. Apparently intended as a comedy, the only laughing was at, not with. This is a poor epitaph for the late director George Hickenlooper, who created The Man From Elysian Fields, a fine, but little seen, 2002 film that grossed less than $1.5 million.
Hemingway's Garden of Eden: This botched version of Ernest Hemingway's unpublished novel, on which he worked for 15 years prior to his suicide, that pictures Hemingway as a wuss and is replete with dismal acting must have had Ernie spinning in his grave. Watching Mena Suvari try to emote, I envisioned a bilious Hieronymus Bosch tapestry of her teaming up with Casino Jack's Barry Pepper for a

film.