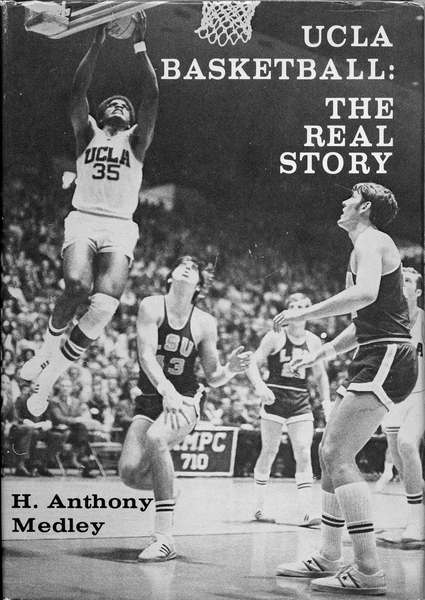 Out of print for more than 30 years, now available for the first time as an eBook, this is the controversial story of John Wooden's first 25 years and first 8 NCAA Championships as UCLA Head Basketball Coach. Notre Dame Coach Digger Phelps said, "I used this book as an inspiration for the biggest win of my career when we ended UCLA's all-time 88-game winning streak in 1974."
Compiled with more than 40 hours of interviews with Coach Wooden, learn about the man behind the coach. Click the Book to read the players telling their stories in their own words. This is the book that UCLA Athletic Director J.D. Morgan tried to ban.
Click the book to read the first chapter and for ordering information.
---
Thumbnails August 2009
by Tony Medley
(500) Days of Summer (10/10): In a dismal year for movies, this shines brighter than the summertime sun. Zooey Deschanel is the girl of every young man's dreams, especially those of Joseph Gordon-Levitt. Alas, her feminine inscrutability ("I just want to be friends") befuddles him as it has men throughout the ages, especially after they become friends with privileges. This is a captivating, charming romantic comedy told non-chronologically, brilliantly directed by first-timer Marc Webb, aided by a delightful wry narration by Richard McGonagle. Deschanel, Gordon-Levitt, and Webb, at least, should be rewarded by Oscar® nominations. But romantic comedies generally get short shrift from Oscar®, despite the truth of Sir Donald Wolfit's deathbed dictum, "Dying is easy...comedy is hard."
Year One (7/10): The mistake is in thinking that anything here makes sense. It jumbles Biblical history, having Abraham (the always enjoyable Hank Azaria) fathering Cain and Abel, for instance. According to the Bible, Cain and Abel were the sons of Adam and Eve. Oh, well, not to worry. The devious Cain (an hilarious David Cross, who lights up the screen) kills his brother and goes on the lam with stars Jack Black and Michael Cera. Even though it is all silly and ridiculous, it is cleverly directed by Harold Ramis (who also wrote along with Gene Stupnitsky and Lee Eisenberg). Cross and Black and Cera are 21st-Century men in a Biblical setting. In the hands of some of the prosaic purveyors of aseptic comedies abounding in Hollywood today, this would undoubtedly have been awful. But with Black and Cera scintillating, and a talented supporting cast and director, this is imaginative and surprisingly enjoyable.
Public Enemies (5/10): While director Michael Mann should be lauded for his fidelity to accuracy, his film sorely lacks entertainment value, lurching from one loud shootout to another, wasting good performances by Johnny Depp, Marion Cotillard, and, especially, Billy Crudup as J. Edgar Hoover.
Transformers: Revenge of the Fallen (1/10): This sequel to the 2007 movie with the same cast and director is a movie about machines who act as people. There are some good machines (one is a pet) and lots of bad machines. Directed by Michael Bay (who looked like he was actually developing into a thinking director with "The Island") and starring Shia LaBeouf, the only good thing about it is that it's 45 minutes shorter than the first one. Still, sitting through this 2-1/2 hour monument to CGI is too daunting to contemplate unless you just love special effects.
I Love You, Beth Cooper (1/10): This misguided film makes all three girls look like cheap hookers, not high school haughties. Worse, it presents teenagers as totally devoid of sexual morality, showing premarital teenaged sex as mere entertainment without commitment, responsibility, or consequence. Completely lacking a premise and humor, this is excruciating and irresponsible.
Brüno (0/10): If Sacha Baron Cohen isn't a pornographer disguised as a social commentating maker of mockumentaries I don't know what to call him. This film goes from one disgusting scene to another, which is the point. Cohen isn't funny; he's outrageous. He wants to make his viewers uncomfortable. Loaded with full frontal male nudity, and lots and lots of explicit scenes of homosexual sex and other things involving the anus, why it's not rated NC-17 is beyond me. Even if you do find this type of thing humorous, at some point the shock just becomes tedious. If this doesn't come across as derogatory to gay people, I can't imagine what would.