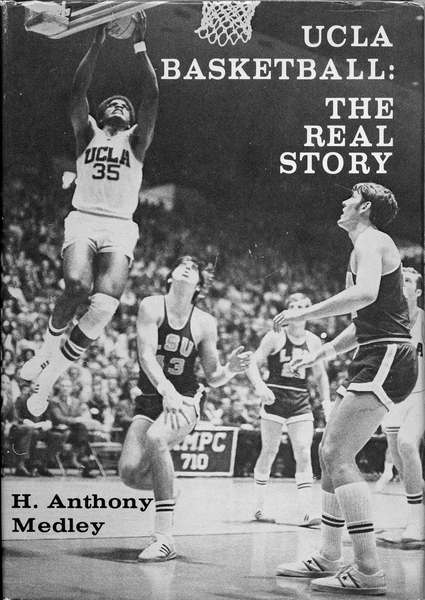 Out of print for more than 30 years, now available for the first time as an eBook, this is the controversial story of John Wooden's first 25 years and first 8 NCAA Championships as UCLA Head Basketball Coach. Notre Dame Coach Digger Phelps said, "I used this book as an inspiration for the biggest win of my career when we ended UCLA's all-time 88-game winning streak in 1974."
Compiled with more than 40 hours of interviews with Coach Wooden, learn about the man behind the coach. Click the Book to read the players telling their stories in their own words. This is the book that UCLA Athletic Director J.D. Morgan tried to ban.
Click the book to read the first chapter and for ordering information.
---
The Men Who Stare at Goats (5/10)
by Tony Medley
Run time 93 minutes.
OK for children.
Although inspired by Jon Ronson's non-fiction bestseller of the same name, an eye-opening and often hilarious exploration of the government's attempts to harness paranormal abilities to combat its enemies, screenwriter Peter Straughan was brought in to develop the goofy story of strange government-sponsored projects into a workable, fictional story. "What I added was the more mundane stuff that was needed pull it all together," he adds. "People may think we've added the goofier, more slapstick stuff, but it's all true. All of the backstory, like trying to walk through walls, or kill a hamster by staring at it, is taken from various different experiments that were tried out in the Army or the CIA throughout the '60s, '70s and '80s. Some of the sillier scenes in the film are taken word for word from interviews Jon did."
Even so, the story makes no sense. Lyn Cassady (George Clooney) is the spaced out protagonist to whom writer Bob Wilton (Ewan McGregor), who is apparently the fictionalized Ronson, attaches himself to find out what's going on with what he hears is something called the First Earth Battalion, a unit that employs paranormal powers in their missions. Director Grant Heslov tells the story in a light-hearted, entertaining way, and Clooney and McGregor give performances that do the material great credit. But Heslov seems like a pianist hired to do a plumbing job. He's got all the pipes and connections and stuff, but he just doesn't know how to put it all together in a cohesive form.
The film is fun, mainly due to the acting of Clooney and McGregor. Lyn is off the wall nuts and Bob follows him around, hoping he'll find out something about which he may write. When it's all over Bob says that he felt that Lyn wanted him to tell the story of what happened. The problem is that I couldn't figure out what happened, or exactly what that story was he thought he should have written, and neither could my guest. It was incomprehensible. Maybe you have to be nuts to understand it. But I walked out feeling as if it had been enjoyable, even though the word on my lips was, "Huh?"
top