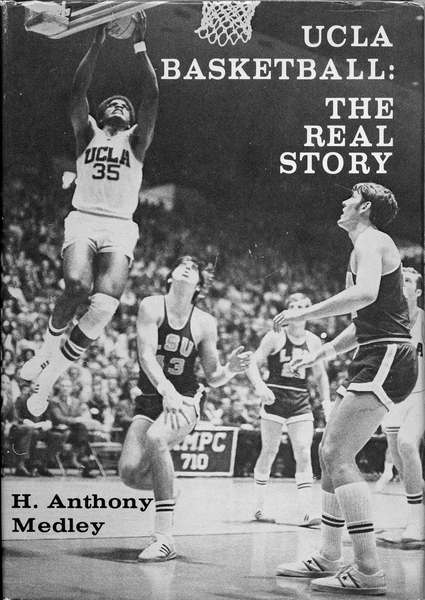 Out of print for more than 30 years, now available for the first time as an eBook, this is the controversial story of John Wooden's first 25 years and first 8 NCAA Championships as UCLA Head Basketball Coach. Notre Dame Coach Digger Phelps said, "I used this book as an inspiration for the biggest win of my career when we ended UCLA's all-time 88-game winning streak in 1974."
Compiled with more than 40 hours of interviews with Coach Wooden, learn about the man behind the coach. Click the Book to read the players telling their stories in their own words. This is the book that UCLA Athletic Director J.D. Morgan tried to ban.
Click the book to read the first chapter and for ordering information.
---
Most Enjoyable & Most Disappointing Films of 2009
by Tony Medley
Here's my list of the most enjoyable and least enjoyable/most disappointing/most overrated films I saw during 2009. The negative category includes some films that, while not the worst, were disappointing or overrated, or, while enjoyable, had huge flaws. The positive category is just how much I enjoyed them, not rated as I would rate an Oscar®-winner.
Most enjoyable:
The Young Victoria: Emily Blunt finally gets her chance to shine in a starring role that she owned.
Harvard Beats Yale, 29-29: Breath-takingly funny and amazing.
Me and Orson Welles: Exultant recreation of yesteryear; I could have watched for another hour.
Crazy Heart: Jeff Bridges gives a terrific performance helped by a resounding sound track.
Avatar: A story so good it overwhelmed the incredible special effects.
(500) Days of Summer: An exhilarating romcom.
An Education: An intelligent, thoughtful film, a type they don't make much anymore.
In The Loop: An uproariously funny farce.
The Baader Meinhof Complex: This is so good it's worth reading subtitles for 2-1/2 hours.
Flame and Citron: A terrific WWII spy thriller with a realistic ending, that happens to be true (mostly).
The Blind Side: Sandra Bullock comes into her own in this heart-warming family feel good film.
Coco Before Chanel: A look at Coco Chanel and how she created her reputation out of whole cloth, you should pardon the expression.
Inglorious Basterds: The list of WWII comedies began and ended with "Kelly's Heroes" until this one, which doubles as an adventure film.
The Time Traveler's Wife: A worthy addition to time-warp winners, although not in the league with "The Final Countdown."
Revanche: Requires concentration, thought, and reason. But if you're willing to actually do these three skills, this is a rewarding movie.
Adventureland: One of the better romances with terrific performances, especially by Kristin Stewart.
Taken: Non-stop tension.
The Ugly Truth: Funny, with good advice for women, although what Gerard Butler says is intended to be so over-the-top outrageous that he's funny, most of what he says makes sense and describes how many men react to a woman so accurately that it should be emailed to every woman around the world.
The Hangover: The low budget comedy that took the world by storm, deservedly so.
Every Little Step: Although "The Chorus Line" is one of my least-favorite musicals, if you like Broadway, this is a film you cannot miss.
Shall We Kiss: This is the charming kind of little movie at which the French excel.
The Damned United: How good is this? I'm no soccer fan, but found this fascinating, mainly due to the extraordinary acting.
Bad Lieutenant: Port of Call New Orleans: Even though director Werner Herzog likes to call this film noir, it's not, but it's still entertaining.
2012: A disaster film that surprised me, coming, as it did, from Roland Emmerich. But when something is good, it's good.
Funny People: Judd Apatow forsakes his silly, low-class, profane comedy shtick and finally makes a movie with depth and meaning.
Donkey Punch: Unfortunately demeaned by a scene of soft core porn, this is an intriguing, well done story. What would you do?
Confessions of a Shopaholic: An old-fashioned, feel-good love story.
Tyson: You've never seen Mike Tyson like this, in his own words, and it's fascinating.
The Box: Dark, drear, and troubling. It starts like a fairly straight forward thriller, and then descends into weirdness involving scenes that are phantasmagorical.
Most Disappointing:
Nine: A better title for this awful movie full of faux singing and dancing to less than mediocre music would have been "Nein!"
Motherhood: According to this movie motherhood sucks but what sucks is this movie.
Brüno: This is worse than actual pornography (for which is easily qualifies), it's intellectual pornography.
all about Steve: Awful doesn't begin to describe this Sandra Bullock vehicle written by Kim Barker, who was responsible for the equally awful "License to Wed."
Whatever Works: Whatever works, this Woody Allen homage to his secular humanist philosophy didn't.
Julie and Julia: Meryl Streep impersonating Dan Akroyd caricaturing Julia Childs. Poor Julia would be appalled.
The Last Station: Interminable; a waste of the talents of Christopher Plummer, Helen Mirren, and Paul Giamatti.
Observe and Protect: Pure, unadulterated smut; an obscenity.
The Limits of Control: I can't say nothing happens. At about the 70 minute mark, Hilda Swinton is kidnapped. Too bad the kidnappers didn't take the negative for this movie at the same time.
Ghosts of Girlfriends Past: Dear Matthew McConaughey: When will you realize that it takes more than a smile to be an actor?
Echelon Conspiracy: This was just flat ridiculous.
Miss March: This was awesome, Dude, a movie made especially for us dudes with IQs under 25!
Two Lovers: If you thought

Joaquin Phoenix's "singing" in "Walk the Line" was bad (I thought it atrocious), you should see him in this.

Land of the Lost: Will Ferrell, need I say more?
The Pink Panther 2: Steve Martin, meet Will Ferrell.
Bride Wars: Considering that this "stars" Kate Hudson and Anne Hathaway, this bomb didn't have a chance.
I Love You, Man:

This is

such an idiotic stretch it should be animated, because it couldn't be more of a cartoon.

Night at the Museum: Battle of the Smithsonian: This movie did the impossible. It's worse than the original.
It's Complicated: It's ghastly.
he's just not that in to you: So bad a chick flick it's in the league of "Sex and the City," and that's hard to believe.
Paris 36: I don't like fantasies. And if I did like fantasies, I wouldn't like fantasies that are historical stories of recent past. And if I did like fantasies that are historical stories of recent past, I still wouldn't like this.
Couples Retreat: The first 25 minutes is dispiriting. Then it really gets dismal.
Amelia: This is what you get when you ask a foreigner to make a movie about a uniquely American icon, junk with lousy performances.