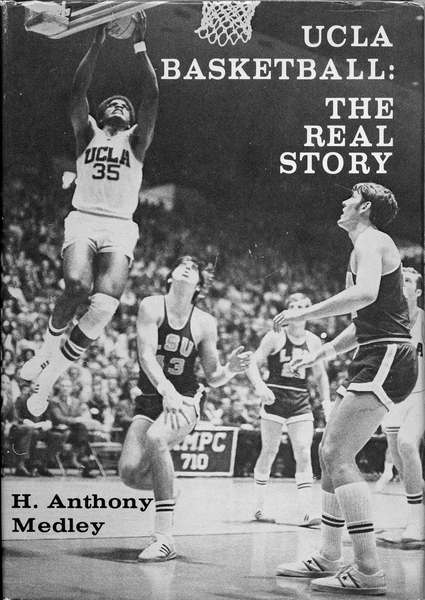 Out of print for more than 30 years, now available for the first time as an eBook, this is the controversial story of John Wooden's first 25 years and first 8 NCAA Championships as UCLA Head Basketball Coach. Notre Dame Coach Digger Phelps said, "I used this book as an inspiration for the biggest win of my career when we ended UCLA's all-time 88-game winning streak in 1974."
Compiled with more than 40 hours of interviews with Coach Wooden, learn about the man behind the coach. Click the Book to read the players telling their stories in their own words. This is the book that UCLA Athletic Director J.D. Morgan tried to ban.
Click the book to read the first chapter and for ordering information.
---
Chicago 10 (1/10)
by Tony Medley
I was really looking forward to this because I like good documentaries and I lived through this. Alas, it's little more than a cartoon. In fact, it is half-cartoon. About the protest at the 1968 democrat convention in 1968 and the trial after, Writer-director Brett Morgen has chosen to bounce back and forth from archival footage of the actual protest to scenes of the trial using the transcript as the script. Unfortunately, instead of using archival photographs, or recreating the trial with actors, Morgen uses cartoons, actually motion capture technology. It's unseemly and jarring to jump from high tension newsreel footage of the protest to something that looks like Bugs Bunny or Donald Duck in the trial. It absolutely ruins what could have been a good film.
The poor quality of this film is surprising because it's produced by Graydon Carter, the editor of "Vanity Fair," and producer of the excellent documentary about Bob Evans, "The Kid Stays in the Picture" (2002). Alas, Carter didn't bring the quality of that film into this one.
The cartoonish nature of the trial diminishes what was a highly dramatic, tension-filled atmosphere. The trial was like a circus and was extremely controversial. But when you see all these strong personalities like Jerry Rubin, Abbie Hoffman, William Kunstler, David Dellinger and Judge Hoffman as cartoons, you expect one of them to chomp on a carrot and say, "Eh, what's up doc?" instead of dealing with some very serious issues.
Another unfortunate aspect of the film is its bias. One wouldn't anticipate Carter to be involved in anything even-handed, as he has turned "Vanity Fair" from an arts and entertainment magazine into a left wing propaganda rag (albeit pretty successful; it contains some great writing and interesting articles). But almost each issue contains a diatribe by Carter against President Bush. This film epitomizes Carter's disdain for fairness. The only people interviewed are the defendants. There are lots of archival clips of Hoffman and Tom Hayden and Rennie Davis and the rest stating their point of view. But there is not one second of any interview or clip of the prosecutors. There are some clips of Mayor Daly of Chicago at news conferences, but they all make him look like a despot. It would have been much better served to have had someone explain the problem that was faced by Chicago in hosting a major convention and contending with people who wanted to disrupt it.
Without the cartoons and with some balance, this could have been a real winner. As it is, it is a film intended to appeal to the extreme left wing only.
January 22, 2008