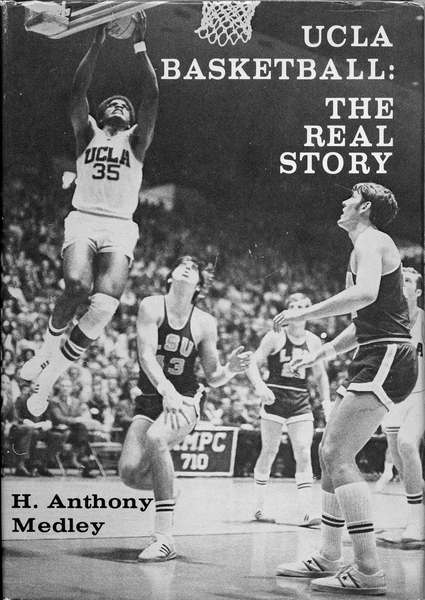 Out of print for more than 30 years, now available for the first time as an eBook, this is the controversial story of John Wooden's first 25 years and first 8 NCAA Championships as UCLA Head Basketball Coach. Notre Dame Coach Digger Phelps said, "I used this book as an inspiration for the biggest win of my career when we ended UCLA's all-time 88-game winning streak in 1974."
Compiled with more than 40 hours of interviews with Coach Wooden, learn about the man behind the coach. Click the Book to read the players telling their stories in their own words. This is the book that UCLA Athletic Director J.D. Morgan tried to ban.
Click the book to read the first chapter and for ordering information.
---
Most Enjoyable & Most Disappointing of 2008
by Tony Medley
Here's my list of the most enjoyable and least enjoyable/most disappointing/most overrated films I saw during 2008. The negative category includes some films that, while not the worst, were disappointing or overrated, or, while enjoyable, had huge flaws. The positive category is just how much I enjoyed them, not rated as I would rate an Oscar.
Most enjoyable:
Tell No One

: The best movie of the year in

America

was made in

France

in 2005-6.

The Curious Case of Benjamin Button

: If I could sit through 165 minutes and still be moved, it must be good.

The Duchess

: Beautifully made with a great performance by Keira Knightley

Changeling

: Clint Eastwood sticks to the facts and lovingly recreates 1928

Los Angeles

, coaxing a big performance out of Angelina Jolie.

Priceless

: I thought

Gad Elmaleh was terrific in 2006's farce, "The Valet." He's better here, joined by Audrey Tatou.

Nobody does this better than the French.

Smart People

: Nobody got this story about the difficulty smart people have relating to people not as smart; it was brilliant.

The Reader

: Kate Winslet is often stark naked in this metaphor for how the Germans acted under the Nazis. But I was able to overcome that and enjoy the story and acting.

The Dark Knight

: Christopher Nolan brilliantly directs his second good Batman film in a row and

Heath Ledger gives a performance for the ages.

Vicky Cristina Barcelona

: Woody Allen at the top of his game with an A-list cast of

Scarlett Johansson, Javier Bardem, and Penélope Cruz, even though the top acting honors go to Rebecca Hall

.

Eagle Eye

: A surprise thriller, like a movie from the '40s.

Flawless

: Michael Caine and Demi Moore in a heist film that not many saw, to their detriment.

Miss Pettigrew Lives for a Day

: With scintillating performances by Amy Adams and Frances McDormand, could this be the perfect comedy?

Chaos Theory

: Ryan Reynolds shines in a film that was apparently seen by approximately three. I laughed out loud.

Brideshead Revisited

:

A wonderfully told, beautifully filmed retelling of Evelyn Waugh's story.

Iron Man

: Despite the abundance of special effects, this was very entertaining with a terrific performance by

Robert Downey Jr., who is one of the best actors extant.

A Walk to Beautiful

: A wonderful, touching documentary about the fistula epidemic in African women that causes them to be outcasts, and the people who help them.

Frozen River: Despite a remarkably low budget and basically unknown actors, this was one of the most realistic, memorable movies of the year.

Gran Torino

: Clint Eastwood continues his fetish with death, but at least he's in his Dirty Harry mode.

Cassandra Dreams

: Woody Allen again, with another great cast, this time

Colin Farrell, Ewan McGregor, and Tom Wilkinson.

Married Life

:

A captivating, atmospheric comedic thriller in which Chris Cooper wants to murder his wife, Patricia Clarkson, because he doesn't want to hurt her feelings

The Chronicles of Narnia: Prince Caspian

: A terrific, popular fantasy and now Disney is dragging its feet on making the third in the series.

Street Kings

:

A slam-bang, violent, profane, non-stop action police thriller.

The Counterfeiters

: Entrancing story of how Jewish prisoners of the Nazis made counterfeit allied currency during WWII.

A Girl Cut in Two

: 78-year-old French filmmaker Claude Chabrol, who was a charter member of the French New Wave, along with Jean-Luc Godard, François Truffaut, and Éric Rohmer, proves he still has it in this interesting story, starring the lovely Ludivine Sangier.

Roman de Gare

: A thriller to keep you on the edge of your seat.

Hancock

: Apparently nobody liked this story of a superhero (Will Smith) with big psychological problems but me.

Journey to the Center of the Earth 3-D

: The best 3-D film ever made.

Strictly Background & Man on Wire

: Two of the three best documentaries of the year, the former about extras and the latter about the man who tightrope-walked from one

World

Trade

Center

Tower

to the other.
Most Disappointing:
Mamma Mia

: Would you pay money to go to the Hollywood Bowl to see Meryl Streep and Pierce Brosnan in concert? Then why cast them to sing some of the best music of the '70s? This was like rubbing your fingernails across a blackboard. Fifty years from now this will still stand as the most boneheaded casting of the century.

Step Brothers

: Will Ferrell and

John C. Reilly

as adults with infantile IQs. They didn't have to make this movie to make me believe that.

You Don't Mess with the Zohan

: But for "Step Brothers" this Adam Sandler idiocy would have been the most insultingly dumb movie of the year.

Baby Mama

: Tina Fey and Greg Kinnear in a stunningly low-intellect, SNL-inspired stinker, lowlighted by at least one truly disgusting scene involving Amy Poehler.

Swing Vote

: Kevin Costner desperately trying to be funny and charming.

I Served the King of

England

: Zzzzzzzz

Righteous Kill

: Al Pacino and Robert DeNiro prove it's not the '70s anymore and they aren't leading men anymore.

W.

: Poor Oliver Stone, his consistently unentertaining films validate Samuel Goldwyn's advice, "If you want to send a message, use

Western Union

."

Over Her Dead Body

:

Norman Z. McLeod, Constance Bennett, Roland Young, Alan Mowbray, and Co. must be turning over in their graves to see this is what their brilliance in the first two "Topper" films has wrought.

Sex and the City

: The worst chick flick of the year, and that's saying a lot.

Chicago

10

: The only thing that could make this worse would be if it were animated. What? It was animated?

Sex and Death 101

: Intriguing idea, horrible execution.

Forgetting Sarah Marshall

: A pretty easy task.

Leatherheads

: Did Renée Zellweger look like she just sucked a lemon throughout this film because the material was so bad or was it something about George Clooney?

The Mummy Tomb of the Dragon Emperor

: After two hits, this was a major disappointment.

The Grand

: Gabe

Kaplan, Jason Alexander, and Ray Romano work so hard to get laughs, they prove that when comedy isn't effortless, it's not funny

In

Bruges

: I didn't think Colin Farrell could make something more inept than "Alexander." I was wrong.

Fool's Gold

:

Even though the two leading actresses, Kate Hudson and Alexis Dziena, spend much of their time in bikinis, the largest breasts in the film belong to Matthew McConaughey.

Speed Racer

: The most expensive flop of the century.

88 Minutes

: Maybe Al Pacino was really trying to poke fun at himself. He couldn't have been serious, could he?

Soul Men

: Blacks denigrating blacks. Do people participating in films like this think they have a positive influence, or are they just masochistic or mean-spirited?

21

: A pathetically uninvolving rendering of an interesting event.

Finding Amanda

: Much ado about nothing.

Get Smart

: Another ineffective remake of a mediocre sitcom. Why?

Reprise

: A film told entirely in the subjunctive. You could look it up.

The

Forbidden

Kingdom

: I've been kung fooed to death. Enough!