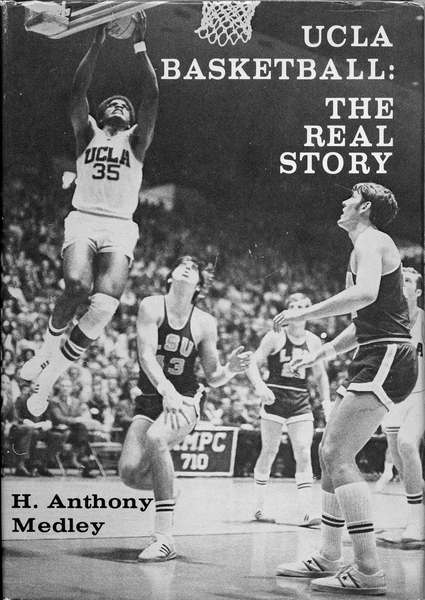 Out of print for more than 30 years, now available for the first time as an eBook, this is the controversial story of John Wooden's first 25 years and first 8 NCAA Championships as UCLA Head Basketball Coach. Notre Dame Coach Digger Phelps said, "I used this book as an inspiration for the biggest win of my career when we ended UCLA's all-time 88-game winning streak in 1974."
Compiled with more than 40 hours of interviews with Coach Wooden, learn about the man behind the coach. Click the Book to read the players telling their stories in their own words. This is the book that UCLA Athletic Director J.D. Morgan tried to ban.
Click the book to read the first chapter and for ordering information.
---
The Brave One (9/10)
by Tony Medley
When you see as many rotten movies as I, it doesn't take long to know when you're watching a well made film. Most movies lose it during the setup, when they are trying to establish the characters. The setup for this one lasts around 15 minutes. Director Neil Jordan establishes that Erica Bain (Jodie Foster) and her fiancé, David Kirmani (Naveen Andrews of the TV series Lost) are deeply in love with the sequence that leads Erica and David to a fateful encounter in Central Park that turns Erica's life around. Sitting through the sequence, I knew that no matter where the story took me, this was a film made by people who knew what they were doing. There was no trite dialogue, no cutesy, unrealistic repartee. The sequence was just two people who are in love and acting the way people who are in love act.
Erica's transformation from a sensitive Public Radio commentator on the city of New York into a vigilante is exceptionally well done. After the attack in Central Park, Erica has a complete change of personality, unwittingly becoming a vigilante. Her transformation is so well done that it is entirely believable. The entire film attests to this change, even to the clothing she wears. Costume designer Catherine Thomas gradually changed Erica's appearance to subtly reflect that change. "She starts out in layers and light colors," says Thomas, "but as time goes on, her clothes become darker and more spare. There's a toughness to the way she looks and I think it's an important contrast."
In addition to the clothes, the story is told through Foster's point of view which is emphasized by the cinematography. Jordan says "I wanted to express a sense of dementia, so (cinematographer) Philippe (Rousselot) and his camera operator, Neil Norton, came up with a device that moves on a Steadicam, which we called a 'wobbly-cam.' It was great for certain shots in which we were constantly shifting the paradigms."
Adds Rousselot, "It basically rolls the camera, allowing us to constantly change the horizon, which gives the impression of Erica feeling off-balance." It's these types of attention to detail that make the film so involving and credible.
Adding to the expertise of these brilliant filmmakers, there's no denying that a large part of the success of this film is due to Foster's talent. Like Russell Crowe, and unlike Sean Penn, she never seems to be acting. What she puts on the screen allows the audience to believe it is seeing the way a normal person might act, given the situation. Simply put, she doesn't give the impression that she's "acting."
Erica establishes a relationship with NYPD detective Sean Mercer (Terrence Howard). It's not a normal relationship, however. In true thriller fashion, Mercer has an uneasy feeling about Erica and all the seemingly unrelated killings that are taking place. In lesser hands, this could be horribly hackneyed. But the way Jordan, Foster, and Howard present it, it flows easily up to the unexpected climax, one that might be troubling to some people, but not to me.