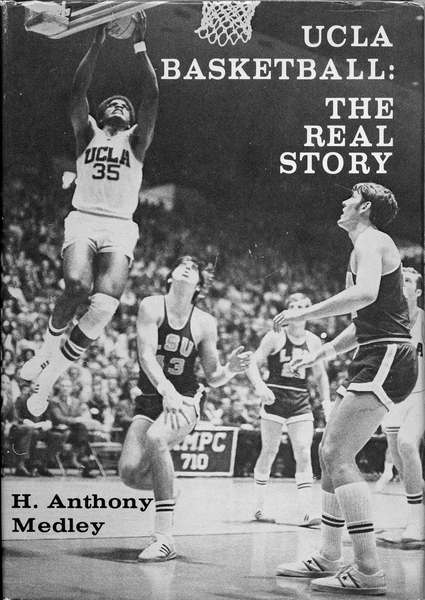 Out of print for more than 30 years, now available for the first time as an eBook, this is the controversial story of John Wooden's first 25 years and first 8 NCAA Championships as UCLA Head Basketball Coach. Notre Dame Coach Digger Phelps said, "I used this book as an inspiration for the biggest win of my career when we ended UCLA's all-time 88-game winning streak in 1974."
Compiled with more than 40 hours of interviews with Coach Wooden, learn about the man behind the coach. Click the Book to read the players telling their stories in their own words. This is the book that UCLA Athletic Director J.D. Morgan tried to ban.
Click the book to read the first chapter and for ordering information.
---
Most Enjoyable & Most Disappointing of 2007
by Tony Medley
Here's my list of the most enjoyable and least enjoyable/most disappointing/most overrated films I saw during 2007. The negative category includes some films that, while not the worst, were disappointing or overrated, or, while enjoyable, had huge flaws. The best category is just how much I enjoyed them, not rated as I would rate an Oscar.
Most enjoyable:
The Bourne Ultimatum: More rapid-paced action fun from Director Paul Greengrass.
Juno: A brilliant romantic comedy that we can only hope will set the stage for the 21st Century.
Music and Lyrics: Just because a movie comes out in January, and is a comedy, should not be factors that disqualify it for Oscar®-consideration.
The Great Debaters: Like the fly said when he walked across the mirror, whites seeing this movie might see something they've never looked at like that before.
Gone Baby Gone: Mediocre actor Ben Affleck finally finds his métier as the director and co-writer of this noir-style thriller.
American Gangster: Even though this is filmed like two different movies, one starring Denzel Washington and one starring Russell Crowe, and even though they aren't onscreen much together, this is a terrific film.
Black Book: A spellbinding World War II movie by Director Paul Paul Verhoeven with a smashing performance by Carice Van Houten that impressed me a lot even though she was naked much of the time, something I was somehow able to endure.
Knocked Up: An idiotic premise makes for a movie so funny it hurt my belly.
Death at a Funeral: From the opening credits this is sophisticated farce at its best, in the style of 40's director Alan Dwan and actor Dennis O'Keefe.
The Valet: Proves that a good farce can still be made so long as Will Ferrell & Co. have nothing to do with it.
Eastern Promises: Another brutal, but well-acted thriller.
Rescue Dawn: A good, old fashioned POW movie set in Vietnam.
I Am Legend: This story about the last surviving man in New York City is more interesting than one would imagine.
Talk to Me: Funny and interesting with an over-the-top performance by Taraji P. Henson that alone would the movie worth seeing, but there's so much more.
After the Wedding: The Oscar® for best foreign language movie for 2006 went to this film that was really released in 2007, when it wouldn't stand a chance against Black Book, but that doesn't mean it isn't terrific.
Love in the Time of Cholera: An underrated, enthralling romance.
Evening: Great acting by great actresses highlight this interesting tale that never descended into the chick flick genre.
The Wind that Shakes the Barley: The best-ever movie about the Irish problem.
Beyond the Gates: A terrific look at a black moment in African history.
Lucky You: Another good, underrated romantic comedy.
Disturbia: Better than Rear Window.
Show Business: The Road to Broadway: A fascinating backstage look at bringing a show to Broadway.
The Brave One: Neil Jordan brilliantly directs Jodie Foster in an under-rated thriller.
Stardust: A charming old-fashioned romantic fantasy.
Fracture: Inventive cinematography highlights this Hitchcockian thriller.
Manda Bala & Girl 27: Terrific, fascinating documentaries
Most Disappointing:
Lars and the Real Girl: A run-away winner of the worst film of the year award, this could be the worst of the decade.
Hot Fuzz: A remarkably unfunny follow-up to the remarkably unfunny Shaun of the Dead.
Once: The only thing worse than the music is the story.
I Now Pronounce You Chuck and Larry: This is about as distasteful and low class as a film can get.
Michael Clayton: Unrealistic, incoherent story with more plot holes than you can shake a stick at.
Bratz: Teenage girls can't be this banal.
Atonement: When I finally got to the end of this chick flick, I was barely awake, but the ending was so infuriatingly dishonest it really got my blood boiling.
Charlie Wilson's War: If Charlie Wilson was the hero these guys claim, he has a defamation action against screenwriter Alan Sorkin, director Mike Nichols, and actor Tom Hanks for making this insubstantial, superficial piece of fluff to tell his story.
The Last Time: Aptly titled.
The TV Set: This doesn't rise to the level of awful. Like priests condemned to Dante's Inferno, there is a lower rating for movies this bad.
The Astronaut Farmer: Billy Bob Thornton's movies just keep getting worse, aimed, as they are, at people with IQ's under 37.
Beowulf: When you make a terrible film, do you really want it to be on the biggest screen possible and in 3-D?
Zodiac: I wonder if the real Zodiac has the addresses of the people responsible for this film. Oh, not to worry, the Academy is considering it for Oscar®!
Because I Said So: Diane Keaton has problems with good scripts; with a script this bad she doesn't have a chance.
Shoot-Em-Up: Too bad they weren't using real bullets.
Catch and Release: A chick flick where the guys are the chicks by a chick who doesn't know much about guys.
National Treasure: Book of Secrets: Déjà vu all over again.
Breach: If you can find one entertaining moment in this film, you need counseling.
Sicko: That's the name of the director, right?
Hairspray: Since the only good singing and dancing are in the final number, you can get there about 10 minutes before the end and see the entire movie.
You Kill Me: We should be so lucky.
The Ex: Zach Braff married to Amanda Peet? I don't think so, but it's no more unrealistic than this ridiculous story.
Dedication: An idiotic premise makes for an idiotic movie.
Pirates of the Caribbean: At World's End: Maybe these things make lots of money, but they have all been terrible films and this one is no exception.
Ocean's Thirteen: The third remake of what was originally a bad movie is worse than the second, which was worse than the first. So far, not one of them has been as good as the less-than-mediocre original. Unlike 48 years ago, now there's no show coming out of The Sands to make up for it. But, then, I don't think I want to see George Clooney, Brad Pitt, and Matt Damon singing and dancing and trying to tell jokes. I've seen Clooney try to tell jokes and he's not funny.
The Last Legion: This wouldn't be good enough to get a passing grade in film school.
Harry Potter and the Order of the Phoenix: I'd like to find a wizard who could make Harry Potter disappear.
Rush Hour 3: R.I.P.