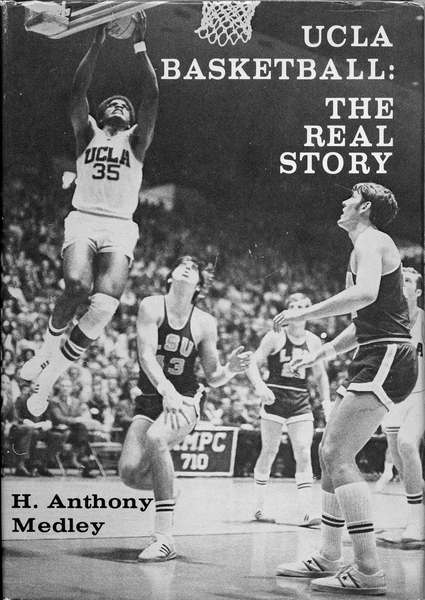 Out of print for more than 30 years, now available for the first time as an eBook, this is the controversial story of John Wooden's first 25 years and first 8 NCAA Championships as UCLA Head Basketball Coach. Notre Dame Coach Digger Phelps said, "I used this book as an inspiration for the biggest win of my career when we ended UCLA's all-time 88-game winning streak in 1974."
Compiled with more than 40 hours of interviews with Coach Wooden, learn about the man behind the coach. Click the Book to read the players telling their stories in their own words. This is the book that UCLA Athletic Director J.D. Morgan tried to ban.
Click the book to read the first chapter and for ordering information.
---
Atonement (1/10)
by Tony Medley
Any man who says he likes this movie needs a double shot of testosterone. Itís not that I donít like romances. Three of my favorite films this year are Love in the Time of Cholera, Stardust, and Evening. But what sets them apart from Atonement is that they are ROMANTIC!
Atonement, on the other hand, didnít have an iota of romance in it for me. Oh, maybe it does have one iota. Patrician Cecilia Tallis (Keira Knightley) and Robbie Turner (James McAvoy), her familyís gardener, have a romp in the sack early on. Well, not in the sack, really. Actually he pins her against a wall Š la Sonny Corleone in The Godfather. That and a little hand holding at dinner is the sum total and extent of their ďromance.Ē
Just after theyíre holding hands at dinner, Ceciliaís 13-year-old sister, Briony (Saoirse Ronan), accuses Robbie of a crime and breaks them up. So much for their romance. But director Joe Wright apparently had reams of film to use up, so he darts in and out of the next four years in an incoherent telling of what apparently happens to Robbie and Cecilia. First he shows a scene, then jumps us back in time to show how the characters arrived at that spot. Itís far more annoying than charming. Trouble is, he takes so much time on things like the evacuation at Dunkirk, which took three days in 1940 and which Wright has apparently attempted to film in real time, that thereís not much time to look at Cecilia. Actually, Knightley looks as if sheís in the advanced stages of anorexia. If I had to estimate her dimensions from this film, I would put them something like 22-22-22, hardly femme fatale qualifications. That said, Knightley is a treasure as an actress. Sheís beautiful, creates believable characters, and has a charming accent. Sheís a rarity, someone itís worth paying to see. Added to her acting talent, she proves, maybe, that a voluptuous body isnít essential for sex appeal. On top of all that, sheís dyslexic. Anybody who conquers that has my admiration.
There really isnít much story here. It starts out like a gothic tale as Briony is a troubled, spooky-looking and acting little girl. But then it stretches out into just your every day, run of the mill The English Patient-paced ordeal for the viewing audience. The Dunkirk scenes are so phantasmagorical and incoherent as to make one bilious. Worse, thereís no reason for them to take up what seems like a third of a 130-minute movie that seemed as if it werenít going to end before breakfast.
The shot of a cabin overlooking the White Cliffs of Dover is so flat it reminded me of the opening scene shots of Casablanca in the film of the same name, and thatís no compliment. I donít know if it was graphically inserted, but the scene sure looked like it.
Thereís a twist at the end that infuriated me. Even though there is a lot of good acting by Knightley, McAvoy, Ronan, and Romola Garai, who plays Brioney at 18, I sat through all of this for that?
I could go on, but why?
December 15, 2007