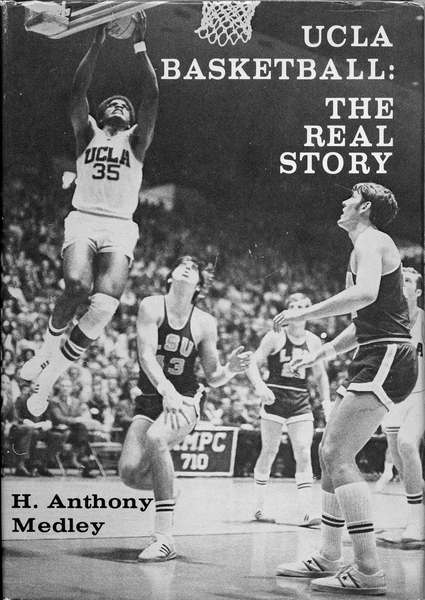 Out of print for more than 30 years, now available for the first time as an eBook, this is the controversial story of John Wooden's first 25 years and first 8 NCAA Championships as UCLA Head Basketball Coach. Notre Dame Coach Digger Phelps said, "I used this book as an inspiration for the biggest win of my career when we ended UCLA's all-time 88-game winning streak in 1974."
Compiled with more than 40 hours of interviews with Coach Wooden, learn about the man behind the coach. Click the Book to read the players telling their stories in their own words. This is the book that UCLA Athletic Director J.D. Morgan tried to ban.
Click the book to read the first chapter and for ordering information.
---
3:10 to Yuma (7/10)
by Tony Medley
Movies should stand on their own, no matter how many times theyíve been remade or how many prior movies they have copied. Each time they remake A Star is Born, the remade film has to be entertaining and believable in its own right, no matter what Frederich March or James Mason might have done.
While I would like to be the only critic to write a review of this film without mentioning the likes of Rio Bravo and High Noon and Shane, and, even, 1957ís 3:10 to Yuma, that last sentence would doom me. But, to my credit, Iím not going to make any comparisons.
Director James Mangold was weaned on the 1957 version. He claims that his prior films were in homage to it, so much did he admire it. Finally, he decided to make his own version.
Ben Wade (Russell Crowe) is a charming, but vicious, outlaw; a man who kills without pause or remorse. Dan Evans (Christian Bale) is a one-legged farmer, with a wife, Alice (Gretchen Mol), who doesnít look like any farmerís wife ever seen in the southwest in the late 18th Century, but thatís good for us. When you see the beautifully coifed and made up Alice, however, you are clued in early that this is not going to be anything like a gritty recreation of life in those days, but a Hollywood version where the actors come straight from their trailers to shoot their scenes, after stopping in Makeup for a couple of hours. Clearly Mangold didnít have to worry about doing any research to try to come up with an accurate depiction of the Old West. This is a movie about Star Power.
Dan has financial problems and needs money, so he signs on to escort Ben to catch the 3:10 train to Yuma so he can be put on trial and executed for his crimes. The movie is basically a dialogue between Ben and Dan, during which Benís gang, led now by Charlie Prince (Ben Foster, in a performance every bit as compelling as Crowe and Bale), who is more like what an outlaw was in those days than Ben is, tries to free Ben. Thrown into the mix is Danís son, William (Logan Lerman) who doesnít respect his father.
Because of the wonderful performances of Crowe and Dale, I enjoyed the film, even if it is too long, until the last half hour where we are treated to the most Hollywood of Hollywood endings you will ever be forced to endure. In just one of many unrealistic weaknesses of the last half hour, Benís gang shoots indiscriminately at Dan, even though heís running away from them right next to Ben, they guy they are trying to rescue. Not to worry, these Hollywood bad guys never hit anything when they shoot a gun. There are other problems, but to relate them would reveal too much.
While itís enjoyable to see two good actors relate to one another and Dale and Crowe are two of the best, itís too bad the film wimped out on them with an ending that destroys any verisimilitude the interesting script (Halsted Welles and Michael Brandt & Derek Haas), up to then, had created.