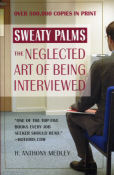 What REALLY goes on in a job interview? Find out in the new revision of "Sweaty Palms: The Neglected Art of Being Interviewed" by Tony Medley, updated for the world of the Internet . Over 500,000 copies in print and the only book on the job interview written by an experienced interviewer, one who has conducted thousands of interviews. This is the truth, not the ivory tower speculations of those who write but have no actual experience. "One of the top five books every job seeker should read," says Hotjobs.com. Click the book to order. Now also available on Kindle.
Paris Can Wait (9/10)
by Tony Medley
Runtime 92 minutes
OK for children.
For an 81 year old writer/director/producer, Eleanor Coppola, this is an amazing achievement. Even with fine performances by Diane Lane and Arnaud Viard and a mercifully brief cameo by Alec Baldwin, the cinematography, locations, and memorable recipes steal the show.
The film is the somewhat autobiographical story of Coppola about an incident that occurred when she was in her mid-70s. The stretch is that Coppola is a long way from Diane Lane, who plays her in this film. Lane, at 52, is more beautiful than most of the ingénues who populate Hollywood today and will never be confused with a 73-year-old woman. But this is a movie and it needs a woman a man will yearn for.
Anne (Lane) is married to Michael (Baldwin), an actor who must travel from the French Riviera to Budapest for a film. Anne isn't feeling well and tells him she will meet him in Paris. Jacques (Amaud Viard), a modern day Maurice Chevalier, offers to drive her. Along the way he treats her to a gorgeous tour of France, all the while subtly trying to seduce her. We see terrific scenes of France, wonderful meals to which he introduces her, incredible locales, superb acting, enticingly slow pace, and delicious dialogue reminiscent of My Dinner with Andre (1981). This is a delightful film for everybody.
Like a fine wine, this ages well. I originally gave it a rating of 8/10, but the more I think about it, the better I like it.