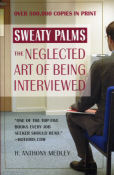 What REALLY goes on in a job interview? Find out in the new revision of "Sweaty Palms: The Neglected Art of Being Interviewed" by Tony Medley, updated for the world of the Internet . Over 500,000 copies in print and the only book on the job interview written by an experienced interviewer, one who has conducted thousands of interviews. This is the truth, not the ivory tower speculations of those who write but have no actual experience. "One of the top five books every job seeker should read," says Hotjobs.com. Click the book to order. Now also available on Kindle.
Baby Driver (7/10)
by Tony Medley
Runtime 113 minutes.
Not for children.
This is a movie about a youthful getaway driver, Baby (Ansel Elgort), who works for a boss, Doc (Kevin Spacey), who always has a different crew, except for Baby. It starts with a perfectly ridiculous car chase. Although writer-director Edgar Wright claimed at my screening that he talked to several real getaway drivers, this opening chase defined what I always thought was the primary purpose of a good getaway driver, one who could get away unobtrusively. Contrary to that idea, Baby lays rubber, drives down one-way streets makes two-wheeled turns and generally does everything he can to draw attention to himself and the gang for which he is driving.
Despite this, and the other car chases that completely fail the smell test, this is actually a well-crafted movie with an attractive love interest for Baby, a waitress named Deborah (Lily James), and a good cast that includes a Wall Streeter-turned outlaw named Buddy (John Hamm, from "Mad Men" fame), his sexy partner, Darling (Eliza Gonzalez), and the third, Bats (Jamie Foxx). All give good performances.
The romance between Baby and Debora is well done, due in large part to the scintillating performance by James.
Lawyers in the audience won't be able to stomach the enormous plotholes in the script, but, for me, they were counterbalanced by the torrid pace and conflict between the principals.